Long-running fest has a friendly, folksy vibe
REBECCA BOLLWITT
"Pretty much every continent is represented," says Dan Minard as he picks up a piece of Tasmanian blackwood and placed it next to some Vancouver Island Sitka spruce in his Powell River workshop. "There's Colorado Engelmann Spruce, Canadian Maple, Swiss spruce, and some from all over the States, Africa, South America."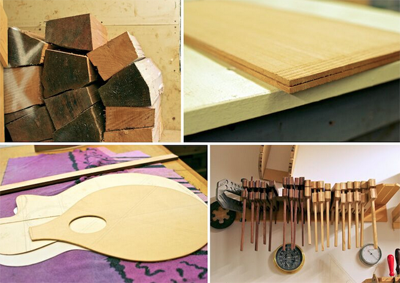 What's better than a handcrafted guitar?
Photos by Rebecca Bollwitt
The selection of wood for Minard's guitar-making are as eclectic and diverse as the acts that have come through the Sunshine Coast Music Festival over its 34 years. Each is unique and all sound amazing to festival-goers' ears.
The 34th Annual Sunshine Music Festival is set to take place during Labour Day Weekend Sept. 5-6, 2015, at beautiful Palm Beach in Powell River.
The event is a celebration of music from across Canada and the world. Artists this year include JUNO Award winners Big Little Lions, along with Steph Cameron, Jeremy Fisher, Blackberry Wood, Scott Cook and the Second Chances, WiL, Joël Fafard, The John Welsh Band, Zimbamoto, Sam Hurrie, Laura & Allen Wallace, Walter Martella and Michael Bernard Fitzgerald.
Minard is a longtime volunteer and performer at the Sunshine Coast Music Festival who took up guitar building as a hobby years ago but has made it a full-time passion since recently retiring as an aircraft maintenance engineer. "I've wanted to build guitars and instruments since I was a kid. I was never a great guitar player but I loved to sing and play along."
He's been attending the festival for the past 30 years, since moving his family to Powell River from Vancouver. This year he'll be a volunteer, offering his expertise for stage and technical setup as well as hosting a guitar tune-up station for the musicians.
"It's nice to be involved, more involved in the festival than just being a spectator; you get more out of it I think. Less music but more of the personalities."
For Minard, the festival is about new acts, revisiting old friends, and reconnecting with neighbours. "It's as much a social thing for me as a musical thing. Though this is a small area, none of us like to drive here so we see each other at festivals."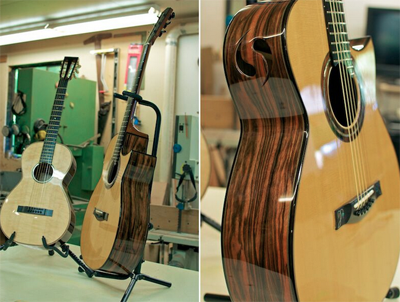 Gorgeous guitars.
Dan's made 35 guitars so far in his time as a luthier, although he modestly points out that others who "do it for a real living" would have over 200 under their belt at this point. Pointing to a pair of guitars on stands in the workshop, he notes that one of them took 250 hours to complete, because of its intricate design work and detail. "I'm quite pleased with it and it sounds incredible; it's probably my best sounding guitar." It has gorgeous, glistening turquois details and small quotation marks carved into the side.
In another corner of the room, Minard hopes to bring life back into a worn 1965 Yamaha. "It's really satisfying to take a guitar that's unplayable and turn it back into something again. You hand it back to a person and they play it and say 'wow! I can play this now!' It's just really satisfying work."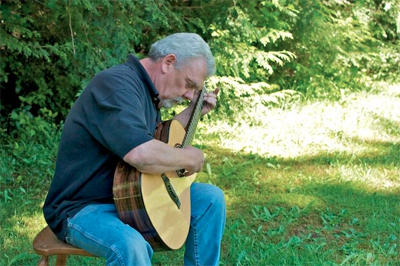 Minard plays his recent creation.
Just as music festival comes together with layers of components, from artists and food vendors to the craft market and musicians, a guitar build comes together similarly. Only in Minard's case, it's with bridges, bodies, soundboards, saddles, steel strings, and frets.
"You put together a complete plan and gather up all the pieces." The results can be exquisite, and a lot of fun."

The Sunshine Coast is waiting for you. Discover coastal towns, beautiful ocean scenes and friendly locals. 
More info
Interested in checking out the Sunshine Coast? Visit SunshineCoast.com for trip-planning ideas.
Love guitars? Share this page with your music loving friends.