Village slides into summer adventures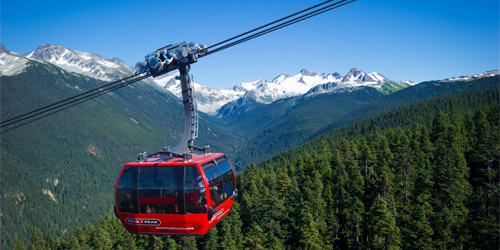 The Whistler Peak 2 Peak Gondola crosses the gap between Whistler Mountain and Blackcomb Mountain.
Photo courtesy of whistler.com
KENZA MOLLER
WHISTLER, BC - Like many Vancouverites, I have known – and loved – the charismatic charm of Whistler in the winter. Goggle-tanned visitors stroll through the Village with skis tossed nonchalantly over their shoulders; snowboarders rip down the mountain, leaving powdery trails in their wake and hungry, tired travellers gather for pints at the Garibaldi Lift Co. as day shifts to night under snowfall and Christmas lights. 
In the back of my mind, however, I always figured Whistler simply curled up and hibernated throughout the summer months. After all, what else can a ski town do when the weather refuses to cooperate?
As it turns out, Whistler does a whole lot, swapping its snow pants out for bike shorts and letting wheels fall where boards once did.
Here are the many ways to enjoy the great Canadian outdoors on the Canada Day weekend and all summer long.
Mountain biking 
On a relaxed Tuesday morning, sun peeking through clouds, I meet my instructor Marc at the base of the ski lifts. I've been decked out in protective gear, feeling like I've adopted an insect's exoskeleton. Early birds are milling about: they check their bikes, slip into helmets, and wheel their bikes towards the lifts while cafes and shops slowly pick up the pace.
Temporarily confounded - but impressed - by the bike lifts, we glide over treetops of Whistler Mountain, black diamond bike trails snaking below us. As our feet dangle over the green expanse, Marc tells me his story. Originally from Spain, he's been in Canada for six years now. Like many Whistlerites, he's a failed tourist: he came for a season and stayed indefinitely.
"I came for the skiing," he explains. "Then summer came around, and I discovered mountain biking." A natural adrenaline-seeker, he was sucked in, and now uses his two passions to teach sports year-round.
A city biker, I'm unused to the wily, bouncing ways of a mountain bike. Stand on the pedals? Don't worry about rocks? Brake sparingly? Eyebrow cocked, I take a deep breath and follow Marc's advice: look ahead and just trust the mountain bike. And it works, to my distrusting surprise. Whistler's trails are well planned, with the dirt paths hugged by pines. The mountain bike's wheels fit the trail like a glove.
A few runs later, and I'm a convert – both to mountain biking and Whistler when it's warm, a winning combination in the summertime. I trade the bike out for a mai tai on the patio at the Garibaldi Lift Co., sun rising overhead.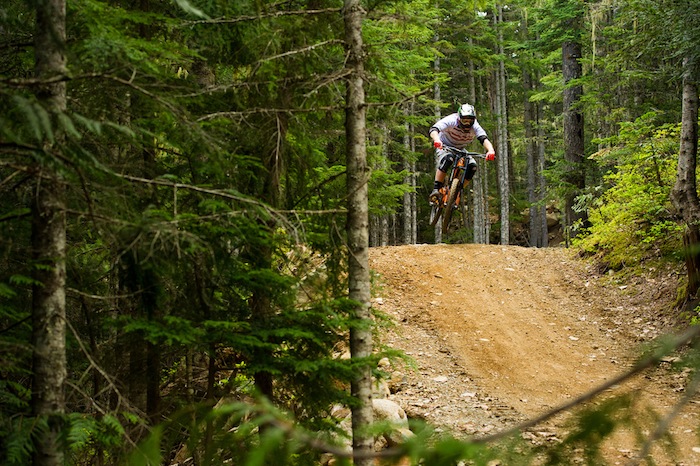 The Whistler Bike Park
Photo courtesy of whistler.com
Peak 2 Peak
To access more of the mountain, sink into a chair in Whistler's record-breaking gondola, the Peak 2 Peak. Stretching over three unsupported kilometres between Whistler and Blackcomb Mountains, this engineering marvel gives you access to more than 50 kilometres of alpine hiking and running trails. Trail maps guide you through "Wonder Routes" - sightseeing tours that can last between a half and full day and give you the best mountainous vistas.
When you're done exploring the peaks, stop for a coffee at the Summit Snack Shack or – if visiting on a weekend in June or July - enjoy the Mountain Top BBQ 6,000 feet above sea level.
Zip-trekking
Enjoyed the gondola ride but wanted to get more involved in the scenery? Take advantage of the nice weather for a ZipTrek tour. Whistler's zip-trekking sites are open year-round, rain or shine, but cruising over trees in the sunshine is infinitely more pleasant than zipping through pelting snow. With 180-foot high point and tours that span 2.5 to three hours along five zippiness, zip-trekking is a great afternoon adventure with breathtaking views of the mountains.
Festivals
Whistler has several big festivals and events up its sleeve for the summertime. This includes the Canada Day celebrations with outdoor concerts, street entertainment, parade and Canada Day Ceremony. In late June, Tough Mudder comes to Whistler, bringing with it a no-holds-barred 21.1-km obstacle course of endurance. Designed by the British Special Forces, this event attracts daredevils worldwide who work in groups to overcome mental and physical obstacles while raising money for the Wounded Warrior Project. 
Another popular event is Crankworx, a freeride mountain biking festival, which takes place on Whistler's slopes in July, drawing crowds from around the world.
Whistler Presents is a string of free outdoor concerts that run from June to September, adding to the sunny, outdoor vibe that springs up in the summertime. For more sporty events, check out the Whistler Longboard Festival, the yogi-centric Wanderlust Whistler, and the Ironman Triathlon. Not ready to strap on sneakers? Come out for the Believe Freedom Festival, a five-day adventure of music and dance, or the tasty Bulls-Eye Canadian National BBQ Championships.
Check out our festival pages about Canada Day activities at Whistler and the Vancouver Symphony Orchestra in Whistler, happening July 16 to 22.
Check Whistler's events and festivals site for updates and event changes.