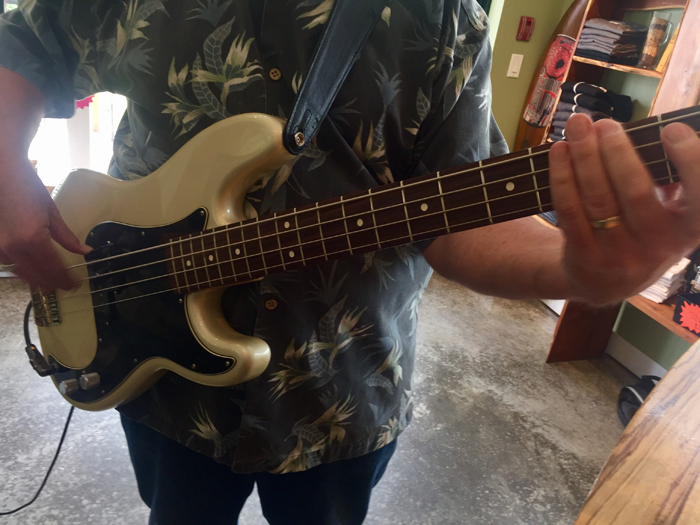 MEGAN KENNEDY
Brian Whitty knows the power of the bass when he's playing the blues to an audience. 
"Once you start to play bass, the dance floor starts," says Whitty, as he patiently worked to teach me a few blues bass lines.
Help your friends #DareToExplore. Share this page on Twitter.
"It's like you're walking along and everything just clicks," he says playing and talking at the same time.
Trying my hand at a few frets just fuelled my thirst for catching some live licks played by the pros. And I know just where to feed that need: the annual Summertime Blues Festival in Nanaimo.
Matching action to words, his fingers strolled effortlessly along the strings, with no apparent thought about hand placement or the next move. I know it's the result of countless hours of practice, inspired by his passion for the genre. He's been so good for so long that remembering what it was like to be a beginner must be like trying to remember what it was like to be a toddler taking your first steps.
But despite that, or perhaps because of it, he's an easy-going and understanding coach.  
You could be at the Summertime Blues Festival in 20 minutes on a quick and easy flight from Vancouver. Check out other ways to access Nanaimo here.
For first-timers learning the basic lines, you use your fretting (top) hand, hold down and pluck the string with your other hand. As I took the bass, my coordination definitely needed work, but with Whitty's guidance and a bit of practice, I could get in a few lines. The G notes started to come more naturally, but I still didn't have the courage to follow Whitty's lead, and slap and pop the bass by pulling a string until it snapped against the fingerboard.
No bands will be beating down my door for me to join them anytime soon, but it was a blast giving it a try — a kind of blues fantasy mini-camp.
Trying my hand at a few frets just fuelled my thirst for catching some live licks played by the pros. And I know just where to feed that need: the annual Summertime Blues Festival in Nanaimo.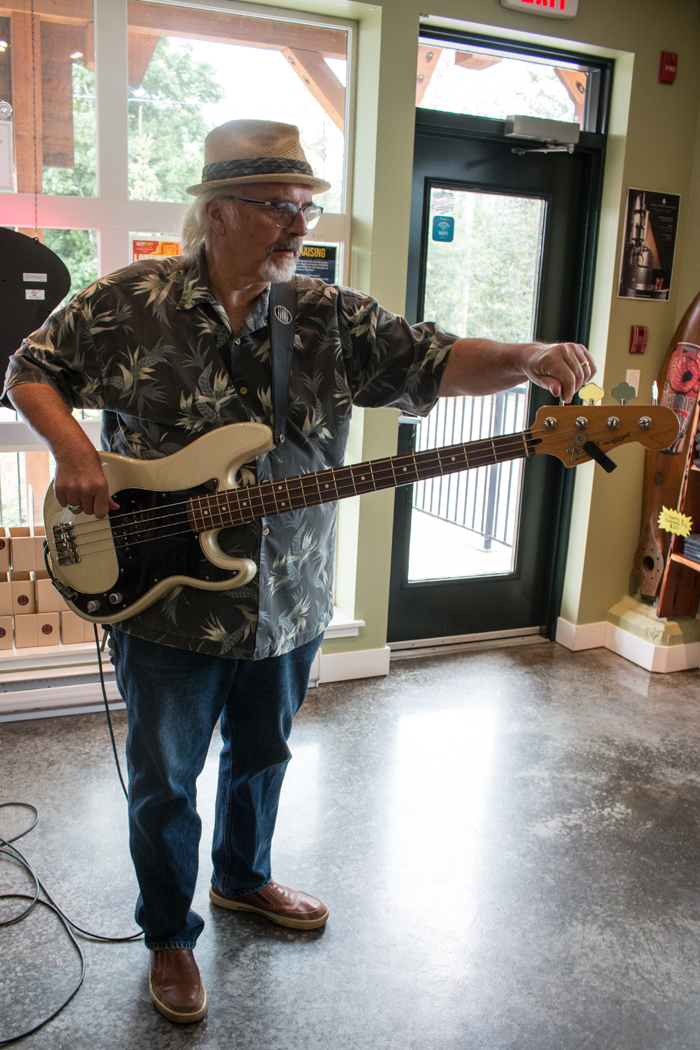 Summertime Blues is happening Aug. 24-27, 2017 at Maffeo Sutton Park. Pack your sunscreen, chairs, and blankets, and chill out while you enjoy more than 20 acts on the open-air stage.
Whether you're a longtime blues fans or just discovering its joys, you're in for a treat with musicians such as Sonny Landreth, Victor Wainwright and The WildRoots, Shemekia Copeland, David Gogo, The Kirby Sewell Band, CURL and many more. (For the full list, check out Nanaimo Blues Festival.) Friday is guitar-centric blues, while Saturday will give you a wide range of cross selection of blues. On Sunday, the focus turns to female performers, with all-woman groups taking the stage.
The park venue will provide a spectacular ocean backdrop, with plenty of room to lounge or dance as the mood strikes. Vendors will offer everything from rental chairs to food and clothing.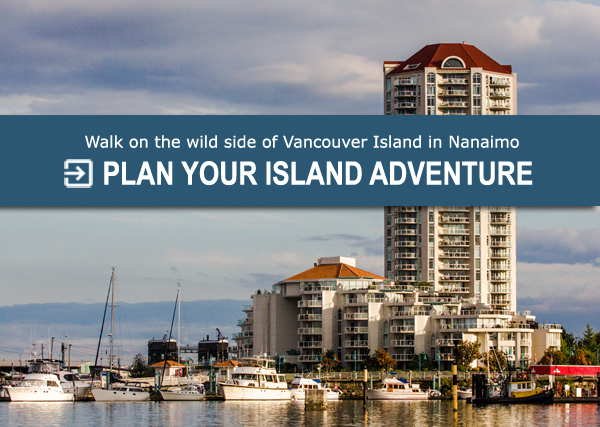 And if you still can't get enough of the soulful sounds, head downtown to the after parties, where you can enjoy encore performances. The after parties at Queens Hotel are free with your festival ticket.
With its vast line-up, the festival will feature every shade of blue from high energy to slow, sad and sweet.
A full weekend pass for Summertime Blues is $139, while day tickets go for $55. For tickets, check out the site. It's a family-friendly event; children 12 and under get free admission when they're with an adult who's paid. In keeping with the unstructured nature of blues music, the festival is free range, too. You can roam around, park yourself in front of the stage, wander off and then return without having to worry about not getting to see the stage again.
If You Go
Heading to Nanaimo to catch some soulful blues? Check out these places to stay while visiting.
Be sure to allow some extra time in Nanaimo before and/or after the festival. You wouldn't want to miss the chance to stroll along the waterfront while enjoying ice cream. Or to follow the BC Ale Trail or Nanaimo Bar Trail.
Don't forget to finish it all off in true summer vacation style by heading down to the beach and taking a dip in the sea.
Ready to shake it in the park? Share this page with your music-loving friends.