Alberta's oldest outdoor shopping festival
Annually in June, Camrose hosts the Jaywalker's Jamboree, a downtown festival with a focus on shopping. 
From June 2 - 4, 2023, the streets of downtown will be closed to motorized vehicles as 50th street becomes an outdoor trade show and fair featuring fantastic deals from local businesses as well as guest vendors. It's like a giant sidewalk sale, but it's much more than that.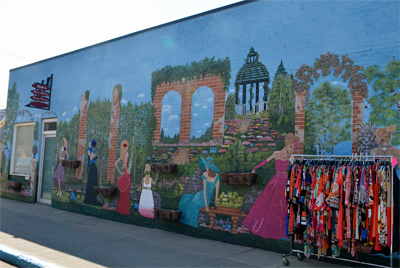 Downtown Camrose is home to colourful murals.
"Jaywalker's Jamboree hearkens back to the agricultural heritage of the city," says Sharon Anderson, executive director of the Camrose Chamber of Commerce. "By the first weekend in June, farmers had their crops in and it was a time to celebrate. In the early days, you might have seen bags of sugar and flour at the sidewalk sale. These days you'll find clothing and other items."
The Jamboree is a real boost for many downtown businesses.
"It's exciting to be part of it," says Daryl Shillington, owner of Sole City Shoes. "I've been involved with Jaywalker's since I was a boy. We usually have about a thousand pairs of shoes out on the sidewalk. For us it's a chance to clear out stock and replenish it; for visitors it's a chance to get some great deals."
In addition to fabulous shopping, there are many other activities going on during the festival. Pancake breakfasts are held each morning and there's a midway with rides and games for all ages. There are two stages with free live entertainment and a special children's area with clowns, face painting and other activities. A wide variety of food vendors sell everything from burgers and fries to Ukrainian, Mexican and Asian foods.
"The founding fathers of Camrose had a lot of foresight in developing the downtown core with such wide streets," Anderson says. "We need all the space we can get during Jaywalker's Jamboree. There's a lot going on."
Scandinavian roots
Early settlers to the Camrose region came primarily from Scandinavian countries and you can still find traces of their culture in the community. The decorative painting on the flower planters in downtown Camrose is a form of Scandinavian folk art known as rosemaling. And just off Main Street, you'll find Lefse House, a must-stop for any visitor to the city. Its signature product, lefse, is a Norwegian flatbread made with potatoes and flour.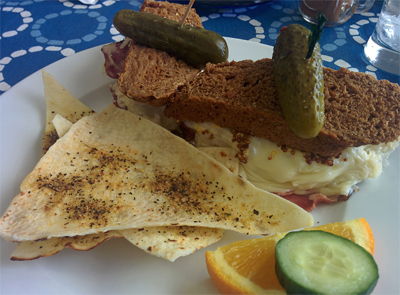 Enjoy some delicious seasoned lefse, made by a local bakery.
Bernell Odegard and his daughter Jane Beck own and operate the bakery and they do such a good job that they are the official lefse suppliers to the Norwegian Consulate in Ottawa. The Bakery and Coffee Shop serves up delicious authentic Scandinavian lunches and  take-home bakery goods.
"We might be busier than usual during Jaywalker's Jamboree, but Christmas is our peak season," says Odegard. "We ship out two thousand pounds of lefse over the holidays."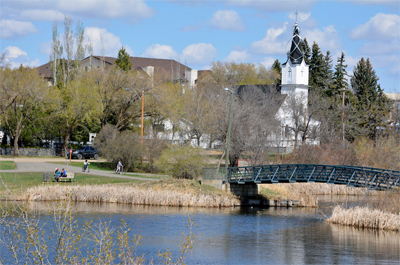 Mirror Lake is a popular spot to see trumpeter swans or just soak up the sun on a park bench.
Top 5 things to do in Camrose:
Walk or cycle through 36 kilometres of paved or shale trails – through the extensive Urban Park system. It runs through the centre of the city following the Stoney Creek Valley. Local trumpeter swans make beautiful Mirror Lake their home nesting along the banks, and several holes of the Camrose Golf Course run along Mirror Lake and the trails. There are parks with modern playgrounds, benches and picnic tables, natural areas left untouched for the wild birds and animals. These trails also link north to south and east to west through the city and feature 54 points of interest. 
There's always a sporting event happening in town. State of the arts sport facilities attract international, national and provincial meets all year long.
Learn a bit about the area's history at the local museums, open in summer. There's the Camrose & District Centennial Museum, and the Heritage Railway Station and Park.  
The historic Bailey Theatre and the state-of-the art Jeanne & Peter Lougheed Performing Arts Centre are hopping with live events every week, from live theatre to concerts.
If gaming is more your style, you'll find 200 slots at the Camrose Resort Casino or the gaming tables.
If you go
Did you know Camrose is home to the beautiful and challenging Camrose Golf Course? While you're attending the Jaywalker's Jamboree, pack your clubs and take in a round of golf. See golf and stay packages here.
Check out all the festival details on the event page here. 
Headed to the Jaywalker's Jamboree? Share this page with your friends.