L0ocal craft beer and live bands are on tap at Longwoodstock festival. 
All photos by Rebecca Bollwitt
REBECCA BOLLWITT
NANAIMO - "If you're not on Island Time, you want to be," Tracy Morgan says as she hands me a freshly-tapped pint of Longwood's Island Time Lager. Share this page on Twitter and #DareToExplore
Tracy, brewmaster Harley Smith, and their four-legged brewery mascot Milo, are the heart and soul of Nanaimo's Longwood Brewery. Last year, they opened their tasting room, warehouse, and backyard, to the community for the first-ever Longwoodstock Festival, and they're doing it again in August. 
Tracy admits they didn't know what to expect when they planned a full-on festival behind their brewery, complete with a stage, vendors, and food trucks. 
"I'm a bit of a worrier and I was kind of concerned. But I was so calm, it just ran. Everybody has a great time and it was really good."
Heading to Nanaimo for Longwoodstock? Check out these places to stay while visiting.
Craft beer ambitions
She and partner Harley Smith then founded Longwood brewpub in 2000 in Nanaimo. During my visit, with my Island Time in hand, Harley showed me around what would become the festival grounds. The modest brewery is the home to kegs full of Canadian craft beer history. Harley, originally from Toronto, arrived in Vancouver to start working at Steamworks Brewing in 1995 before moving to Campbell River to set up a brewpub there.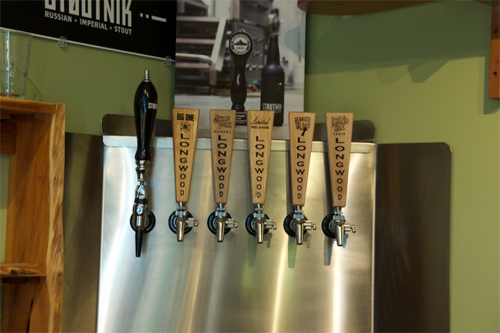 Longwoodstock brews up an array of craft beers in Nanaimo with regional flavours.  
"Part of the purpose of us moving out to the West Coast was to have that west coast experience and we weren't quite achieving it in Vancouver. We went from one big city to another big city-ish.
In Campbell River, where he wasn't sure they were ready for craft beer before the turn of the millennium, Harley established himself and formulated the type of brewery he wanted to see on Vancouver Island.
"I think we found a good home here in Nanaimo and now in the last three years you've seen how [craft beer] has exploded and that's sort of what's driven our desire to get all this local product." 
Harley realized that beer can have terroir like wine, and he also discovered the bounty the island could produce.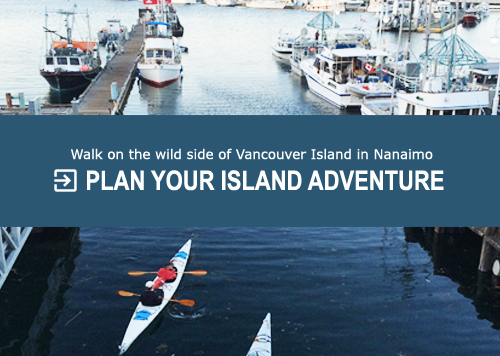 "If we can harvest barley here, grow hops here, and produce a beer that is very regional it will probably have its own characteristics and flavour, we don't need to import hops from the Yakima Valley or barley from Saskatchewan, we can try to create our own regional flavour…"
That's when Longwood fully committed to Nanaimo and island growers. "Locals support us and it almost seems natural that we demand the same of ourselves and support local industry as well."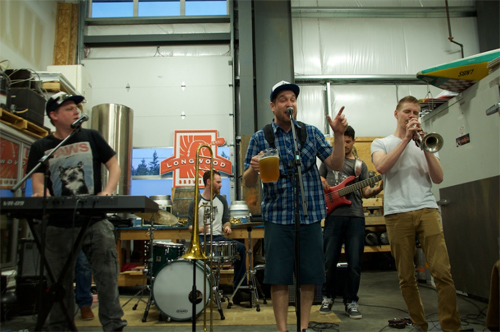 Local band Dope Soda will be pumping out the tunes - maybe even with a pitcher of beer in hand. 
A celebration of local beer and great music
Londwoodstock is a way to celebrate the season, the brewery, and the community through great beer and great music. 
Dave St. Jean, trombonist and vocalist from the band Dope Soda says he was at the brewery one night for an event when Harley told him he wanted to do something in their backyard. 
"I've been playing around for years, being a part of various festivals, and I realized that Nanaimo needs more festivals, more action." 
St. Jean says that he was thinking of putting on a big show where his band would open a big headliner. "I'll just organize it all and make it happen,"he thought.
And that's when his and Harley's dream and came together, along with the help of promoter Andrew Roberts at Got Pop?
"We got it setup and it was a great success. We had a great audience, the bands were great, the police were happy, which is always the sign of a good festival," St. Jean said laughing.
"We need to get more music here, and the fact that we're including craft beer is just like a cherry [on top]."
This year's Longwoodstock is expanding to two nights (August 11 & 12) and will feature artists Daniel Wesley, WiL, lovecoast, Dope Soda, Jon Middleton, Boomshack, and more. 
Festivities will continue in the community with satellite events hopping at other Nanaimo venues as after-parties. 
Of course, there will also be refreshments, including the Longwood Brewery beer garden with five craft beer selections, a special Longwoodstock brew, and Merridale Cider from Cobble Hill. Tickets are on sale now for both nights.
Tickets
All tickets are general admission, so be sure to get to the venue early to make sure you'll see the show. All shows are subject to venue capacity.
Saturday's events will start at the back of the Longwood Brewery and go until around 9 p.m. Then it's time to party on around town, so be sure to get there early so you can snag a seat.
Advance brewery tickets are $45. The passes get you entry into the festival grounds at Longwood Brewery on Aug 13, from 2 p.m.- 9:30 p.m.
The 2-Day Full Pass is  $60.  Gets you into all concerts on Friday and Saturday, plus into the festival grounds at Longwood Brewery on Saturday from 2 – 9 p.m.. 
* Must be 19 or older - two pieces of ID required.
If You Go
Thinking about dessert after a full day of dancing and drinking at Longwoodstockl? Did you know Nanaimo is home to the Nanaimo Bar Trail? Take a tasty self-guided adventure through the city and sample some treats. 
Heading to Nanaimo for Longwoodstock? Check out these places to stay while visiting.
Ready to dance and drink? Share this page with your friends and get planning.