PAULA WORTHINGTON
LLOYDMINSTER - It's only eight seconds, but it can feel like an eternity for some cowboys. Alberta's border town of Lloydminster will once again play host to some of the top cowboys in Canada at this year's Wrangler Bull Riders Canada Finals on Oct. 2 and 3. 
Unlike traditional rodeo events, this one exclusively features bull riding.
"For many, bull riding is the most exciting event in rodeo — there's a reason why they always keep it for the end," says event producer Jason Davidson. "So, when people travel to Lloydminster for this event, they get to see a whole event dedicated to their favourite part of the rodeo."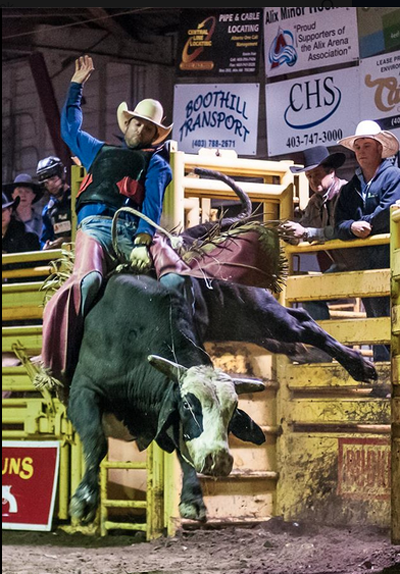 Get ready for an amazing eight-second ride!
Photo by Bull Riders Canada
The event will include the top 30 bull riders who competed throughout the season. "Our organization is represented from almost every province in Canada, as well as one cowboy from Mexico, one from New Zealand and two from Australia," says Davidson.
Featuring semi-professional athletes, some contestants will also be familiar names from the world-famous Calgary Stampede. Tweet This!
On the Friday night, there is a $5,000 overall purse available in the Fox Drilling Grudge Match. The premise is simple. Cowboys versus the bulls. If the rider lasts eight seconds, he wins $1,000. If the rider gets bucked off, the bull wins, with the $1,000 being awarded to the stock contractor. Last year, the score was three to two in favour of the bulls.
Interestingly enough, the cowboys aren't the only ones who have to qualify for this event, the bull do, too. "Our stock gets hand-picked, so that we can have the best athletes riding the best stock," says Davidson
The Saturday finals include a Final 10, whose aggregate scores across three rides help determine the champion, who can take home upwards of $6,000. Not bad for eight seconds of work (and a long road to get there).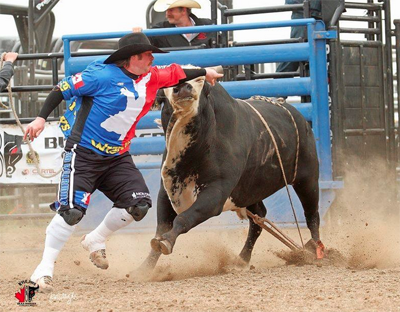 Expect to be entertained by all facets of the bull-riding finals. 
Photo by Bull Riders Canada
One of the great things about watching the competition in Lloydminster is that the venue lets competitors get up close and personal with the action. You can live like a local and attend the event's cabaret, featuring country band Emerson Drive on the Saturday night following the competition. The city of Lloydminster also offers a number of restaurants, recreational opportunities and activities to round out your stay.
To get a sense of the athletes that compete in this event, I asked several of the cowboys who are currently near the top of the standings about their love of bull-riding.
Here's what they had to say:
"It's eight seconds, but it actually feels like…"
"A lifetime." — Brian Hervey
"Time is frozen." — Chris Young
"A 25-hour day" — Casey Berg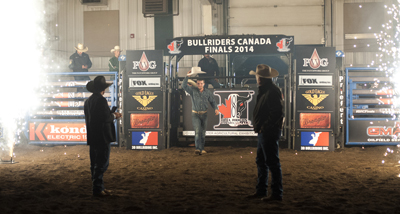 Who will be the champion?
Photo Bryan Myers
In case you haven't been to a rodeo yet, I asked these experts, "What's one thing someone needs to know about watching bull-riding for the first time?"
"There's a lot more to it than meets the eye. Its not just holding on for dear life." - Chris Young
"A lot of blood sweat and persistence through hard times have been put in to developing a riding style that works." - Will Purcell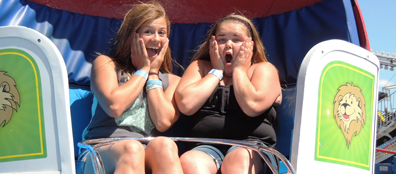 The City of Lloydminster has a long roster of events and festivals. Find out more here.
"It takes a physically and mentally prepared person to do what we do, it's more mental than physical I would say." - Casey Berg
It's something I've got a deep passion for and it challenges me every day. It's the best feeling in the world to make a good bull ride!" - Will Purcell.
So make the trip to Lloydminster and cheer on Will, Casey, Chris, Brian and so many other talented cowboys, as they take on the toughest eight seconds in rodeo.
More Info
Head to the official website for more information about the week of action.
Read our FestivalSeekers overview and get yourself excited for all things bull riding!
Looking to add more small-town charm into your life?  Start planning your adventures today by visiting the Lloydminster Tourism website, lloydminstertourism.com
Interested in checking out the bull riders? Share this page with your friends so they can enjoy the excitement right alongside you.