The gorgeous Nanaimo harbour awaits.
REBECCA BOLLWITT
NANAIMO, B.C. - Getting out on the water is always a fantastic way to experience a place, especially when its nickname is the Harbour City, and you're in a 12-person bathtub. Yes, a bathtub that not only fits 12 people, but is also seaworthy.  
Help your friends #DareToExplore. Share this page on Twitter.
By now you've probably guessed that I'm talking about Nanaimo, the birthplace of bathtub racing and home to the internationally celebrated sport for the last 51 years.
I parked just outside the popular post-race watering hole, Carlos O'Bryan's, at the marina across from Newcastle Island and walked down to the dock where my vessel awaited. There was Greg Peacock, media manager with the Loyal Nanaimo Bathtub Society, and our bathtub skipper Rob Timbrell, who also captains the Newcastle Island Ferry.
Nanaimo is full of places to stay while enjoyin the Bathtub Races. Plan your adventure...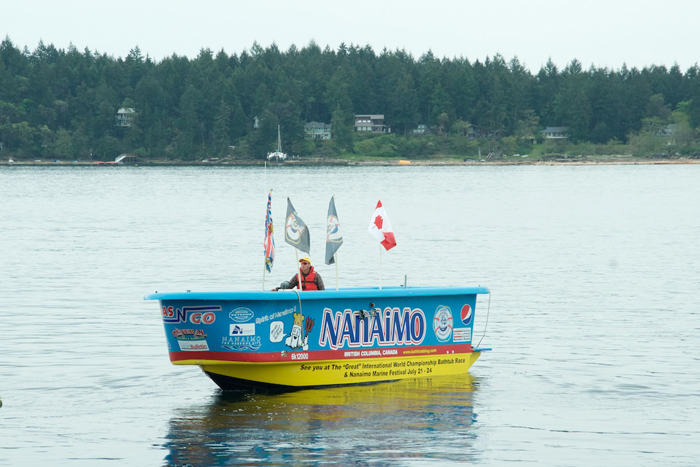 Did you know Nanaimo is home to the world's largest bathtub?
I stepped aboard the world's largest bathtub, where prime ministers and other dignitaries have stood, and we set sail through the channel and over to Departure Bay.
Just beyond the docked ferries, is the site of one of The Loyal Nanaimo Bathtub Society's World Cup Bathtub Races - one of several races that take place outside of the annual Bathtub Weekend in Nanaimo.  Serious tubbers can also race in Powell River, Summerland, Oak Bay, and Silverdale, WA, between June and September.
Of course, the main event is the International Bathtub Race in Nanaimo, happening on Sunday, July 23, 2017.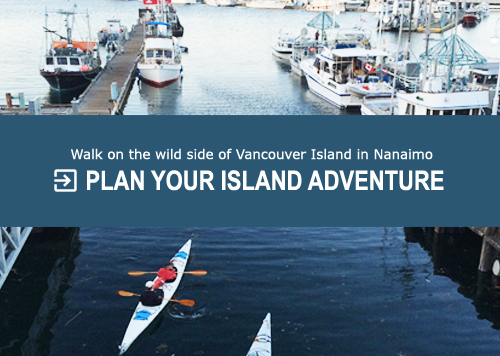 After our lap around Departure Bay, our giant tub looped back through the Newscastle Island channel toward Downtown Nanaimo and to the shores of Maffeo Sutton Park, to the site of the legendary race's finish line (under the Frank Ney statue) and other Bathtub Weekend festivities.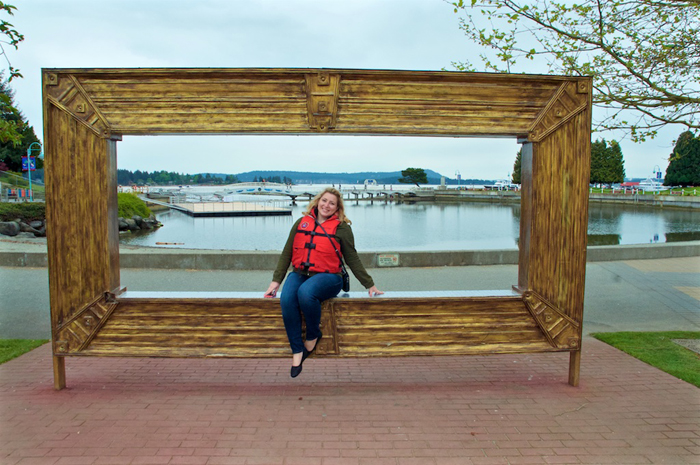 Downtown Nanaimo is gorgeous
When people think of Nanaimo, they think of bathtub racing. "It's hard to forget it because so many people are involved with it," says Peacock. "It's our history."
If you're from Nanaimo, chances are you or someone you know has been involved with the race – whether your children played at the Kiddie Karnival at Maffeo Sutton Park, you've attended the King Neptune Dance, watched racers come in from the Molson Beer Garden, your cousin has worked on a custom bathtub or you've raced your own tub.
Coming around at the Newcastle Island Marine Provincial Park ferry dock, I spotted wheelbarrows that campers can use to cart their gear to their sites. The island is accessible by boat only, and there is no vehicle traffic. 
Cruising by Nanaimo Yacht Club members, and a group of stand-up paddled boarders, we eventually made it over to Canada's only floating pub, the Dinghy Dock just off Protection Island. Where you can have a front-row seat to watch a hundred bathtubbers conclude their 58-km race in the summer.
What began as a centennial event in 1967, will go beyond Canada's 150th, and the celebrations are just getting bigger, bolder, and more fun every year.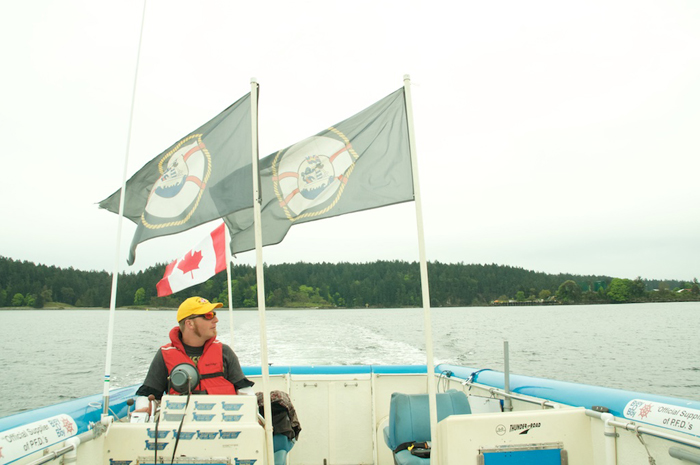 Sailing on the world's largest bathtub
The 51st annual race and Bathtub Weekend includes a launch party, street fair, kid's zone, vendors, food trucks, beer garden, live music, fireworks, and new to the event is wakeboarding in the lagoon at the park. There will also be a few more surprises along the way.
As I sailed around with Peacock and Timbrell, we passed a kayaker paddling up to Newscastle Island. "I love your boat!" she said.
Following what seemed to be a parade route (there is actually a sail-past parade on Saturday, July 22, 2017) we waved to everyone else out on the water. I may have started to use the signature slow, sweeping, Queen-style wave.
I was honoured to experience part of this city's most unique and exciting event, if just for one afternoon, and to see how even the sight of the tub - and the thought of the festival in the summer - made everyone we encountered on the water so happy.
If You Go
Grab a snack while checking out the Bathtub Races! Did you know Nanaimo is home to the Nanaimo Bar Trail? If you have room, take a tasty self-guided adventure through the city and sample some treats. 
Head on over to our World Bathtub Championship Festival overview to learn more about the event.
Did you know that on Canada Day the bathtubbers are doing the historic route to Vancouver? Learn more about the historic race here.
Check out these places to stay while visiting.
Share this page with your adrenaline loving friends.