All photos by Powder Matt
POWDER MATT
CANMORE, AB - Plaid Goat Mountain Bike Fest is set to become a no brainer in early summer because it promises to be not only packed with rad mountain bike rides but also liquid – and local – refreshment. And it's all for a good cause.
Help your friends #DareToExplore. Share this page on Twitter.
Finding adventure and finding your best ride ever is how Plaid Goat Mountain Bike Fest founder Wanda Bogdane sums up this new event. Her super-charged positive outlook is changing the landscape of mountain biking for the better.
The annual Plaid Goat Mountain Bike Fest spins its wheels into Canmore just as the summer holidays begin.
Take on some of Canada's best single track during the Plaid Goat Mountain Bike Fest. Plan your biking adventure.
This event seems guaranteed to become a beacon for mountain bikers, who will want to set their compass toward the three-day wheel jam in the heart of the Canadian Rockies.
Get ready to revel in an energized weekend that includes an expo and demo days on steroids, coaching, glorious group rides for all abilities, shuttles for your convenience and a craft beer hub.
I had the pleasure of checking out some of the terrain while I was in Canmore recently.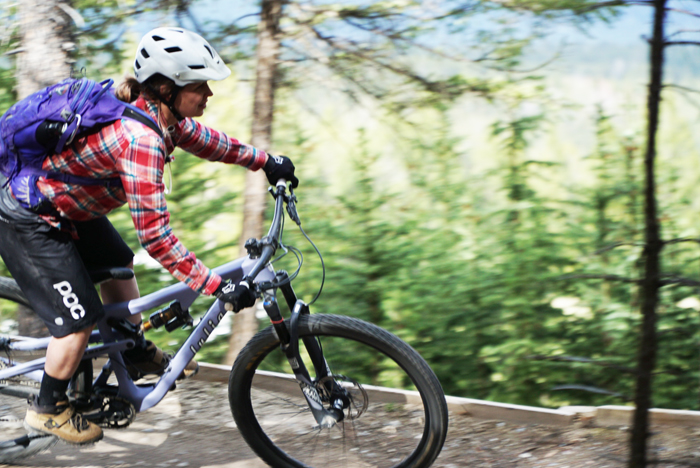 We began riding the trail Reclaimer. This is likely to become one of many riders' mountain bike favourite trails, and part of the limitless kilometres that span the riding region around Canmore. Reclaimer starts with a steep section, hitting a few technical corners, keeping me on my toes trying my best to keep up with Bogdane.
On a merciful break, I ask her what motivated her to start a new mountain bike festival. With a wide grin, she says, "Be the change you want to see in the world."

Well, she appears to be doing that here. As president of the non-profit Canmore and Area Mountain Bike Association (CAMBA), she's focused on building a bunch of killer trails in and around the town. The Plaid Goat Mountain Bike Fest also has a fundraising element that will further support Bogdane's dream of supporting the greater sport of mountain biking throughout British Columbia and Alberta.
"We are in the process of adding more enduro, purpose-built, bike-centric trails here, "says Bogdane. "The Plaid Goat Mountain Bike Fest, will introduce more people to this two-wheel lifestyle, as mountain biking is such an important part of the fabric of Canmore."
With the yellow orb at our backs, we end the day playing on some skinnies, big curvy berms and endless switchbacks on the technical trails of Tunnel Mountain.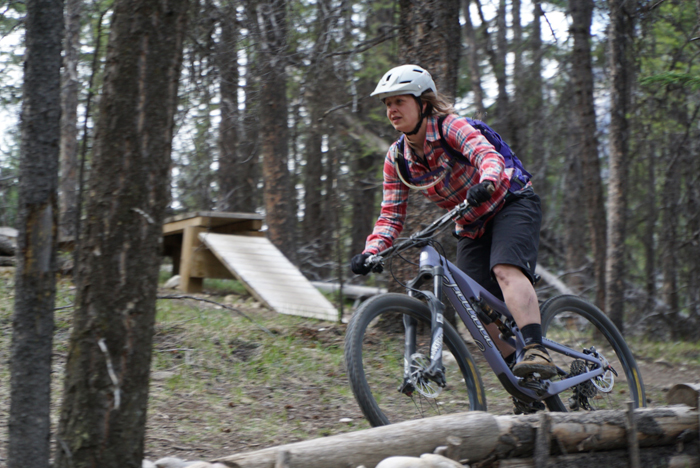 Packing up the gear, we're ready for that all-important rally among mountain bikers, the post-ride beer. It seems fitting we are heading to Banff Ave Brewing Company, kicking back and enjoying the festival's namesake brew, Plaid Goat Red Ale.
Canmore's geographic location, snugged into the mountains, makes it a pilgrimage of sorts for outdoor junkies chasing a variety of outdoor pursuits. And like a good plaid shirt, I can tell this mountain bike fest will fit nicely here.
Here's some of what to expect:
Huge Demo Days: check out killer bikes from some of the best brands.

Local craft beer hub: Sample some of the region's best craft beer and don't miss the event's own Plaid Goat Red Ale, by Banff Ave Brewing Company.

Bike Rodeo hosted by the Flannel Crew: You'll be entertained by spectator favourites events like huck-to-flat comps, adult tricycle races, and costumed critters.

Family-friendly, non-race activities: check out group rides and coaching clinics (Additional cost)

Kids-only Hub: the kids will love face painting, digger pits, a skills and drills area, colouring and more.

Representation from grass-roots mountain bike associations from across the region.

Wildlife safety and trail-building sessions demonstrating a commitment to responsible riding.
If you go
Are you ready to head to the Canadian Rockies for an incredible weekend of biking and entertainment? Share this page with your crew and get them stoked too!