Debut craft beer festival taps into tasty small-batch brew trend
in scenic surroundings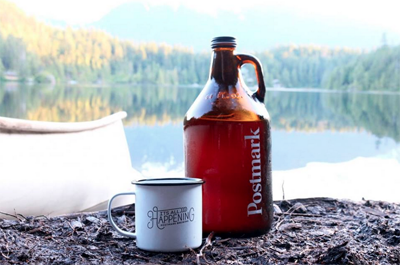 Postmark Brewing is among 40 small-batch breweries that will be at the
first-ever Squamish Beer Festival, July 11, 2015.
Photo by Postmark Brewing
LISA MONFORTON
SQUAMISH, B.C. – Road trips are a staple of Canadian summer holidays, made all the more wonderful along scenic highways, with roadside attractions along the way. It also helps to know there's a cold beverage or two waiting at the end of the pavement.
As you leave the bustle of Vancouver, cross the Lion's Gate Bridge and wind your way up the Sea to Sky Highway, you can feel the stress leaving your tensed shoulders. The sweeping ocean-meets-mountain views are magnificent and it's not long before you feel like you're a million miles from the city.
Squamish is your destination, halfway along the Sea to Sky Highway. It's a small, outdoorsy community of 17,000, surrounded by moody mountains and tucked along Howe Sound.
40 craft breweries coming to town
It's a cool place any time of year, but this summer there's another reason to visit — the first annual Squamish Beer Festival on July 11, from 11 a.m. to 6 p.m.
Scott McQuade is one of the festival organizers. He's excited for the debut event; they've been talking about it for about a year now.
"As with most beer festivals, the idea usually starts over beers," says McQuade. Coincidentally, that happened at Howe Sound Brew Pub, the lone craft brewery to call Squamish home.
The idea has grown into what will be a main street-style festival, anchored around the wavy O'Siyam Pavillion — reflecting the town's rolling topography of ocean and rock.
The event will feature 40 breweries, food trucks from around the region, art shows and live local bands. "It's going to be cool. . . being out in the sun, looking at The Chief," said McQuade referring to the spiritual and enormous granite monolith along Howe Sound that watches over the town.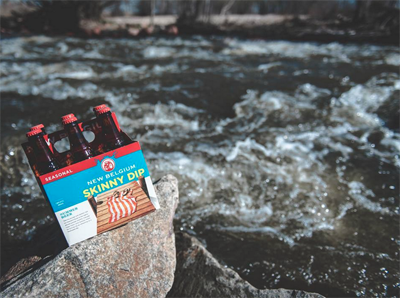 New Belgium will be on hand during the festival.
Photo by New Belgium Brewing
JP Tondreau, of Evotion Events, also helped put the event together. Craft brewers jumped at the chance to sign on for the event, he says. "The craft beer industry is booming and the festivals are following that trend," says Tondreau.
Setting the Squamish beer fest apart from others is easy. "The beauty of the surroundings, the Howe Sound and The Chief . . . and we're focusing on small-batch beers."
Those will include some you may never have heard of, such as Bad Tatoo, Fuggles and Warlock and others you likely have, like Steamworks. (Steamworks' master brewer John Follinsbee will hold a home-brewing workshop Friday night at the Howe Sound Brewery. See the website for details.)
"The priority is to create a great experience for the participants and the breweries, so that it will happen year after year," says Tondreau.
The event will appeal to beginner beer tasters and aficionados.
"There will be beers they've never tasted and brands they've never heard of for the beer connoisseur," says Tondreau. "And for the beginner, they'll learn how to appreciate different beers."
Visitors will also appreciate the outdoor activities, enough to turn the one-day beer fest into an extended holiday.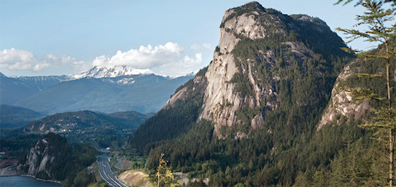 Journey along the world-famous Sea to Sky Highway and cross into the wild.
Credit: 604pulse.com
Mountain-meets-ocean lifestyle
It's commonplace to see people walking down the street with a kayak in tow on wheels, evidence water sports are an integral part of the lifestyle. There's also kite-boarding in Howe Sound, white-water rafting with three local companies and stand-up paddle-boarding on Alice Lake or in an estuary off Howe Sound.
Land activities include hiking The Chief, zipping up the Sea to Sky gondola where more hiking and walks await, as well as climbing around on the new via ferrata. "It's amazing and offers spectacular view of Howe Sound," says Heather Kowaguchi, of Squamish Tourism.
You can also leave your cars behind if you're from out of town; there will be shuttles to Squamish from Whistler and Vancouver. "We're encouraging people who are attending to use their bikes or rent a bike," saus Kowaguchi. Renting is available through the Sea to Sky Adventure Company.
More information
Read our FestivalSeekers overview about the Squamish Beer Festival.

Discover more about B.C. Check out HelloBC or plan a Sea to Sky Highway trip.

Getting there: Direct flights to Vancouver via via Edmonton and Calgary on Air Canada, WestJet are available daily.
Keen to sample innovative craft beers in Squamish? Share this story with your beer-loving friends.