There's a good chance you'll spot a whale while on an ocean hike in Sooke. 
Photo courtesy, Tourism B.C.
Bluegrass and fine arts festivals add to summer fun
EMMA GILCHRIST
SOOKE, B.C.- Sooke is the kind of place where in a single day you can picnic in a quiet cove, hike along a pod of orcas, visit an art gallery and finish the day with a gourmet meal overlooking the harbour.
Located 45 minutes west of Victoria, Sooke is home to about 12,000 people and is an outdoor-lovers' paradise with an artsy side to boot.
From June 19 to 21, the town hosts the Sooke River Bluegrass Festival, featuring local talent as well as instrument workshops and square dancing. The festival is held at Sooke River Campground and tickets are $50 for the weekend.
Sooke Potholes and ocean trail hikes
The Sooke River and its swimming holes, called the Sooke Potholes, are one of the area's biggest attractions. The "potholes" are a series of deep, polished rock pools carved naturally into the bedrock of the river by boulders. In summer, the potholes are a go-to swimming spot and in the fall they're a great place to watch the annual salmon run.
No trip to the West Coast is complete without an ocean hike. You'd be hard-pressed to find a more rewarding place to hike than East Sooke Regional Park home to 50 kilometres of trails.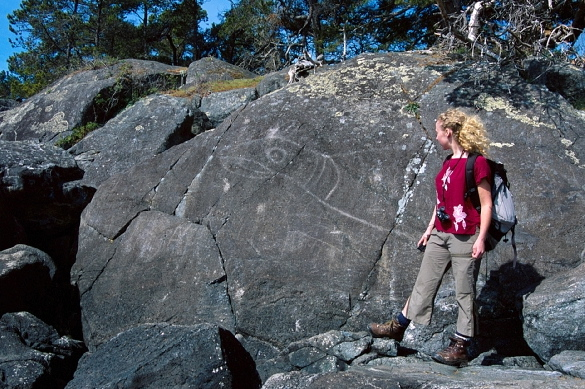 Aboriginal petroglyphs on the rocks at East Sooke Regional Park near Sooke.
Photo courtesy, Tom Ryan, Tourism B.C. 
For a perfect day trip, start at Aylard Farm, a great place for a picnic on the beach, then hike the coast trail up to Beechy Head, which offers a terrific viewpoint across Juan de Fuca Strait to the Olympic Mountains. Along the way, chances are you'll see seals and eagles and, if you're lucky, you might spot orcas, which are often seen along the shores of the park. You can loop back to Aylard Farm along an easy path through the forest. The 4.2-kilometre route will take you two to three hours.
If you're visiting East Sooke on a Saturday, stop by historic Ragley Farm (5717 East Sooke Rd.) to pick up fresh produce and bread, pies and muffins baked in the outdoor masonry oven. 
Travelling with kids?  Visit Adrenaline Zipline Tours (5128C Sooke Rd.), where guests zip through the treetops on eight ziplines and tip toe across two suspension bridges.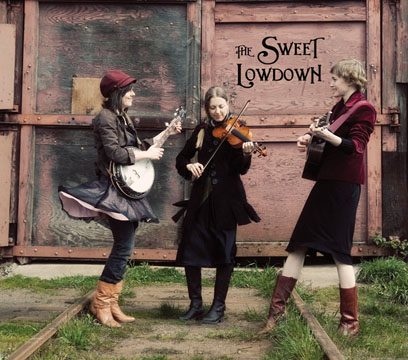 The Sweet Lowdown will play the Sooke River Blue Grass Festival.
Photo courtesy, The Sweet Lowdown
Sooke's artsy side
Sooke is also known for its artists — painters, writers, sculptors, potters and more — who showcase their works in the annual Sooke Fine Arts Festival, which draws 8,000 visitors a year. This year's festival is the 28th edition and runs from July 24 to Aug. 3 at Seaparc Leisure Complex (2168 Phillips Rd.)
Local art can be viewed year-round in the gallery at Sooke Harbour House, which showcases the art of more than 150 local artists and craftspeople. The unconventional gallery encompasses most of the inn. The Harbour House also houses an award-winning restaurant, which gets many of its ingredients from its own certified organic herb, vegetable and flower garden.
For a more casual bite to eat head to the Stone Pipe Grill (2038 Otter Point Rd.), which offers tasty burgers, pastas, salads and curries. 
Most of all though, take some time to breathe in Sooke's fresh, ocean air and to absorb the magnificent vistas.
More information
Visit the official 

Jazz Fest Society 

website.

Read our FestivalSeekers overview on the TD Jazz Festival

Discover more about B.C. Check out HelloBC or plan an island road trip. 
Like this story? Share it with your adventure-seeking friends.