The Summertime Blues Festival features 21 acts at indoor and outdoor venues in Nanaimo. 
Photo by Rebecca Bollwitt
REBECCA BOLLWITT
NANAIMO - I made Lazy Mike work pretty hard when he gave me a crash course in playing the harmonica. I met up with him at The Queens, a legendary Vancouver Island venue with a hardwood dance floor and walls, that if they could talk, would sing the blues.  
Help your friends #DareToExplore this summer. Tweet this page
I was there for a mouth harp lesson, and to learn about the Nanaimo Summertime Blues Festival.
"It's the highlight of my year," Lazy Mike told me between note bends. He's been playing the festival for years and will be there again this year. "You try to get into as many festivals as you can but this is definitely a highlight."
Heading to Nanaimo to catch some soulful blues? Check out these places to stay while visiting. 
The Nanaimo Summertime Blues Festival is the ultimate mash-up, with the moody, soulful ambiance of The Queens to the spectacular open-air, seaside venue at Maffeo Sutton Park on Nanaimo's waterfront.
"The backstage area is the best. You run into guys you've met at festival before, you meet new people, and it's such a great feeling."
I wet my whistle over a pint after my lesson with Lazy Mike and sat down with Gerold Haukenfrers, president of the Nanaimo Blues Society.
"This place rocks!" he tells me with enthusiasm.
Big and bluesy lineup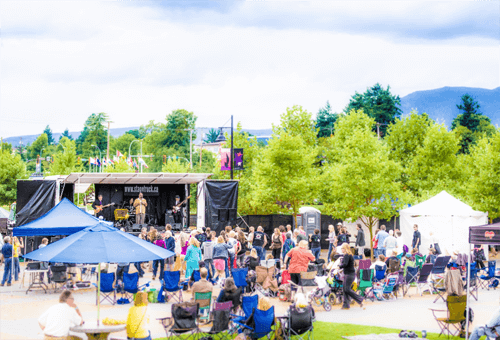 Maffeo Sutton Park is the place to check out some great blues bands Aug. 26 to 28.
Photo by Cinnabar Vista Productions
The calibre of music coming to play at the festival has been exceptional, with headliner Canned Heat in 2015, plus Macia Ball from Texas and CJ Chenier from Louisiana.
This year the lineup continues to be big and bluesy.
The number of acts just keeps growing. "We've gone from 12 acts or so to 21, with the support of the community and we're pretty excited about the future," says Gerold.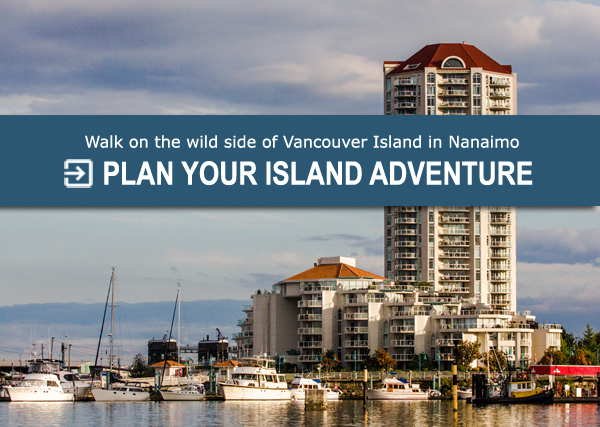 From Port Alberni to the Bayou, the mix of talent that comes to Nanaimo for that one weekend of music is staggering.
The festival began in 2011, but it wasn't profitable, and Gerold and his team wanted to make sure artists were paid for their time. So in 2012, the society hosted a fundraiser and received some grant money. Since 2013, they've made progress and expect to have the best festival yet.
But it's not just the top-notch acts that keep festival-goers happy, so does the more relaxed beer garden rules, which allows people to mingle about, instead of being penned into a cordoned off area.
It's also become a much more family-friendly event.
All of the positive changes come from the 250 society members as well as a "tremendous board of directors," Gerold says.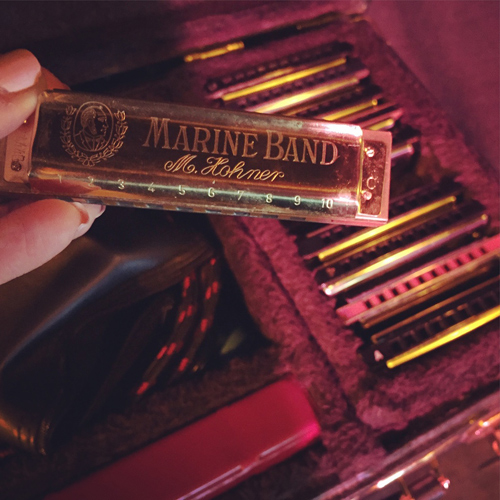 It wouldn't be a proper blues festival without the sounds of a wailing harmonica. 
Photo by Rebecca Bollwitt
One of their goals is to support local musicians, but also bring in big international names.
"The calibre of musicianship [on Vancouver Island] is really high … we need to bring the right mix of local and international artists. It's a good balance we try to focus on."
International names bring in people from as close as Vancouver, but also from across the border. A couple told Gerold last year that it was "only 300 miles to drive up from Portland" to see Elvin Bishop.
"To me, that' really exciting. We have people coming that distance to participate in our festival, so we're getting on the map."
Leading up to the festival, a popular weekly jam happens at The Queens on Sunday afternoons from 4 – 8 p.m. "We used to get 20 to 25 people, now we have an average of 150 to175 per weekend, coming to pack this place."
During the festival, The Queens hosts blues jams on Friday, Saturday, and Sunday night.
"This is where we'll be giving a lot more recognition to our local talent, and anybody who is a festival-goer, with a wristband, gets in free," says Gerold.
As an artist, Lazy Mike appreciates the society's support. "You form all these really cool friendships and it's always cool to be with like-minded people, blues people."
Tickets/Admission
Three-day tickets:
April 2– July 31: $125
Aug. 1 – Aug 21: $135.50
Gate Price Aug. 22: until cut off $146
Single Day Tickets: $52.50
If You Go
Grab a snack while checking out the Summertime Blues Festival. Did you know Nanaimo is home to the Nanaimo Bar Trail? If you have time, take a tasty self-guided adventure through the city and sample some treats. 
Heading to Nanaimo to catch some soulful blues? Check out these places to stay while visiting. 
Excited to shake it in the park? Share this page with your music-loving friends.