This story is brought to you by the Aboriginal Tourism Association of BC. Click the logo above to stay connected to the Aboriginal community.

Photo courtesy of Squamish Lil'Wat Cultural Centre
Squamish Lil'Wat Cultural Centre barbecues a new tradition for two nations
KENZA MOLLER
WHISTLER, B.C. - The beat of rhythmic drums rise and fall to the swaying pitches of three singers' voices, which ring through the longhouse-inspired building. This Welcoming Song kicks off the tour that begins the Squamish Lil'Wat Cultural Centre's most recent attraction: a Tuesday night barbeque preceded by a tour of its award-winning building.
After the live music presentation, we settle into a small theatre. We're treated to a bird's-eye view of B.C.'s magnificent scenery as the camera pans snow-capped peaks, while chiefs of the Squamish and Lil'Wat groups talk about the tribes' shared history and continued alliance. 
Emerging from the darkness, we head back to the Great Hall, where a long Salish hunting canoe hangs overhead. The canoe is named Nexws Chachu7 and was carved by a master carver who spent years researching the dying art of Squamish carving. 
"This canoe was carved from a single cedar tree," our guide says, drawing questions from curious children as she passes around one of the canoe's smooth paddles. Every year, the outstretched canoe is taken on a ride through the ocean to honour its spirit, disappearing from the centre until that journey is complete.
After hearing stories about the canoes, we head to an area of the centre dedicated to giving visitors hands-on experiences, complete with a miniature canoe for children to clamber into and bear skins for us to run our fingers over.
Guests can try playing any of the many drums displayed on the wall, creating their own rhythms.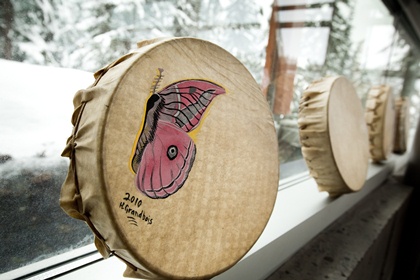 Photo courtesy of Squamish Lil'Wat Cultural Centre
Gwen Baudisch, marketing manager of the centre, smiles as several kids begin their own drumming session and says, "Sometimes when I'm in my office, I'll hear the most interesting songs coming from up here."
The building gracefully winds into a final room decorated with various wool and leather outfits that belonged to the two Nations. Ten blankets hang in the centre, hand-woven by Squamish Nation weavers.
In the next room, a large cage woven of cedar wool immediately attracts a young boy, who ducks into it for a photo opportunity.
"Careful," warns our guide, proceeding to tell us the story of Qalqalil, a giant woman who caught misbehaving children in her basket and carried them off in the forest. With a smile, she adds, "I was told the story of Qalqalil a lot as a child."
We also attempt weaving cedar, as First Nations did to create everything from baskets to the ropes that held their homes together.
After I've tied my rather dishevelled bracelet on, we duck into an istken, the centre's replica of the traditional Lil'Wat all-weather-friendly pit-house. Then we stroll over to the centre's open-air patio for dinner.
The delicious buffet includes crumbled sage and cheddar bannock, cedar-plank smoked salmon, and salad drizzled with a blueberry maple dressing, among other fusion Aboriginal dishes.
By the end, I'm contentedly stuffed – and then proceed to have a taste of the blueberry crumble dessert, along with a cup of strong Spirit Bear coffee.
The Tuesday Night Barbeque series runs from May 7 to Sept. 17, and is already sold out on several nights. The dinner takes place outside in the Mezzanine Patio or in Istken Hall and can comfortably seat up to 100 guests.
If you're visiting with a group of eight or more, call the Squamish Lil'Wat Cultural Centre in advance for a reservation. The barbeque costs $58 for adults and $25 for children ages 6-14 (kids under six enter for free). Admission to the centre and a tour are included in the cost of the buffet. 
Check out our story about Klahowya Village. It is another unique Aboriginal culture experience in Vancouver's Stanley Park and is ongoing throughout the summer.