World Championship Bathtub Race a Nanaimo tradition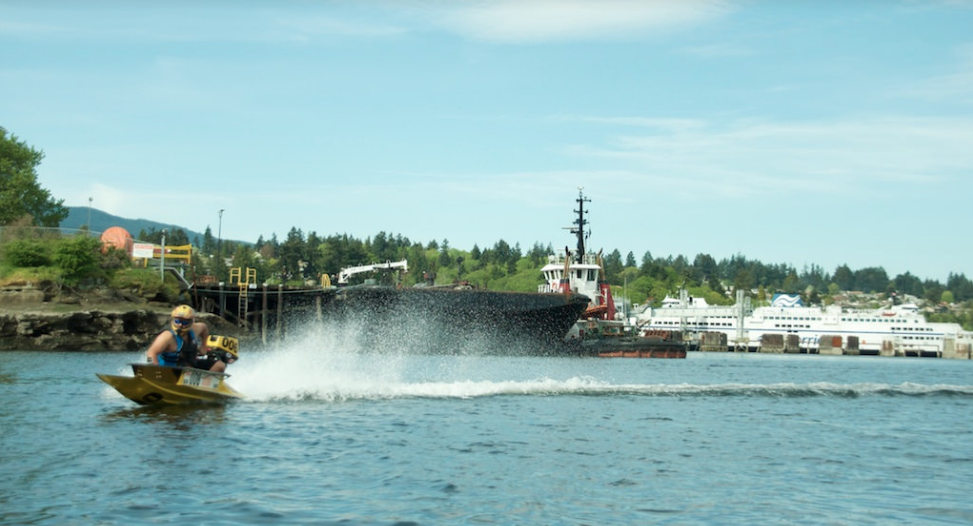 NANAIMO - After getting tossed out of a bathtub on the waters off Nanaimo's Departure Bay, all Jamie Garcia could say, with a giant smile splashed across his face, was, "Does that thing ever rip!"
"It's all part of the race," Marion Steward added as she turned our support boat around to go and pick him up. Stewart has been racing in the Nanaimo Marine Festival's World Championship Bathtub Race for the past 12 years, which is where she met fellow competitor Garcia. 
I got to tag along one morning as Garcia was testing out a new motor on his custom-built tub. It was an impressive 40 pounds of fibreglass, decorated chromed parts and sponsor logos - and it was now upside-down in the water. 
I handed a ladder to Stewart so that Garcia could hop into our boat after a rope was secured around his craft. After completing a few figure eights around us, Garcia got caught in his own wake and flipped. I went into immediate panic/rescue mode, put down my camera, and awaited instructions from my captain. That's when Stewart told me to get my camera back out, bailing is a huge part of the bathtub race. 
So I continued to snap.
It's a fact that in 2015, only 13 of 50 bath tub racers finished the course (including Stewart), relying on their escort boats to reel them in once they suffered the same fate as Garcia did the morning I was on the water. 
Share this page with your adrenaline loving friends.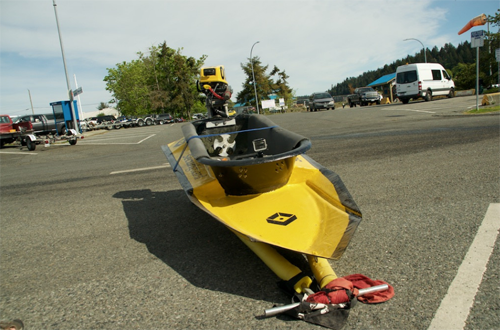 "You do want to finish, though the placing doesn't matter," Garcia said. 
So why race souped-up tubs through the waters of the Salish Sea? It's a tradition. It's a Nanaimo tradition. 
It's a Nanaimo thing
The very sport itself started in Nanaimo back in 1967 when the world was invited to watch the first race from Nanaimo to Vancouver. At that time, any watercraft imaginable was eligible to enter and 200 participants took to the water - 47 completed the 36-mile course across the Georgia Strait.
Festival organizer, Margaret Johnson, vice-commodore with the Loyal Nanaimo Bathtub Society, watched her husband George race in that first event. It was supposed to be a one-time thing, just for fun, but now everyone in Nanaimo knows that the 4th Sunday in July is set aside for the bathtub races.
For Margaret, it's a family affair. In 1993, her youngest son won the race by being the first to complete the course, run up onto the sandy beach, and ring the bell. Her husband, now 82, is still thinking about racing. It's a family affair, as she's organizing her 50th race, and her daughter is organizing the festival's parade. 
Garcia is also involved the race with his family. He's been competing for 13 years and got his start after a co-worker at a local auto dealership asked him if he'd ever been in one of the racing tubs. 
"I said yeah, I'll take a rip!"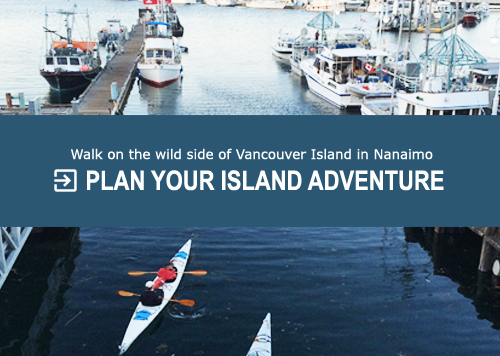 He immediately fell in love with the sport and began building his own bathtub to race.
Get 'em hooked young
"We're trying to gain awareness and get younger kids to participate. My daughter is 14 and she's into it, she's building her own boat. We want people to start young so they can get hooked. It's a Nanaimo thing!"
This year, the course starts at the Nanaimo Harbour, goes around Entrance Island, north west to Winchelsea Islands, around a naval ship, past Schooner Cove and then back to Departure Bay beach in Nanaimo. Back at the beach, those who finish in their own craft (and not in the observation and escort boats) run up the sand and ring the bell to declare their victory. There, the festival awaits. 
The race is just one day of out four (July 21-24) that celebrates Nanaimo's maritime tradition and the (http://bathtubbing.com/the-festival/) Nanaimo Marine Festival is full of free events for the whole family with an Arts & Crafts Fair, food vendors, beer garden, entertainment stage and a children's craft tent at Maffeo Sutton Park and Swy-a-lana Lagoon adjacent to the Nanaimo Harbour. 
There's also informative displays on boat safety, military, water sports, a farmer's market at Pioneer Plaza on Friday, July 22, and the "Sail Past on Wheels Fun Parade" on Saturday, July 23.
On Sunday, July 24th, the World Championship Bathtub Race starts promptly at 11 a.m., and runs for about 1 ½ hours. Spectators can watch the start and finish at Maffeo Sutton Park.
For bathtubbers, this is the pinnacle event of the season, which involves a few other race locations, including Sprout Lake (Port Alberni), Powell River, and the end-of-season race in Bremmerton, Washington. 
Jamie says he does about 10 races throughout the year, but Nanaimo's is the "big one."
For visitors, it's a fantastic spectacle to behold. "It's a big race. People come from all over  - New Zealand, Australia -  they come from all over because there's no other race like it."
If You Go
Grab a snack while checking out the Bathtub Races! Did you know Nanaimo is home to the Nanaimo Bar Trail? If you have room, take a tasty self-guided adventure through the city and sample some treats. 
Heading to Nanaimo to catch some wild Bathtub races? Check out these places to stay while visiting.
Get a preview of the championship in our Festival Overview.