The town of Sechelt on B.C.'s Sunshine Coast hosts a yearly writer's festival that might just be the coolest event you may never have heard of
REBECCA COLEMAN

Walking up to a venue of the Sunshine Coast Festival of the Written Arts.
Photos and video by Rebecca Coleman
The Sunshine Coast Festival of the Written Arts, now in its 34th year, is the longest-running writer's festival in the country. It celebrates Canadian writers from all corners of the country, and all genres, from mystery to poetry to non-fiction are represented.
#DareToExplore the Sunshine Coast. Share this page on Twitter.
One of the things that makes this festival so unique is its location. Sechelt's Rockwood Park, a beautiful oasis near downtown, houses a 450-seat, open-air venue that is dedicated to the three-day, four-night festival.
When I meet with festival director Jane Davidson on an uncharacteristically rainy morning at The Bakery in Sechelt, she is bubbling with enthusiasm. Davidson has been programming the Writers' Fest for the last 10 years, and is excited to share her town and the Sunshine Coast Festival of the Written Arts writers' with the festival participants.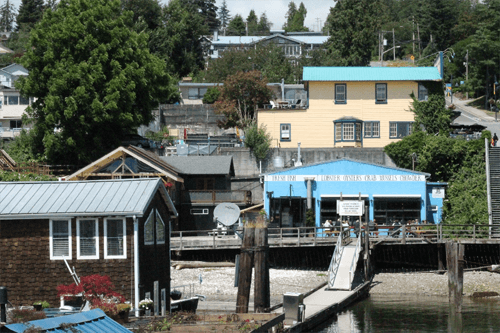 The laid-back charm of the Sunshine Coast makes it perfect spot for a literary festival. 
When I ask her about the longevity of the festival and what it is that makes it so successful, she's quick to answer.
"We have the most amazing audience," she says. "There's something about the island feeling here — the isolation. It allows them less distraction, more focus. They're really here. It's like summer camp for writers and readers."
The local community is a huge part of the festival as well, including 150 volunteers and many local businesses that sponsor and support the festival. Attendees are equally passionate and loyal — the festival regularly gets 8,500 to 9,000 attendees.
Davidson acknowledges that often first-timers are a little apprehensive about what they should expect. It is, after all, a literary festival. But she encourages newbies to just try it. It's just storytelling, something humans have been gathering to do for thousands of years.
"There is magic in getting up close and personal with the writers," she says. "There is such a strong community — it's like being in church, but better," she says laughing.
Festival highlights this year include Guy Gavriel Kay, Boobs; Women Explore What It Means to Have Breasts, and an Aboriginal spoken word event.
While attending the Sunshine Coast Festival of the Written Arts, there's much to do in between sessions. Just a few blocks from the festival location is the beach, all kitted out with a beautiful paved seawall to stroll along in search of inspiration or to just take a few moments to chill.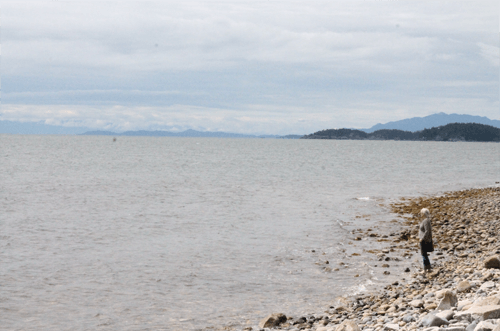 When you're not at the festival, take a stroll on the beach. 
There are a variety of wonderful places to eat and experience local hospitality. You can see a list of these bakeries, coffee shops and restaurants here.
Sechelt also offers many opportunities to hike through old-growth forests. A local tour company, Funtastic Hikes and Tours, offers many guided hike packages, but the one you really need to experience takes you to the top of Soames Hill. This intermediate-level, 45-minute hike wends its way through beautiful forests, and along awe-inspiring cliffs. There are quite a few stairs, and the last part requires a rocky scramble, so it's best to book a guided hike and not try to attempt this on your own. At the top, you will be amply rewarded with stunning vistas of Keats Island, Gibsons, Vancouver Island and the Georgia Straight. You'll feel like you're on top of the world!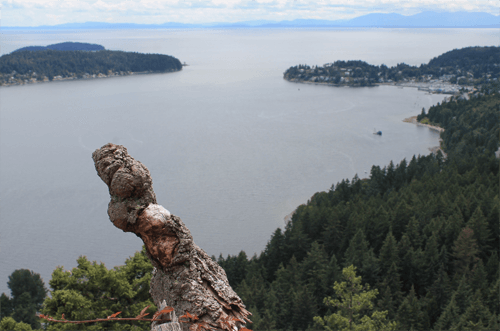 Ocean views are just one of the rewards of the hiking trails along the Sunshine Coast.
There's something magical about the Sunshine Coast. You board the ferry for the short 45-minute trip from Horseshoe Bay to Langdale, and then drive off into a whole new world. Life is slower here, more laid back. People are friendly, and there are many beautiful places to explore. When you're booking your next trip, plan to take in this beautiful section of British Columbia. It has so very much to offer.
If You Go
Interested in checking out the Sunshine Coast? Visit SunshineCoast.com for trip-planning ideas.
Need more inspiration? The Sunshine Coast is home to one of the most gorgeous journeys in the province. Find out more hidden gems here.
Planning to check out the Sunshine Coast Festival of the Written Arts? Share this page with your book-loving friends.