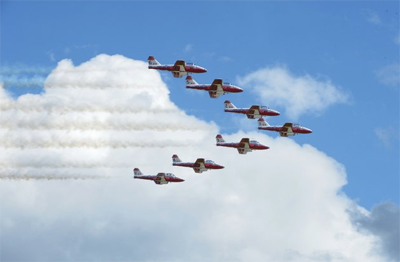 Festival overview
4 Wing and CFB Cold Lake are proud to be hosting the 2022 Cold Lake Air Show. This family-friendly event will showcase the talent and expertise of not only the Royal Canadian Air Force, but storied aviators and aircraft enthusiasts from all over North America. Share this page on Twitter.
This event is sure to be an unforgettable experience for everyone. Plan to stay the entire weekend and see for yourself, you won't be disappointed!
Featured performances
CF-18 Demo Team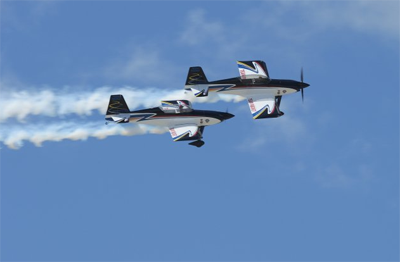 Hold your breath as pilots maneuver their planes within inches of each other high in the sky. Loops, dives, spins, it's all part of the show.

Photo provided by the Cold Lake Air Show
Snowbirds
The Snowbirds Demonstration Team (431 Squadron) is a Canadian icon comprised of serving members of the Canadian Forces. Their pilots and technicians work as a team to bring thrilling performances to North America.
Serving as Canadian ambassadors, the Snowbirds demonstrate the high level of professionalism, teamwork, excellence, discipline and dedication inherent in the women and men of the Air Force and the Canadian Forces.
SkyHawks
The Canadian Armed Forces Parachute Team, the SkyHawks, is Canada's only military parachute demonstration team. For over 40 years, they have represented Canada and the Canadian Armed Forces to at air shows around the world. Over 75 million spectators have watched in amazement as they perform demonstrations and drift to earth under their signature Canadian flag parachutes.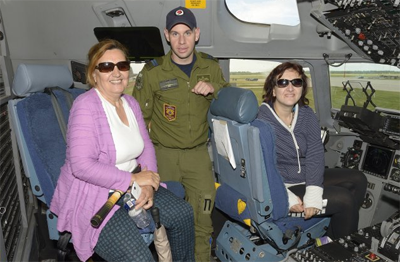 This is not a video game – this is the real thing. Climb into one of the many planes featured on the tarmac. Sit in the cockpit and try to figure out the dials and switches.
 
Photo provided by the Cold Lake Air Show
Aircraft on the ground
In addition to the high-flying fun in the air, the Cold Lake Air Show is pleased to feature some aircraft for spectators to experience first hand. Climb into the cockpit and see what it takes to pilot an A-10 Thunderbolt, CC-177 Globemaster III, CC-130J Hercules, CP-140 Aurora, CC-138 Twin Otter or many others that will line the tarmac. 
Tickets
Gates open both days from 9 a.m. - 4 p.m.

Grab your advance tickets at: www.coldlakeairshow.com 
Adults: $20 - $35
Seniors 55+/Retired CAF Members/13 yrs-17 yrs: $20.00 - $25
Children 12 and under: FREE (but still require ticket) 
Active military members and their immediate families: FREE
*Gate prices are $5 more, except children 12 and under are still FREE
Headed to the Cold Lake Air Show this year? Share this page with your friends and family.