It's all about having fun in the sun with this year's Inglewood Sunfest!  This year event organizers are adding more things to see and do, plus they'll still have all the favorite activities for the whole family.  Join the community of Inglewood from 11 am to 5 pm as the street comes alive with performers, vendors, and  fantastic food.
The Inglewood Sunfest was revitalized last year to create a launch event for the Calgary Fringe Festival and to highlight the historic and vibrant community of Inglewood. This revitalization attracted thousands of visitors to the community and provided an ideal kickoff to the Calgary Fringe Festival.
Click here for more info on the Calgary Fringe Festival.
Admission
The Inglewood Sunfest is a FREE event so bring all your friends and family down for what will be a beautiful fun summer day!
Festival Events
There are so many things to see and do this year at the Inglewood Sunfest!  Plus you get to not only participate but you can vote on your favorite in our 'Best of the Fest' contest where you could win tickets to GlobalFest.  Pick up your ballot at the Info booths located 11th Street and 14th Street.
Pie Eating Contest
Come get some pie on your face with the the 4th Annual Pie Eating contest. The Inglewood Community Association has teamed up with Wilde Grainz Bakery to bring you the most delicious part of the Sunfest. Make your way to the ICA booth and sign up to see if you're the fastest pie-eater this year.
See some of the best Street Performers in the world. From the ever stunning Ariel Angels to the high wire Flying Bob these performers will wow you with their crowd pleasing performances.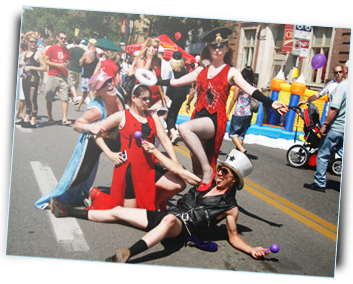 Image courtesy of festival organizers
Kids Zone
Shakers is coming down with their Bouncy Tents.  Plus there will be face-painters and balloon artists that will be sure to keep them busy.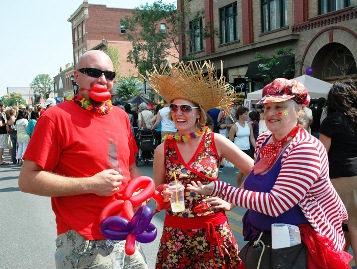 Image courtesy of festival organizers
More Information
For more about the community and its ties with the Calgary Fringe Festival visit the Official Festival Website
Keep the spirit alive at the Calgary Reggaefest. Learn more here.
*Unless specified otherwise, all information on Inglewood Sunfest has been provided by event organizers.