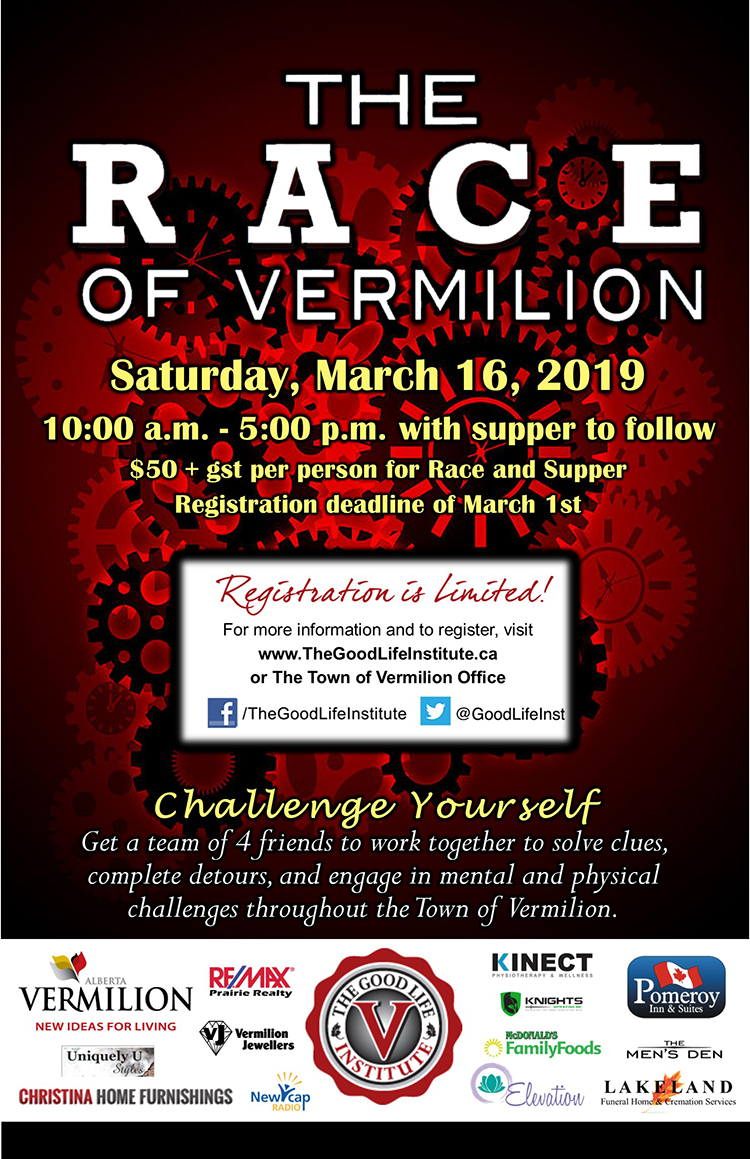 Race of Vermilion is a great way to explore Vermilion
The Good Life Institute of Vermilion, Alberta is hosting another Race of Vermilion again and promises to top what was a crazy and successful race last year. Teams of four enter for the day-long event that tests far more than their ability to run, ski, or jump the highest. The race uses roughly 20 stations around the town where unique or hidden talents as well as mental and physical abilities can push your team to the top.
Businesses, organizations and clubs throughout town volunteer their time and facilities for the teams to test their skills. Clues are left for the teams to find the next challenge. Last year there were stations from axe throwing, pottery creations, yoga, dance routines and even dragging a dummy while competitors are dressed as a fireman.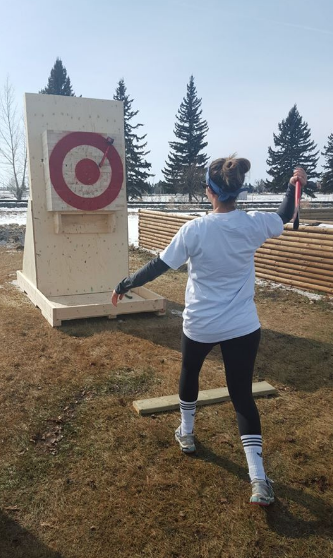 The challenges are kept under wraps so there is no home team advantage. Teams from out of town are invited to participate and see just what Vermilion has to offer.
A wrap-up party to announce the winning teams follows the race at the Vermilion Regional Centre.
Check out the highlights from the 2016 Race of Vermilion events on YouTube to see exactly what you might be expected to do.
Date: March 16, 2019
Registration: 10am – 11am at the Vermilion Regional Centre
Race: 11am – 5pm
Supper and Cocktails: 5pm – 8pm at the Vermilion Regional Centre
Multiple prize packages available.
The cost of $50 per individual, which includes the race, supper and a drink ticket.
Details of the day, waiver form, registering and payment can be completed at: Register as a race participant.
 If you require additional supper tickets for the wrap up at the Vermilion Regional Centre (5702 – 47 Avenue) they are available for purchase for $20/person and includes a drink ticket.
If You Go
Did you know Vermilion is home to Vermilion Provinical Park? The park is about 15 kilometres along the south shore of the Vermilion River Valley. Enjoy a day by the river during your visit. Learn more here.
Are you ready to race? Share this page with your crew and get planning.