It's easy to enjoy winter in Banff surrounded by snow-covered mountains and blue sky.
Photo by Banff Tourism
JODY ROBBINS
BANFF - Treading lightly through a fresh dusting of snow carpeting the ground, you take a break from your shopping to roast a marshmallow at an outdoor fire pit. A band strikes up, and the sounds of Jingle Bells fills the air as a horse-drawn carriage trots down the street.
There really is a place that brings winter fantasies alive. It's called Banff and it does winter really, really well. 
This is the destination to help you kick off our snowy season, particularly during Banff's Winterstart Festival.
"People come to the mountains to feel that pre-Christmas magic. During Winterstart, you'll see Banff in a whole new light - a lot of light," says Elizabeth Armstrong, manager special projects and events for Banff Lake Louise Tourism.
Completing its metamorphosis as a winter wonderland, Banff launches the festival Nov.12, with four weeks of seasonal events. They take place every weekend, but throughout the weekdays you'll also find performances at the Banff Centre, gallery showings and holiday happenings at local boutiques.
Here's a look at some not-to-miss experiences.
Eat, drink and be merry
The holidays are meant to celebrated with friends and family, so grab your favourite loved ones and sample some of the best of the mountain town food scene during Bon Appetit Banff, from Nov. 12 to 22.
Read our story to find out how to make the best of Bon Appetit Banff
About 30 of Banff and Lake Louise's best restaurants go easy on your wallet with three-course prix fixe menus. Food-lovers will want to continue feasting on the Rocky Mountain views and creative cuisine during Dine around Banff. These intimate dinners happen at three different restaurants - one for each course - with an interpretive guide shuttling diners from each restaurant, dishing out cool deets about the town.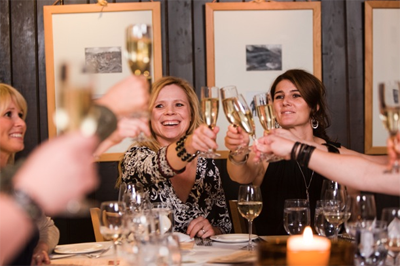 Gather up your best friends and sample some of the best of Banff's restaurants.
Photo by Banff Tourism.
Brew hounds won't want to miss Banff's Craft Beer Festival from November 27 - 28. Set at Cave and Basin, a National Historic Site, attendees mingle with brewmasters, sample Alberta's finest pours, while taking in spectacular views of Canada's first National Park.
Banff Christmas Market
It's just as much fun selecting presents as it is to receive them when perusing this inspiring market held at Warner Stables, Nov. 20-22. Set on the banks of the Bow River, sip mulled wine, while selecting creative, whimsical gifts from local artisans. 
World Cup Racing
Your legs might not be prepped for the pow, but the world-class athletes are. Every year Lake Louise kicks off the first race of the World Cup North American tour. Watch as the men barrel down the mountain in Super G and Downhill Nov. 28-29, while women compete Dec. 4-6. Fantastic spectator opportunities line the course, and between the races you can get your first turns in, too.
Santa Claus is coming to town

Get a glimpse into the Santa Claus Parade with this video.
He's made his list, and all that's left for Santa to do is kick off the Parade of Lights on Dec. 5. Thousands of dazzling lights twinkle in the twilight, as Santa dashes down Banff Avenue, while a series of pretty floats delight spectators. Find Santa during the day at the Whyte Museum - with carolers and free cookies - and at the train station. More entertainment that day is found in Cascade Mall with face painters and live performances, while Holiday on Horseback offers discount wagon rides.
Wrap it up
All good things must come to an end, but the Wolf Street party on Dec. 12 will help you stay in a festive mood all season long. Bring your skates for a twirl around the massive outdoor skating rink, warm up by the fire pits or groove to the tunes played by live bands. 
Check out the details on this event on our festival overview page
For more info about the Winterstart Festival head to the official Banff Tourism page.
Heading to Banff this winter for the festivities? Share this page with your friends and get them ready for Winterstart, too!