Brought to you by Prestige Hotels & Resorts. In 12 destinations across B.C., they make the perfect festival base camp.

Bikers blaze along 50 km of trail at The Kootenay Krusher Mountain Bike Race.
Photo courtesy, Tourism Radium
Summer's the time for mountain bike fest, music and markets
KIM GRAY
RADIUM HOT SPRINGS, BC - Highway 93, heading south alongside impossibly turquoise mountain rivers, is one of my favourite Canadian highways - especially this time of year.
Not only are there stunning rivers flowing alongside you as you drive, but you're surrounded by mountain vistas, and, if you're lucky, you may get to see classic Canadian wildlife - grizzly bears, wolves and mountain sheep along the way.
But what I enjoy most about Highway 93 is that it leads straight to Radium Hot Springs. For almost 20 years I've been visiting this tiny town (located on the "warm side of the Canadian Rockies") – canoeing on the nearby Columbia River, hiking along popular trails, and soaking in the town's world-famous steaming hot mineral waters, which are as popular with locals as they are with visitors from around the globe. – the gateway to Kootenay National Park.
"When people come, they're greeted with a smile. Radium is friendly, it's comfortable and you can choose your own adventure when you get here," says town spokesperson Kara Cassidy. She adds that the city's motto is 'Find your Peace' - inspired by the giant wooden sign perched on the town's edge that greets visitors with 'Mountains shall bring peace to the people.
Music, markets, classic cars and wine
May and June are packed with cool events that draw people to this popular East Kootenay mountain town – events such as Music & Market on Main (think local farmers' market meets folk fest) which happens every Saturday of every long weekend through summer until Labour Day.
There's also Brits Best Car Show - a shiny, showy gathering of European car lovers organized by the Calgary MG Car Club that takes place June 8 from 11 a.m and runs in conjunction with Radium Days, an annual family event held this year on June 7 and 8. It features a parade, market, live music, 'kid zone' activities and laser tag.
This year, the town is also featuring its first annual Corks & Forks – a wine and food-pairing event held at the Best Western Prestige Inn on the evening of May 25.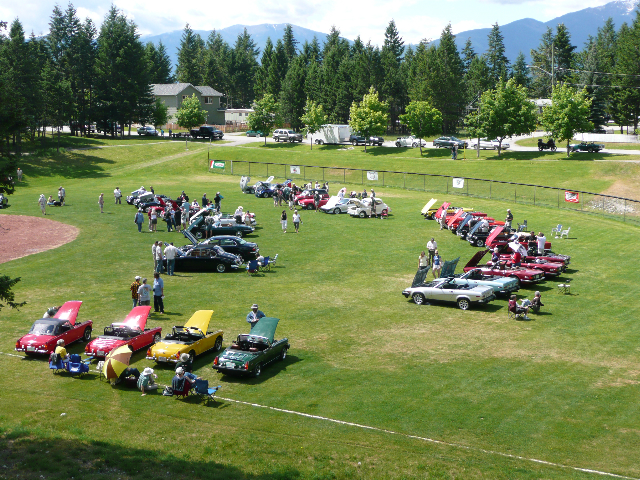 The Brits Best Car Show is a shiny, showy gathering of European car lovers
organized by the Calgary MG Car Club.
Photo courtesy of Tourism Radium
Casa Vino Wine Bar, located just off Main Street West, also features wine-oriented events – focusing this month on Australian wines (May 23) and Chilean wines (May 30), but then featuring weekly events such as "Wine Down Your Week" and "Saturday Discoveries" through the summer.
Kootenay Krusher Mountain Bike Race
The epic Kootenay Krusher Mountain Bike Race  – held by nearby Nipika Mountain resort along with Invermere's Bicycle Works bike shop – takes place June 15. Kootenay Krusher competitors – who can range from recreational to elite bikers – get to cycle along 50 kilometres of trails in the picturesque heart of the region's river valley.
"We wrap up the day with a big barbecue at the Nipika Day Lodge where's there's lots of fun for the whole family," says organizer Lyle Watson.
"The course is spectacular, but the coolest thing about the Kootenay Krusher is the family fun aspect of the weekend. We host kids' races with shorter distances, and we even work with toddlers on their little 'run' bikes."
That's the thing about Radium Hot Springs. No matter how long you've been visiting the area, there's always something new you can fold into your visit.
I've cross-country skied with my husband and children at Nipika Mountain Resort during the winter and it was a gorgeous experience. Now that the kids are getting older, I'm thinking that next year we might just sign up for the Kootenay Krusher Mountain Bike Race.
I've always enjoyed driving alongside the "jade-au-lait" waters of Rocky mountain rivers en route to Radium.
How awesome would it be to bomb along beside them on a mountain bike? Sign me up is all I can say. 
Check out the amenities and packages at the Best Western Plus - Prestige Inn Radium Hot Springs.  
 Kim Gray is a Calgary freelance writer and editor-in-chief of www.toqueandcanoe.com 
Take a look at our picture slideshow showcasing the prestige destinations shared on FestivalSeekers.com. Each picture has a story attached to it, so make sure you don't miss out on all the great summer destination ideas.
Story links: 
Tourism Radium
Music/Market on Main
Brits Best Car Show
Kootenay Krusher Mountain Bike Race
Columbia Valley Classics: Show and Shine (September)
Wine Bar