Sun Peaks mountainsides are awash in the vibrant colours of wildflowers. 
Photos by Sun Peaks Resort/Kelly Funk Photography
REBECCA BOLLWITT
SUN PEAKS - Canada's second largest ski area comes alive in the summertime, trading in the snow-white, powdery slopes, for lush green meadows and blankets of flowers that cover the alpine in a quilt of colour.
#DareToExplore gorgeous flowers at Sun Peaks. Share this page on Twitter.
"The winter is obviously different than any other season," says local photographer Kelly Funk. "In the wintertime it's quiet, serene, and beautiful at the same time. Then in the summer it's more of a getaway and it's more rugged then I think you can find in most places around Kamloops because the elevation change is quite drastic from the valley bottom, so it doesn't matter what season you're up there, it always feels different."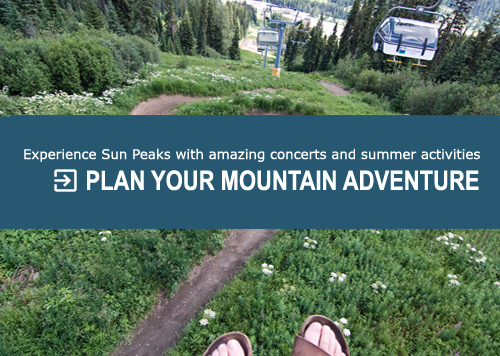 Kelly is a Kamloops-based photographer who will be leading a workshop during the Alpine Blossom Festival at Sun Peaks that happens on the BC Day long weekend, July 29-31, 2016.
Kelly's "Mountains of Colour" photography workshop takes place on Saturday, July, 30 and will include classroom instruction, followed by a ride on the Sunburst Chairlift to the sub-alpine on Tod Mountain.
In class, participants will learn about working with exposure along with better auto and manual focus techniques for photographing with flowers. Kelly says that macro, close-up methods can be used to capture the flowers but he'll also show you how to frame the alpine flowers in expansive landscape shots that capture what the topography has to offer in a larger scene. This will be done right on the mountain during an alpine photowalk/hike.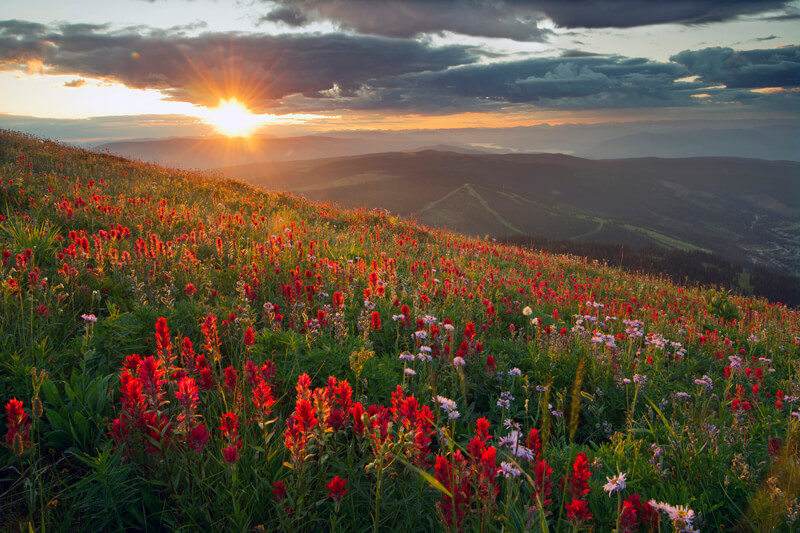 Learn about wildflowers and how to best capture them in photographs. 
"I always like to see a blend of the blanket of flowers and the expansiveness and beauty of the whole area, that's always kind of special for me."
There will be plenty of opportunities to take photos throughout the festival but the workshop will give you an early lesson in capturing the beauty of the festival at the start of the weekend. Lupins and paintbrushes (prairie fire) will blanket the alpine meadows, stretching between forest groves, looking out at a panoramic mountain landscape. You won't want to miss the many Instagram-worthy photo ops.
"It's so unique up there, when you think about the Thompson Okanagan area because it's such a high altitude place, it's alpine, and you get up to about 7,300 feet so for me that's kind of inspiring because you can see unique things no matter where you are on the mountain."
Use your amped up photography skills to snap photos during a guided hike or at the many other festival activities like face painting, Kids Zone fun, live mountainside performances, outdoor movies nights, and more.
"No matter what season you're up here, it's special, it really is," says Kelly. "It's unique in a sense that it's only a 45-minute drive from Kamloops but the change in the topography and the climate is so different that you feel like you've jumped on a plane."

Get out to Sun Peaks and enjoy the fields and fields of wildflowers at the end of July. 
During your visit for the Alpine Blossom Festival, enjoy all that Sun Peaks has to offer in the summer including mountain biking, golf, kayaking, voyageur canoe tours, stand-up paddle boarding, and horse trail rides.
If You Go
Check out Sun Peaks' Event Page for detailed information on the activities. Look to the right for the newest updates on Sun Peaks' Facebook feed. The best part? All of the concerts are free. Held at the base of the mountain next the village, it's a picturesque venue that will put you in a fine summer state of mind. 
Are you headed to the Alpine Blossom Festival? Share this page with friends and have them stop and smell the flowers.