Dinners, shucking competitions and workshops fill 10-day calendar of events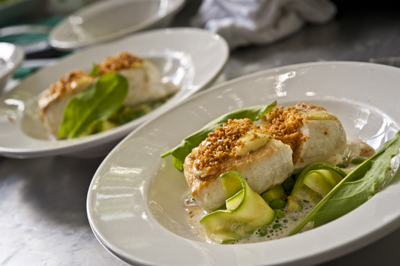 LISA MONFORTON
Chef Ned Bell cycled more than 8,000 kilometres across Canada, from the Atlantic to the Pacific, to rally support among his peers for the health of our oceans.
During his multi-city Chefs for Oceans tour in the summer of 2014, he made stops in more than a dozen cities talking with peers about the importance of sustainable seafood. The idea of the cross-Canada ride came to the avid cyclist while he was at a chef's congress in Halifax.
"We were all having similar conversations (about sustainable seafood) in our individual communities, but not nationally. I had this crazy idea to bike across Canada to connect my peers," said Bell, executive chef at the Four Seasons Hotel's YEW Seafood + Bar in Vancouver. His is the first restaurant to use the Ocean Wise designation.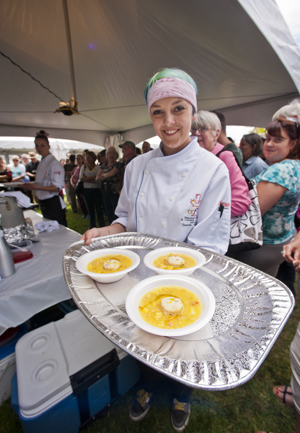 Bell is a featured chef at the 9th Annual Comox Shellfish Festival June 12-21, where he announced his cross-country ride two years ago. The festival is the largest event of its kind in B.C., the perfect spot for Bell to spread the message about making Canada's vulnerable seafood industry sustainable.
Bell's infectious passion for all things seafood goes deep. He's a self-proclaimed "West Coast guy" who grew up eating seafood.
Part of the Chefs for Oceans mission is to educate Canadians about sustainability in the fishing industry and make seafood accessible to all Canadians within the next decade.
"The importance of the fishing industry in Canada goes back generations, such as in the East Coast cod fishing communities," said Bell, who opened Murietta's in Calgary among other seafood-centric restaurants over the years. "I saw and recognized the real keen interest from our customers about where their seafood comes from and that real momentum happens at a retail level."

See Celebrity Chef Ned Bell, enjoy ten days of delicious food, amazing views and more. Check out the full event listings and buy tickets now.
Cooking demos and shuck competitions
More and more people want to know where their food — including seafood comes from – the who, the how and the where before it lands on their plate at home or at a restaurant.
Bell wants to be one of the voices on the front lines giving people that information for a reason.
"We face a global fisheries collapse by 2050 if we don't do something," he says. "I'm a chef with a voice. I see 350,000 people a year in my hotel and I intend to educate them about sustainable seafood, how it was caught, who caught it."
You'll hear more from Bell at the festival — which just happens to be held during B.C. Seafood Month — when he appears at an educational cooking demo, just one of more then a dozen unique events.  In the first week along there's a foraging for food workshop, oyster and salmon beach tours, hatchery tours and oyster shucking competitions. In between, there will be several special wine and seafood pairing dinner and cooking demonstrations with B.C. chefs. 
Comox Valley a land of plenty 
One of the best things about this festival is that it is held in one of B.C's most aqua-culturally (Comox produces more oysters than anywhere in Canada) and agriculturally rich regions, just an hour and a half flight from Calgary or a quick flight or ferry ride from Vancouver.
"Courtney-Comox is an incredible place," says Bell. "It's picturesque and spectacular; and it's where most of Vancouver Island's shellfish comes from."
All around the valley are chefs, farmers, vintners, distillers and artisan food creators, passionate about the region's bounty, making for a food and spirit-lover's mecca.
For Bell, the festival is a way for him to connect with people and perhaps they'll take what he has to say to heart.
"If I cook something delicious for your belly, you're going to listen to my message." 
Getting to Comox: WestJet has three daily non-stop flights from Calgary and one non-stop from Edmonton to the Comox Valley Airport, year round. Air Canada flies twice daily from Vancouver into Comox.
Lay of the land: The Comox Valley is comprised of the city of Courtenay, the town of Comox and the village of Cumberland, as well as smaller centres, and also includes Denman and Cortez islands.
For more information on the BC ShellFish Festival please visit, http://www.discovercomoxvalley.com/shellfish-festival-info
Make sure to check out our festival overview.
Like this story? Share it with your friends!