Jasper in January keeps the season's festive spirit going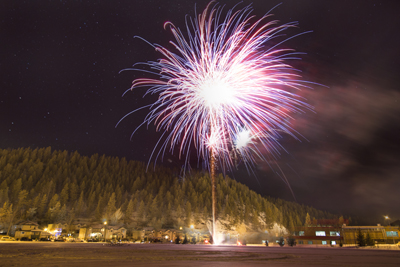 Photos provided by Tourism Jasper
JEREMY DERKSEN
JASPER, AB. - For many of us, Christmas comes and goes in a blur — but for skiers and winter-loving folk in Alberta, Jasper in January is a festive time that keeps on giving. 
It's a time to gather together to sample fine food and drink, listen to live music, greet one another in the streets and revel in the splendor of the winter season. Oh yeah, and to get out skiing, snowboarding, dogsledding, fat biking or snowshoeing, to list just a few. 
With deals on hotels, cabins and inns, and skiing at Marmot Basin, and a host of events filling the social calendar, it's no wonder the annual two-week festival — running from Jan. 16 to Feb. 1 — has become one of the most anticipated events of the season, 26 years running. 
"I think if we didn't have it there would be a public outcry," says April Henry, media specialist with Tourism Jasper.
A community festival
J in J (as it's known to many of its adherents) is not as commercial or widespread, and it's far less crowded. Consider Jasper in January as the cozy chalet to Christmas's crazy malls.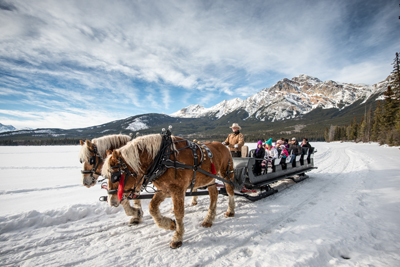 Jasper in January offers a slew of snowy fun. 
Photo by Jeff Bartlett
"It's nice, because although it's busy, it's not too busy," says Henry, "Locals can step back and take a breath, and come together to celebrate the season."
Good fun, good food, good causes
Festivities kick off Jan. 16 with Arts on Ice, featuring artists from the Jasper Arts Guild. That leads into Winterstruck on Jan. 17, a day of winter fun on Pyramid Lake, with the classic chalets of Pyramid Lake Lodge overlooking the festivities. The hotel restaurant will be open for chilly patrons to warm up with hearty drinks and hot meals, in between snowshoeing, skating, sleigh rides and more.
One of the coolest aspects of the festival is how engaged the local community gets. Many of the events — Hopscotch and Wines, Hockey for Hope and the annual MPL Chili Cookoff, for example — are fundraisers that help nourish local organizations and causes. The Winter Pentathlon is a showcase for hardy local silliness, with outlandishly costumed athletes biking, running, snowshoeing, skating and cross-country skiing in hopes of earning front-page bragging rights in the Fitzhugh.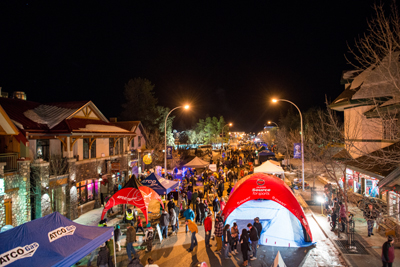 The ATCO street party is always a fun time.
Photo provided by Tourism Jasper
With Patricia Street closed to traffic for the ATCO Street Party on Jan. 24, the close-knit community of Jasper feels even closer. The fireworks finale is a Jasper family tradition. And after wrapping up the night at the Robson House ice bar — with its custom shooters — any number of hotels are just stumbling distance.
One good turn…
The final weekend culminates with Marmot Basin's Avalanche Awareness Day, a skiers' and boarders' favourite that deserves — and has — a story of its own.
In between these signature events, open mic jams, living culture nights like Jasper Stories and other gatherings will fill the bill — and fill your belly. 
In case you missed it last spring, Jasper's culinary fest Food-a-palooza is back, with a chance to sample small plates from many of Jasper's fine restaurants. Dine Around Jasper offers a little more exclusivity, with a three-course progressive dinner and drink pairing for 12. And did we mention the chili? 
"There's something for everyone, depending on what your flavour is," says Henry. And once you get a taste, you'll want to come back for more.
J in J events calendar and accommodations 
Where to stay in Jasper 
Find out more about J in J events here 
Pyramid Lake Lodge