Fernival's rock band lineup this year includes 54-40 and more! 
Photo courtesy of Fernie Alpine Resort
DOC POW
FERNIE B.C. - Snow, sun, sweet tunes and a stellar group of friends can make for legendary experiences. Every spring, ski resorts across Alberta and BC welcome sun worshipers and snow seekers to experience great spring skiing combined with a variety of concerts, dummy downhill races, patio parties and so much more.
Fernival, is kicking of the season at Fernie Alpine Resort – at a spot Rolling Stone Magazine's claimed as North America's "coolest town," Fernie, British Columbia.
"If you only make one spring skiing event this year …mark your calendar for April 11 and be slope side at Fernie Alpine Resort," says "Powder Matt" Mosteller, Senior VP Marketing & Resort Experience at Resorts of the Canadian Rockies. "Fernival, was the first spring skiing festival to bring major touring music acts to the mountains. This year the headliner is 54-40. They will ignite the crowd to sing, dance and enjoy the largest mountain music tradition in the Canadian Rockies."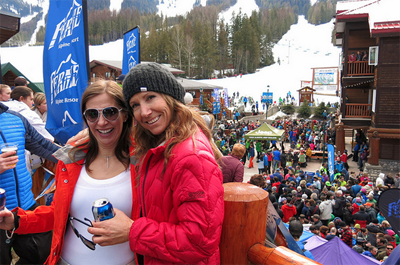 Fernival is a great time to celebrate the year that was with friends!
Photo courtesy of Fernie Alpine Resort
54-40 has been together 35 years and this will be the first time they have played on-stage in Fernie. The B.C. based band has come a long way from 1981 playing their first gig on New Year's Eve at Vancouver's Smilin' Buddha Cabaret. Songs like "Ocean Pearl", "One Day in Your Life", and "I Go Blind", register in our minds as iconic Canadian rock tunes. I bet you didn't know that 54-40's song, "I Go Blind", was covered by Hootie and the Blowfish, and was featured on the first soundtrack for the TV show Friends!
Having played around the world, released 13 albums and with over a dozen top 10 hits, drummer Matt Johnson once said, "One thing we hear consistently is 'I didn't know you guys had so many hits,' but we just consider ourselves songwriters. We enjoy the craft and whether we're trying to write an eight-minute epic or just a three-minute pop song, it's very enjoyable for us and we're not afraid to do either."

Fernival is the ultimate season ending party! Enjoy it all by staying on mountain in ski in/out accomodations!
Now in its 7th year, and still free and full of fun for your entire crew - Fernival is perfect for those looking to work on their goggle tan and compete in some fun contests, maybe shred a few runs and enjoy some rockin' live music all weekend long.
"This is our closing weekend so we are going out in style. Combine the 54-40 concert on Saturday with the Coca Cola Slopesoaker on Sunday and you have the back-to-back best in music and slush cup entertainment," adds Mosteller.
If you've never heard of a slush cup or slopesoaker it's a crazy event to watch or if you dare – participate in!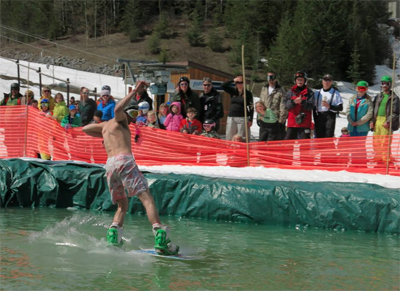 Make sure to participate in the Coca-Cola slopesoaker!
Photo courtesy of Fernie Alpine Resort
Participants dress in outrageous costumes launch off a snow jump to hopefully skim across the chilly pond…while wearing skis or a snowboard. Prizes for the Coca Cola Slopesoaker are not only awarded to those who make it across but bonus awards go to best costume and biggest splash. Space is limited so get your entry in and get working on that costume. For those of us who would rather watch, the event is at the base of the mountain and very easy to find…just look for the pond. 
For more detail about Fernival on April 10-12, and to book your Fernival experience, ski on over to Fernival's vacation page and get planning.

Heading to Fernie this spring? Share this story with your friends so they can come with you!