Pop by cafes clubs and taverns to hear some cool jazz in The Hat.
Photos provided by the Medicine Hat Jazz Society
ELIZABETH CHORNEY-BOOTH
MEDICINE HAT, AB - Jazz music usually evokes images of smoky nightclubs on big city streets rather than sunny skies and prairie hospitality, but great things often things happen in unlikely places.
For 20 years, Medicine Hat has hosted one of Alberta's most vibrant jazz festivals, offering a full week of concerts aimed at both true jazzheads and members of the community just looking to get out and enjoy the city.  Share this page on Twitter.
This year's festival takes place in venues throughout Medicine Hat and organizers have taken pains to create programing that will appeal to all levels of music fans.This includes a number of free events like lunchtime shows at the downtown Tim Horton's location to more serious workshops and soft-seater concerts in various spaces within the Esplanade Arts and Heritage Centre (a beautiful expansive venue, also located downtown).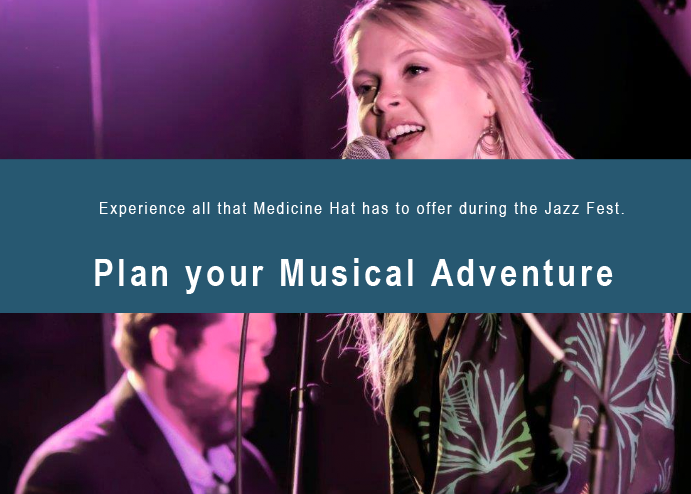 Explore downtown 
With the exception of a special dance party in an airplane hangar at the Medicine Hat Airport, part of the beauty of Jazz Fest is that the performances take place in venues scattered throughout Medicine Hat's city centre, meaning concert goers can often walk from one show to another, enjoying the picturesque historic downtown.
Passes are $139 and as long as pass-holders show up at least 15 minutes prior to the start of a ticketed show, they're guaranteed a seat. The Esplanade is Jazz Fest central, with shows taking place in various spaces inside, including the soft-seat theatre, and shows also take place at hot spots like the Station Coffee Co., Inspire Café, and Twist Wine & Tapas Bistro. All of this creates a sense of buzz that makes Jazz Fest more than just a series of shows in individual venues.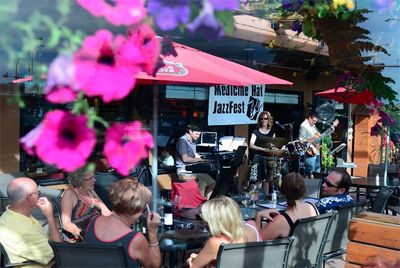 The Jazz fest is all about intimate settings and great music. 
"You can't be in Medicine Hat during that week and not know that there's a jazz festival going on," says Jazz Fest's producer Lyle Rebbeck. "It's much easier to create that festival feeling just because of the size of the city." 
For more information on the Medicine Hat Jazz Fest, visit medicinehatjazzfest.com. Tickets are available online at tixx.ca.

For ideas on what else you can do in Medicine Hat during Jazz Fest week, visit the Tourism Medicine Hat website at www.tourismmedicinehat.com.
Check out our festival overview for more information.
Like this story? Share it with your cool cat friends.