Get ready to rock with Loverboy.
Photo by Loverboy
ELIZABETH CHORNEY-BOOTH
EDMONTON - Barbecue and rock 'n' roll (and for that matter, country music) have always seemed to go hand in hand, which is the key to the success of the Porkapalooza Concert of Hope series. Share this page on Twitter.
The three concerts, which will be held on June 17-19 in Edmonton in conjunction with Porkapalooza's BBQ festival and competition were planned well before fire forced the evacuation of Fort McMurray in May, but organizers swiftly decided to turn the concerts into a fundraiser to help those affected by the fires.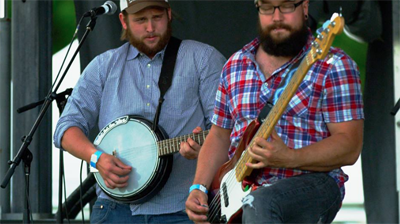 This year, the concerts will support the Fort McMurray wildfire.
Photo by Porkapalooza
"The Porkapalooza BBQ Festival Society was formed to showcase the culinary art of true BBQ in a festival atmosphere.  The society's mandate is to end hunger through the funds raised by the festival," says Darcy Fitzgerald, Alberta Pork's executive director. "However, with so many families impacted by the devastation of the wild fire in Fort McMurray we felt an overwhelming need to focus this year's efforts toward the Fire Relief Fund for Fort McMurray. With help from Rotary Clubs and generous support of the public and corporate sponsors, we can help Fort McMurray rebuild their great community."
Paul Dean, lead guitarist for Loverboy who will be headlining the June 19 "classic rock" concert, says he's thrilled that Porkapalooza has decided to use the shows to benefit the people of Fort McMurry. When a concert was put together to raise money for those who lost their homes after the floods in Calgary in 2013, Loverboy was one of the first bands to get on board and Dean is equally pleased to help out for this cause.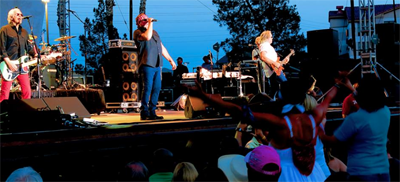 Loverboy will bring the house down.
Photo by Loverboy
"The folks in Fort McMurray are getting their butts kicked. It's unreal what's going on," Dean says. "I'm blown away that the promoters have decided to turn it into a benefit. It's very cool."
The concerts have been split into three themes: in addition to the Sunday afternoon classic rock Loverboy show, Concert of Hope attendees can see a modern rock lineup on Friday night, June 17 with The Sheepdogs, The Dudes, The Wet Secrets, and The Royal Foundry. The Saturday June 18 show is all about country music, with performances from Gord Bamford, Diamond Rio, Washboard Union, and Hey Romeo.
Dean is happy to be on the classic rock bill with The Headpins and Prism, two bands that Loverboy have a long history with (Headpins drummer Bernie Aubin was an original member of Loverboy and came up with the title for "The Kid is Hot Tonight," and Loverboy opened for Prism on their first Canadian tour).
While the band is likely to treat the crowd to some new material (including the recently released single "Hurtin'"), fans expecting to hear the band's big hits won't be disappointed. Not only does Dean respect that fans still love decades-old tracks like "Working For the Weekend" and "Turn Me Loose," but he still loves playing them.
"Almost 40 years later, people still want to hear these tunes and all of us still approach them like it's the first time we've ever played them, it's always fresh," Dean says. "I think that comes off the stage and that's why people are still coming back."

Enjoy some delicious food.
Photo by Porkapalooza
And if that's not enough, you know that there's going to be some great food.
"I've never been one to turn down great barbeque," Dean says. "So I hope we get a taste of that."
Clarke Stadium is the venue for the concerts.  You can get tickets to the three Concert of Hope shows separately or take in all the music with a 3-day festival pass that also includes a ticket to the Saturday afternoon CFL match-up between the Eskimos and Roughriders.  The Porkapalooza BBQ Festival runs all day Saturday and Sunday with a BBQ competition, food trucks serving BBQ, a Kids Zone, food demonstration stage, beer gardens and more. Visit the Porkapalooza website: http://porkapalooza.ca/ for more information.
Check out our Porkapalooza Festival Overview and get excited for this year's events.
Interested in the food aspect of the festival? Read Rebecca Coleman's preview of the delicious eats throughout Porkapalooza.
Ready to dive into delicious pulled pork while listening to great bands? Share this page with your friends and let them enjoy too!