LAUREN GRINDLER
In this age of convenience, food trucks are an on-the-go foodie's dream. With everything from comfort food favourites to gourmet dishes served on skewers and in easily accessible wrapping, these mobile restaurants have been gaining momentum over the past decade.
Food truck fare ranges anywhere from burgers and hot dogs to sweet treats, and just about anything you can imagine in between. However, there are some chefs proving that the trendy trucks can still be innovative among a sea of competition. You won't want to miss these food trucks that are putting a twist on classic street food.
Rapscallions, Edmonton AB.
The green onion cake is Edmonton's very first unofficial official food—and Rapscallions is making sure everyone knows it. Influenced by Chinese cuisine, green onion cakes were first introduced to Edmontonians by Chef Siu To in the 1980s. The deep fried delectable is a flat pancake-like pastry filled with fresh scallions. Rapscallions chefs, Steve and Sim, serve up dishes that are unique twists on the classic recipe from their food truck, the Rapscalli-wagon. With innovative variations such as Roasted Pork Belly and Teriyaki Tofu, Rapscallions is on a mission to put the Edmonton favourite on the map—officially! Not to fret, the original recipe is also available. Try Edmonton's signature dish for yourself at the Interstellar Rodeo in Edmonton, AB, July 21 – 23.
The Lobster Mobsters – Edmonton, AB.
When most people think of lobster, two main images may come to mind—the East Coast, and a multi-course meal at a five-star restaurant. The Lobster Mobsters are changing everything you thought you knew about lobster by serving up the seafood favourite from a food truck in central Alberta. These good fellas offer ready-to-eat seafood creations, as well as take home options, like live lobster, mussels, and oysters so fresh they will make you forget you're not on the east coast. The seafood savvy trio operates two food trucks out of Edmonton and Brooks and can be seen rolling into over 30 cities across the province. Check out the Lobster Mobsters website for details on where to get your lobster fix next.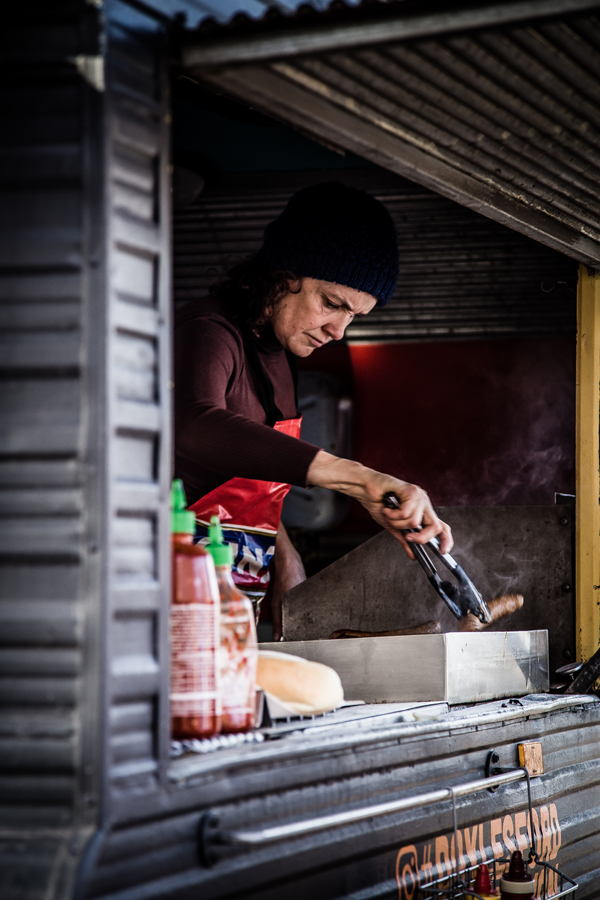 Food Vendors – The Calgary Stampede, Calgary AB.
Calgary's Greatest Outdoor Show on Earth, is an adventurous epicure's mecca. If the Stampede's culinary team can fry it or put it on a stick, you bet it will be available to eat. Every year, over a million people travel from around the globe to take in the sights of the expansive Calgary Stampede grounds, the frenzy of activity and entertainment, and — perhaps most importantly — the food. With food vendors located every few feet, the Stampede continuously pushes the culinary envelope each year by serving up midway treats that are mouth-watering, calorie-laden, and often downright outlandish. Among this year's innovative eats are Deep Fried Jell-O (the staple childhood treat deep fried in dough and covered in powdered sugar), Crispy Chicken Feet on a Stick (yes, it's exactly what it sounds like), and Rabbit Pizza (the perennial favourite with a gamy twist). Brave foodies can check these treats out at the Calgary Stampede, July 7 – 16.
Cold Brew Bike – Vancouver, B.C.
Combining his love for coffee and cycling, Cold Brew Bike's Kelly McKenzie is making a name in the food truck industry using three wheels instead of four. McKenzie pedals his custom tricycle cart around the city giving Vancouverites their caffeine fix by serving up nitrogen-aerated cold brew straight from the tap. The cold concoction is made from fair trade, organic coffee that has been slow brewed for 24 hours, making it sweeter and more velvety than regular iced coffee. The menu also features hot drip coffee, lattes, and whole coffee beans for purchase. Cold Brew bike can be found in a variety of farmer's markets in some of Vancouver's hippest neighbourhoods. Visit the Cold Brew Bike website for details on where to get caffeinated this summer. Don't forget to bring your re-usable cup for a discount!
Songhees Seafood & Steam – Victoria, B.C.
Chef David Roger has created a truly unique food truck experience with Canada's first First Nations food truck. Combining traditional First Nations foods with ingredients local to Vancouver Island, Songhees Seafood & Steam is strongly tied to the history of the Songhees land—spanning from Southern Vancouver Island to the San Juan and Gulf Islands. The mobile restaurant considers itself more than just a food truck—it's a medium to showcase culture and collaborate with Victoria's Indigenous community. Serving up dishes such as bannock (traditional First Nations fry bread), sockeye salmon chowder (made with wild west coast salmon), and locally sourced bison tacos, Roger weaves the history of the Songhees Nation in every bite of food. Find the truck on Belleville St. in Victoria's inner harbour during the spring and summer months. Visit the Songhees Seafood & Steam website for a full menu and location details.
Ready to eat some funky food with your friends? Share this page on Facebook.