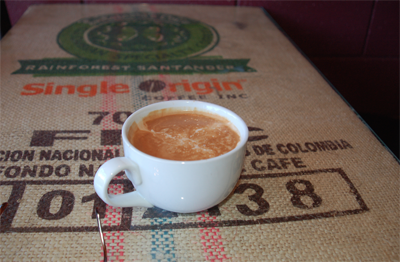 From Columbia to Medicine Hat to your mug. Learn the story behind your morning caffeine hit.
All photos by Joanne Elves
ELIZABETH CHORNEY-BOOTH
Medicine Hat is known for a lot of things — a big reserve of natural gas, the sunniest skies in Canada, a historic ceramics industry — but did you know it's also a destination for coffee lovers?
Despite its relatively small population of about 60,000 and the coziness of its city centre (just a few square blocks), downtown Medicine Hat is home to six independent coffee shops, any of which would be the envy of a bigger city. Share this page on Twitter.
Explore Medicine Hat's creative side, read about the Medicine Hat Jazz Festival.
Jace Anderson is the executive director of Tourism Medicine Hat, but he also is a self-professed caffeine addict and the mastermind behind the Medicine Hat Progressive Café Tour, a 60- to 90-minute guided crawl through Medicine Hat's coffee culture.
"Coffee culture has grown by leaps and bounds in Medicine Hat," Anderson says. "Each of the independents has a unique flavour and vibe. From a community standpoint, they don't seem to be competing with each other, but are really finding unique ways to stand together."
Fresh roasted
Anderson starts his tour at the Mad Hatter Coffee Roastery, one of three coffee roasters in Medicine Hat (and the only one with its own downtown café). Co-owned by Murray Bitz, who will guide tour-goers through the roasting process and allow them to do a "cupping" of various roasts, Anderson uses Mad Hatter as a starting point to really get guests into the coffee mindset. As an added bonus, this homey and relaxed café serves both brewed coffee and espresso drinks and usually has a full selection of goodies in its bake case.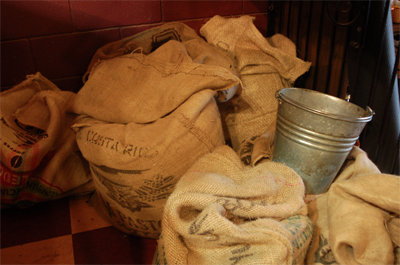 Green beans wait to be roasted in small batches – freshness is the key to a good cup of coffee.
Artistic interlude
Stop No. 2 is the Inspire Café, a bright and roomy space serves brewed coffee, teas, sandwiches and other bites and is also home to an art gallery shepherded by co-owner Maureen Newton. Newton creates and teaches art in the back space and café guests can peruse various art pieces while they enjoy a beverage or have lunch. The tour includes an opportunity to take in the art and check out what's on the menu for the day.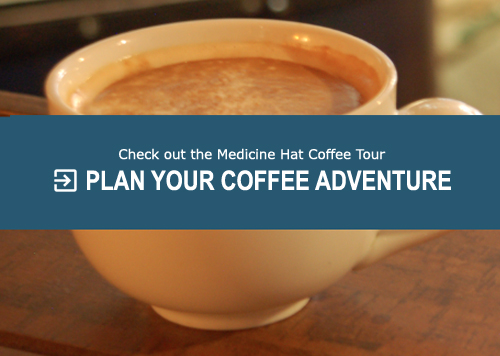 And if that isn't enough caffeine…
The last stop on the tour is The Station, a hip and always-busy café with exposed brick walls and an always buzzing espresso machine. The baristas at this place have some impressive creations up their sleeves, including The Root Beer Godfather, a chilled concoction made up of a bottle of artisan root beer, two shots of espresso, and a little bit of cream. Tour-goers also get to sample the house made baked goods, which are as above par as The Station's coffee.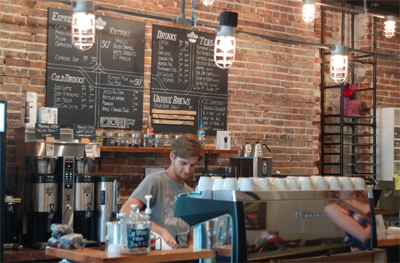 The Station Coffee Co. is a lively café where coffee is an art form.
Take it to go
From there, Anderson takes participants to the Esplanade Arts and Heritage Centre, to finish up their to-go cups and talk about Medicine Hat's rich history and why the city was able to grow such a strong café culture (It should be noted, that all of the downtown cafes are full of customers, even on a weekday morning). From there, Anderson sends his charges on their way, recommending a couple of other nearby cafés as potential places to grab some lunch. As they walk off, he hopes that he's provided a tour that goes beyond just showing visitors where to get a decent jolt of caffeine.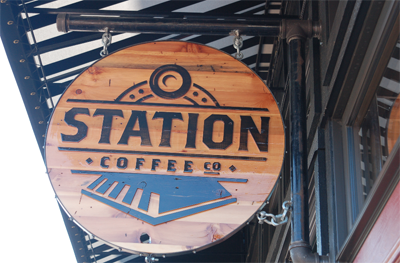 One of the many stops on the Medicine Hat Coffee Tour.
"It's experience driven," he says. "And this is the only way that we can talk about coffee in a pure and authentic way — to bring people to the men and women in our community who love coffee and allow them to share their passion."
The Medicine Hat Progressive Café Tour costs $34 per person and can be booked online at mhcoffeetour.com.
If you go
Do you want to know how Medicine Hat got its name? Or why it has "all hell for a basement?" A visit to the city will explain it all. Visit the Tourism Medicine Hat to create your own tour of the city. After all that caffeine you'll buzz through it all.
Medicine Hat is less than a three-hour drive southeast of Calgary.
Ready to fuel your buzz? Share this page with your coffee-loving friends.