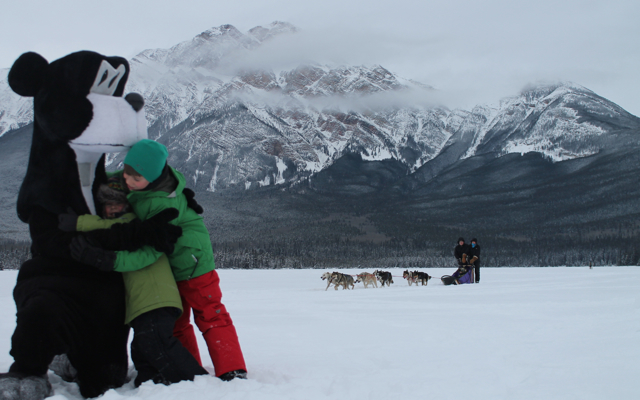 Jasper in January gets everyone outdoors to try new activities like dog-sledding, and sparks a new fondness for the long winter.
Photo courtesy of Doc Pow
DOC POW
JASPER, AB – When you're "winterstruck", you're in love with every frosty delight that comes with western Canada's longest season.
Logan Pambrun knows that feeling. At age 5, he's already in his second Jasper in January Festival, and discovering the magic of this remote mountain town with his older brother Keegan.
"It's a great festival," says Logan's dad, Cody Pambrun, who drove the family from their home in Edson, AB. "It gets everyone outdoors, and offers up some really exciting potential for family bonding."
Pambrum says the family never gets to try activities like dog sledding at home in Edson.
"It's so awesome for the kids and they really get to learn to love winter. I like winter a lot . . . you bundle up and get outside to experience it. Winter is here six months of the year and I want to teach my kids how to get outside and enjoy it."
The Pambrum family spent an afternoon at Pyramid Lake, pretty much in a snow globe. The event  includes hot chocolate, bonfires, people skating on the lake, free dog sledding and interpretive displays.
"You can walk around, try some chili and hang out around the fire, listening to folks with guitars.  We had so much fun this past weekend, we're coming back for this one again."
Tourism Jasper's Mary Darling said the Jasper in January Festival was started more than two decades ago to celebrate Marmot Basin ski area's 25th anniversary. Organizers brought in many of the elements closely associated with the winter experience in Canada.
"Now, it has grown into one of our signature experiences through the year," she says.
In its 23rd year, the festival runs from the mid-January until the end of the month.  Events include a street party, cultural experiences and adventures around town, at Marmot Basin resort and at Pyramid Lake. 
As for Logan, "He had a heyday playing with Jasper the Bear (the official mascot) and had a ton of fun skating," said his dad. "We couldn't get him to stop."
The family spends around 30 days a winter in Jasper – about 20 of those skiing at Marmot Basin. "We always have a lot of fun going to Jasper; there are some nice restaurants for family dinners and more."
The party continues with ATCO Street Party happening Saturday, Jan. 19.