Brought to you by Prestige Hotels & Resorts. In 12 destinations across B.C., they make the perfect festival base camp.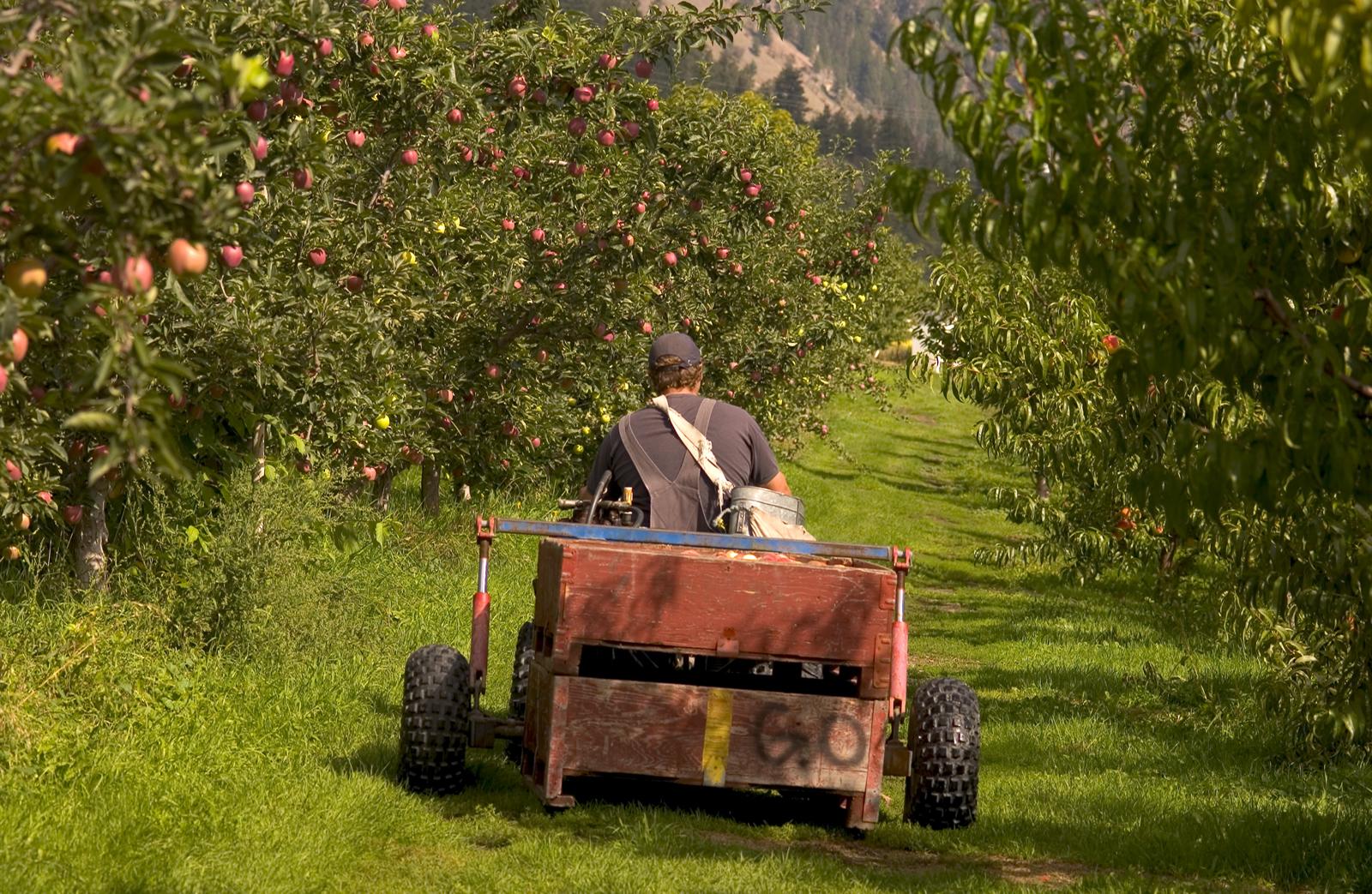 The Okanagan is ripe for the picking all summer long, where orchards are bursting with the summer bounty of apples, peaches and cherries. 
Photo courtesy of tourismkelowna.com
Bike, sip wine, golf, ski and beaches are just some of the reasons we love this city
JOANNE ELVES
KELOWNA - Say "Kelowna" to five different people and you'll get at least seven different answers.
Wine tours. Festivals. Fine dining. Beaches. Watersports. Golf. Skiing. Biking. It's impossible to name only a few of the reasons this is such a popular destination. The one that you don't want to hear is grizzly bear, which oddly is "Kelowna" in First Nations dialect.
Here are some obvious and not so obvious things to do next time you bike, hike, tour or putt in Kelowna.
Pedal or horsepower
A great way to see Kelowna and the surrounding valleys is on a bike. Just decide how hard you want to work. Motorcycles and scooters are available at many locations in town. Scoot on up to the top of the hill to check out the view. It won't take long to cover the entire city.
If you want to work a little harder, bring your bike or rent from a local shop then explore places such as Myra Canyon. The journey along a portion of the Kettle Valley Railway features 18 trestle bridges and two tunnels.
The entire length is 12 km so expect to do 24 for the out and back journey. Don't worry about the train – it left the station a long time ago.
Did you say four or fore?
Kelowna is home to at least 20 golf courses within a swing of a nine iron off the main street. With more than 2,000 hours of daylight and mild winters, the golf season seems endless. And, with only 11 inches of annual precipitation, it's likely you won't need that umbrella for anything but shade.
Play at world-renowned properties such as Predator Ridge, or at Heritage Golf Club where creeks and orchards line the beautiful 18-hole course.
What SUP?
Yo, what' sup as in Stand Up Paddling? It's the rage and it's easy to do on the gentle waves rolling into Kelowna. Ten public beaches dot the shoreline in Kelowna where you can easily launch a SUP.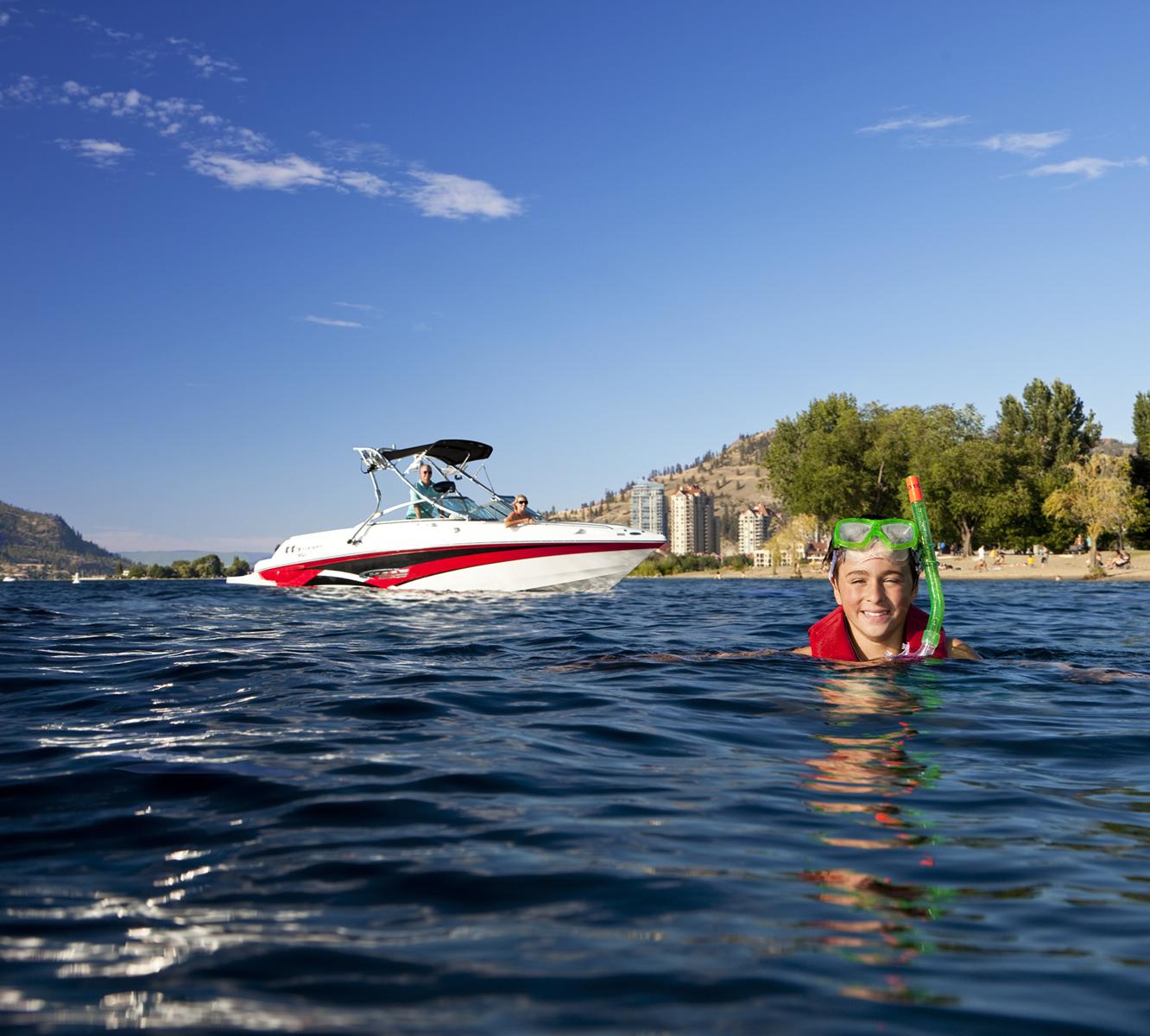 Snorkelling in Okanagan  Lake, where there are dozens of beaches to while away the hot summer days. 
Photo courtesy tourismkelowna.com - Shawn Talbot 
Rotary Beach and Giro Beach have kiosks to rent boards or you can play a few rounds of beach volleyball. Along the waterfront there are plenty of places to rent motorboats, jet-skis or go parasailing. 
How do you like your wine? Red, white or vintage?
Kelowna has 25 vineyards right in town but there are more than 200 in the entire Okanagan Valley Region. It could take weeks to see them all.
Wine tour maps are available at the tourism information centres to create your own route or select from a customized guided tour. Then you can sip and discover the wonderful varieties of the valley. Base your tour on reds or whites or only organics. Maybe decide by mode of transportation.
Car tour, van tour or how about a trip in style. Arrive in a 1965 vintage Cadillac de Ville. Do you have a smart phone? Kelowna Wine Trails has an app to make the independent tour simple.
Maybe a beer is more to your liking. Head for a tasting at the Tree Brewing Company.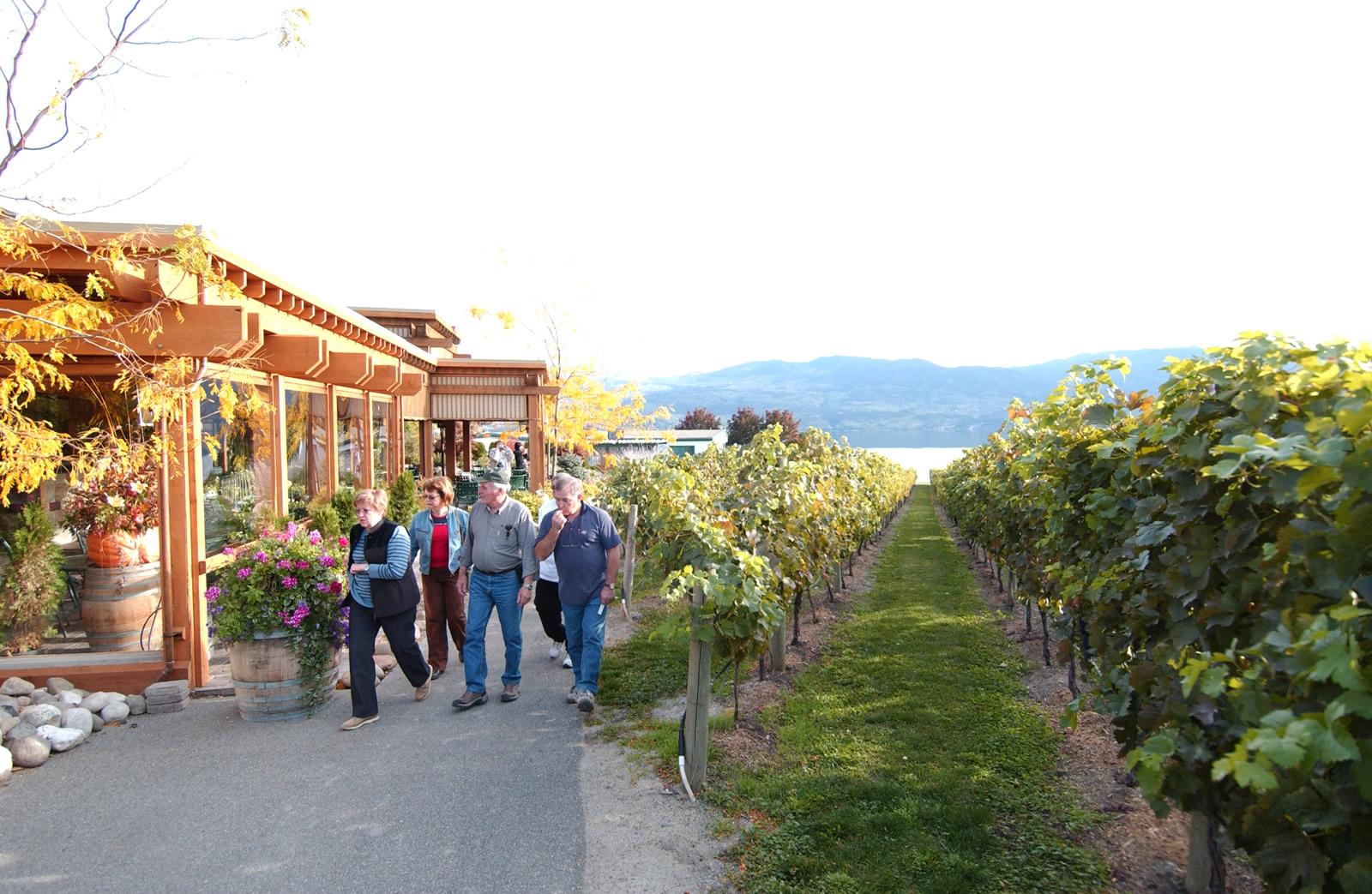 The Kelowna area is home to dozens of wineries. Visitors can take tours, sample wines, learn about the wine-making process and experience some fine dining. 
Photo courtesy of tourismkelowna.com
Fancy a festival on the rocks?
Head to Kelowna Sept. 27-28 for the Hopscotch Whiskey, Beer and Spirits Festival. The Kelowna Curling Club puts away the curling rocks so you can sip, taste, learn and schmooze about premium whiskies, beers and unique spirits.
Dance in the Park
During the summer months, Music in the Park is offered every Friday night at Memorial Park in The District of West Kelowna. Everything from Celtic to old time swing is highlighted. While parents watch the concert, kids can play games and burn off that never-ending flame of energy.
On Aug. 24 Memorial Park is hosting the Global Music Festival and because there are so many generous sponsors, it's a free event.
Get outta town
One of the best features about Kelowna is the accessibility to adventures that are close to town. It's only a short drive to find secluded beaches, uncrowded trails and meandering old roads to ride.
Take a bucket and at the right time of year, pick your own peaches, cherries, apples and berries. Or stop in at a farm to learn about making honey, cheese or jams and jellies.
Don't forget about winter
Big White Ski Resort southeast of Kelowna and Silver Star Mountain northeast of Vernon are home to some seriously sweet snow that powder hounds crave – more than metres every year. Spring skiing is celebrated with family events and carnival festivals.
Check out the amenities and packages at the Prestige Inn Kelowna
Take a look at our picture slideshow showcasing the prestige destinations shared on FestivalSeekers.com. Each picture has a story attached to it, so click on the picture to make sure you don't miss out on all the great summer destination ideas.
Story Links:
Tourism Kelowna has great ideas on its webpage 
Okanagan area wine festivals
Hopscotch Whiskey Festival
Tree Brewing Co
Music in the Park
Big White Resort
Silver Star Mountain Resort