Alan Doyle's aim is to make concert-goers 'wobbly' in the knees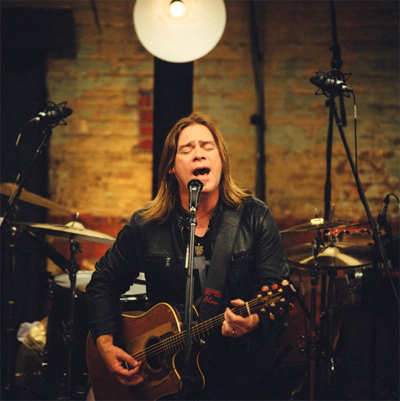 Alan Doyle, of Great Big Sea, will perform with his solo project band, The Beautiful Gypsies.
Photo by Alan Doyle
ELIZABETH CHORNEY-BOOTH
SUN PEAKS, B.C. - Summertime is the best season to be a music fan in Canada. Rather than bundling up to go to standard shows in bars and theatres to watch bands promote their latest albums, concert-goers get to head out to spectacular settings for special one-off concerts and multi-band festivals.
Sun Peaks Resort, near Kamloops, B.C., is already a favourite destination for skiers in the wintertime and golfers and mountain bikers in the warmer months, but for the past five years it's also been a music destination thanks to the resort's Summer Concert Series. Share this page on Twitter.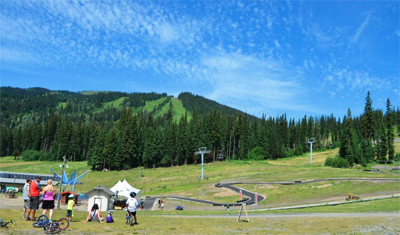 Sun Peaks in the summer.
Photo by Sun Peaks Resort
Past Concert Series performers include Colin James, Barney Bentall, and Platinum Blonde and this year organizers continue the tradition of booking beloved Canadian performers. This year's series featured two concert weekends: Sam Roberts headlining a concert in July and Alan Doyle and his band The Beautiful Gypsies were the big ticket in August.
"We have always been a big proponent of promoting Canadian talent," says Aidan Kelly, Sun Peaks' director of sales and marketing. "And we are thrilled to provide our guests with an opportunity to experience some of our country's best."
A party on the hill
Alan Doyle, who became a household name as the lead singer of Newfoundland's Great Big Sea and is currently enjoying a solo career, says that summer shows like the Sun Peaks concerts are always a joy to play. Not only does he get to see parts of Canada he wouldn't get to visit on a regular tour and play outdoors as the sun sets, but audiences are often literally on vacation and are generally in a great mood and ready for a party.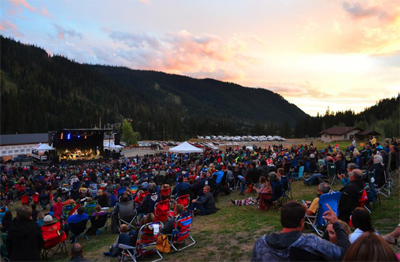 Awesome concerts and gorgeous sunsets draw people to Sun Peaks summer concert series. 
Photo by Sun Peaks Resort
He sees it as his duty to give them one, which sometimes means reading the mood of the crowd and creating his set list on the fly.
"I grew up in a musical kitchen party vibe in rural Newfoundland and I learned that you do whatever the night wants. It's your job," Doyle says.
"I always make up my mind on the day and use my instincts and hopefully give people the best. My motive every night is to give every single person in the audience the greatest night out in their entire lives. If I could make them wobbly at the knees from the experience — that's the only way I know how to do it."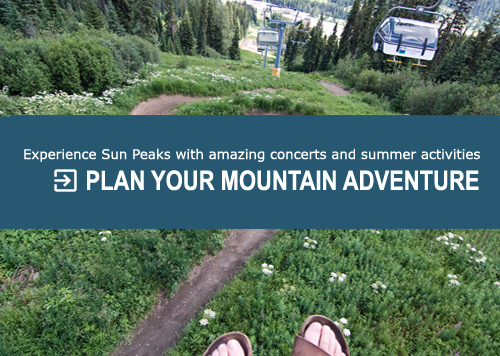 Beautiful back-up band
Fans who are more familiar with Great Big Sea than Doyle's solo work are never disappointed by the show. Not only is his new work in line with the raucous Newfoundland sound he developed with Great Big Sea, but part of giving the crowd that ultimate experience means knowing when to pull out the hits. Doyle's back-up band, The Beautiful Gypsies are well versed in the kind of songs that are going to satisfy the Sun Peaks audience.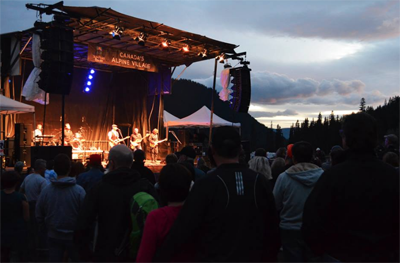 The concert series goes from mid July to late August with a great lineup of bands. 
Photo by Sun Peaks Resort
"The Beautiful Gypsies is a band made up of musical friends of mine, I've known many of them for more than 20 years," Doyle says. "They were assembled to play songs from my solo records, songs from the Great Big Sea catalogue, traditional Newfoundland songs, covers — all of the arrows are in the quiver to give people a great night out."
If You Go
The Sun Peaks Concert Series takes place on select weekends in July and August at the Sun Peaks Resort near Kamloops, BC. Visit the Sun Peaks website at sunpeaksresort.com for information on tickets, other bands performing on each weekend, and other entertainment and activities happening at Sun Peaks throughout the summer months.
Read our Festival Overview and see who's performing this year.
Are you ready to dance at Sun Peaks? Share this page with your crew and start planning.