Brought to you by Prestige Hotels & Resorts. In 12 destinations across B.C.,
they make the perfect festival base camp.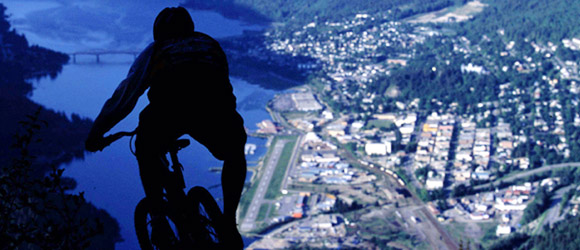 Nelson offers many great mountain bike trail rides within 15 minutes of the town
Photo by Peter Moynes - courtesy of discovernelson.com
STEPHANIE LAKE
NELSON, B.C. - If you're looking for road-trip ideas this summer, point your vehicle in the direction of the hip little town of Nelson. 
This little piece of heaven is a hub of culture, music, art, adventure and freedom of expression in the heart of the Selkirk Mountains on the west end of Kootenay Lake. You won't find any big city attitude here, but rather inquisitive and friendly locals proud of the place they call home.
Nelson is a haven for winter and summer adventures sure to please anyone who finds themself in this mountain mecca. Whether you're an adrenaline-seeking adventurer or looking for more laid back activities, Nelson offers golfing or hiking in the Selkirk Mountains and some rollicking whitewater rafting.
Nelson is filled with history, too. Baker Street is this town's main drag. It's lined with Victorian heritage buildings that house amazing restaurants, hotels, pubs, coffee shops, one-of-a-kind boutiques, bookstores and bakeries.
The city also prides itself on integrating art into many public spaces, so you'll often find restaurants doubling as a gallery, showcasing local talent.
Aside from its burgeoning artist scene, Nelson also has the haunted Hume hotel. Many guests who have stayed there claim to have had an encounter with a spirit. This only adds to the town's reputation as an eclectic and soulful city with a rich past worth learning more about.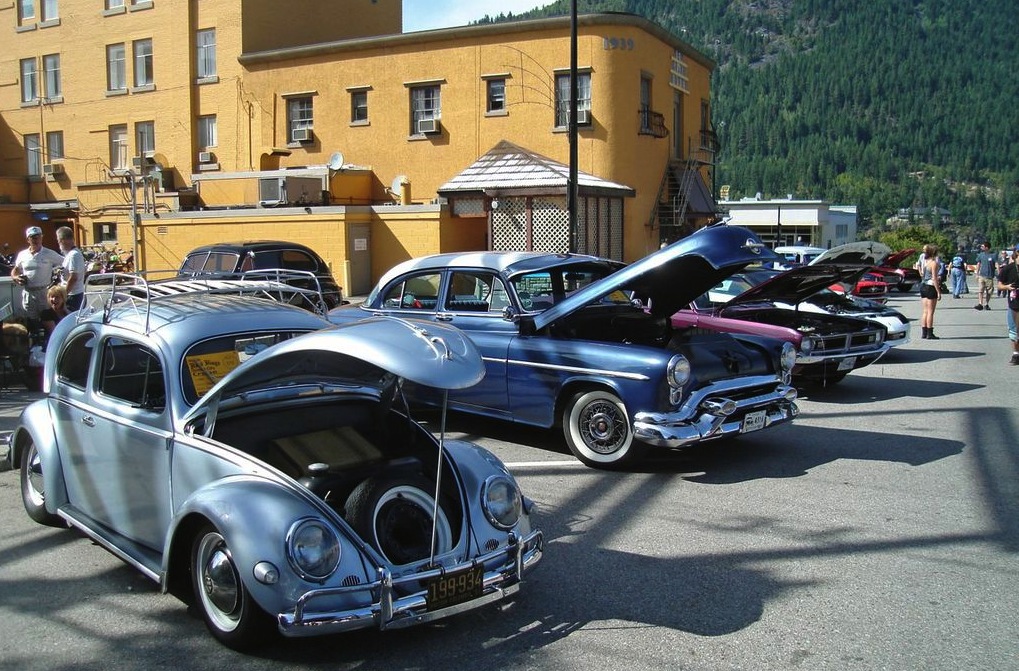 Just a small view of the hundreds of different automibiles at the 2012 Queen City Cruise.
Photo courtesy of Nelson Road Kings
You'll see plenty of history too at this year's 10th Annual Queen City Cruise — a must-attend classic car event Sept. 6 to 7.  The weekend will be action-packed, and will feature not only the car show but also a poker run for attendees to try their luck at the table and a rooftop dance for those looking to let loose some dance moves. Be sure to hang on to those ticket stubs since they won't only be your ticket into the dance but also your way home, as it is also a free taxi chit.
Throughout the summer, the city will feature a variety of markets. Expect to load up on organic produce from the area, delicious ethnic food and handcrafted gifts.
Follow up a day at a market by checking out Artwalk, an event happening all summer long throughout the city, featuring work from area artists.
Whatever activities and adventures you're after, don't forget to start your day with a cup of Oso Negro coffee and finish the day with a cold pint from the Nelson Brewing Company. Both local brews offer a whole lot of local goodness — just like the city of Nelson.
Be sure to check out the amenities and packages available at the Prestige Lakeside Resort and Prestige Inn Nelson
Take a look at our picture slideshow showcasing the prestige destinations shared on FestivalSeekers.com. Each picture has a story attached to it, so click on the picture to make sure you don't miss out on all the great summer destination ideas.
Story links:
Oso Negro Coffee
Nelson Brewery  
Nelson Road Kings
Discover Nelson