Two weeks of family events, hot deals and unique Jasper hospitality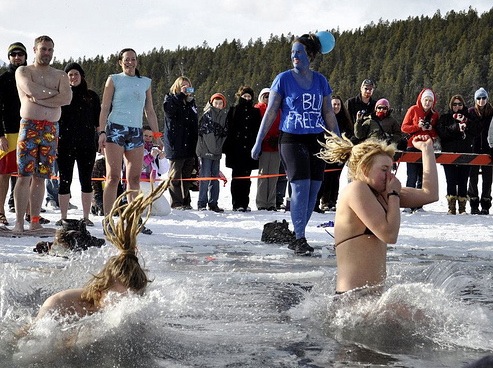 Brave souls take the ultimate winter challenge at the annual Bear Paw's Polar Bear Dip in Jasper.
Photo by: Su Young-Leslie
BOB COVEY
JASPER, AB - Organizers of Jasper in January are forecasting an avalanche of family fun and 100 per cent chance of swirling activity when the winter festival blows in next week.

Live music, street parties, dogsledding, ball hockey, snowball fights — all served alongside a steaming bowl of chili—represent just the tip of the iceberg as Jasper comes alive with hot deals and unique opportunities to celebrate winter in the Rockies Jan. 11 to 27.

One of the more unique events is the Jasper Winter Pentathlon, held at Pyramid Lake Resort on Jan. 26. Teams bike, cross-country ski, show shoe, ice-skate and run to the cheers of onlookers. Organizer Caroline Roy says despite it being a timed event, the most excited participants in past pentathlons have been families and other non-competitive teams.

"We've had the best feedback from teams that aren't trying to win, they're just out to have fun," she said. "Some teams dress up, some haven't tried snow shoeing or cross country skiing before. They totally get into the spirit."

Businesses get into the spirit, too, as visitors can find special prices on places to stay. Events designed to warm the belly are abundant. Marc Leblanc, proprietor of the Liquor Lodge, is hosting a Mill St. Brewery beer and cheese pairing on Jan. 23.
Pleased to offer the event alongside other retailers' wine tastings, scotch samplings and brewery tours taking place over the two weeks, Leblanc says Jasper in January is a chance for the Liquor Lodge and other retailers to offer something special to connoisseurs. 

"With the insatiable demand for craft beer, this seemed like a good fit. We get a lot of foodies in town," Leblanc said.

Jasper also gets a mini-boom of skiers and snowboarders during the festival. Marmot Basin answers the call by offering up great rates on lift tickets. 

Back in town, families will enjoy ice-skating and dogsledding at beautiful Pyramid Lake on Jan.12; sweet treats and live music at the ATCO Street Party on Jan. 19; and watching Jasper's incredible fireworks display at Centennial Park, also on Saturday the 19th. 

"There's something for everyone," said Jasperite Kathleen Waxer, a Jasper Museum volunteer who helps fry up beaver tails — a cinnamon-and-sugar-smothered pastry — during the ATCO Street Party.

For those who want to start afresh in the new year, there's nothing more invigorating than the Bear Paw's annual Polar Bear Dip, a fundraiser for the Canadian Diabetes Association. Organizer Melody Gaboury says taking the polar plunge is a great way to recharge the system for a great cause. It happens on Jan. 20 at Patricia Lake.

"There's prizes for best costume as well as most donations raised," she said.

At night, spice things up at Mountain Park Lodges' Chili Cook Off (Jan.18), toast the Bard at Robbie Burns Night at the Legion (Jan. 25) or see the stars during Astronomy Night in the world's largest dark sky preserve (Jan. 26).

For a complete schedule of events, go to www.jasperinjanuary.com.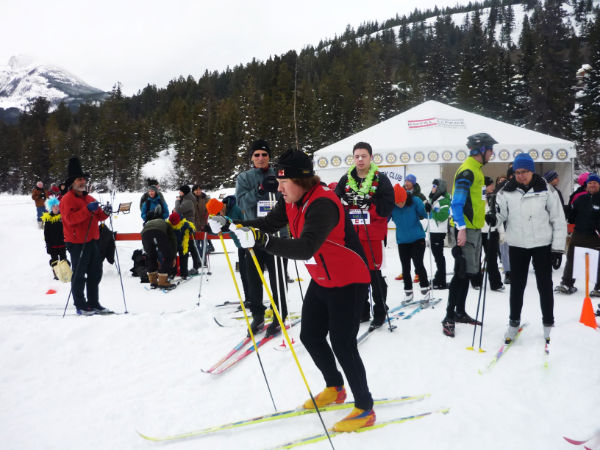 The Jasper Winter Pentathlon sees teams bike, cross-country ski, snow shoe, ice skate and run to the cheers of onlookers.
Photo courtesy of Tourism Jasper