A photo posted by Porkapalooza YEG (@porkapaloozayeg) on Mar 24, 2016 at 4:17pm PDT
Get ready to indulge at Porkapalooza
EDMONTON - Imagine the most beautiful of summer days in Edmonton's Clarke Park. It's mid-June and the sun is warm, but not too hot, and a soft breeze plays with the trees. There's the sound of children's laughter from the playground in the distance. And the scents! The warmth of wood fire and charcoal, the unmistakable tang of barbeque sauce, and the juicy smell of pork roasting. Share this page on Twitter.
Hello Porkapalooza.
Held at Clarke Park, June 17 - 18, 2016, the Porkapalooza Festival is as good as it gets for BBQ enthusiasts. Here, world-class barbecue teams come together to compete for $15,000 in prizes, and barbecue lovers come here to taste some of the best 'que in Western Canada.
"Barbecue competitions like Porkapalooza can best be described as 'the food network meets NASCAR,'"  says Scott Chomos, last year's winner. "
 

A photo posted by @tjrocks33 on Jun 21, 2015 at 8:48am PDT
There will be tonnes of delicous dishes
All of the teams competing are passionate and proud of the BBQ they produce, but at the same time are down to earth and fun-loving people. In that environment, you can't help but develop friendships with the other teams.
 "Once the big meats hit the smoker, most of the prep work for the next day is done and all that's left is to sit back and enjoy the company of your fellow competitors." says Chomos.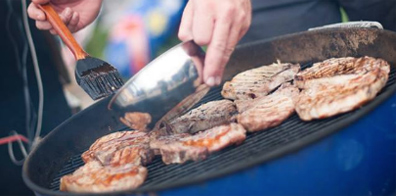 Chow down on some incredible food, while listening to some of the world's best bands. Get your tickets to Porkapalooza today
The competition usually starts Saturday night, when "the big meat," specifically beef brisket, hits the grill. It needs about 12-16 hours, so competitors are often up all night, tending their barbecues and smokers. The competition itself starts on Sunday, when teams are responsible for "turning in" their entries every half hour. Entries include the aforementioned brisket, chicken, pork ribs and pork butt, and all entries are judged on taste, texture, appearance and presentation.
But Porkapalooza isn't just for the competitors. It's a free public event that includes food trucks, tasters, beer gardens, a Kids Zone playground, cooking demonstrations, and lots of live entertainment, including concerts at night by Diamond Rio, The Sheepdogs and Loverboy. Where else can you rub (pork) shoulders with Canada's barbecue elite, ask them questions, and get to sample their incredibly tasty work?
 

A photo posted by Porkapalooza YEG (@porkapaloozayeg) on Mar 14, 2016 at 7:07am PDT
Enjoy The Sheepdogs on the weekend.
Brian Misko, for example, will be there. His ribs were awarded first place at the World Food Championships, he has a line of BBQ sauces and rubs, and his burger has been chosen as the best in Canada. Twice.
When I ask him if he has any advice for first-time competitors, this pro competitor encourages newbies to ask lots of questions, and to revel in the moment. "Meet your seasoned competitors and ask questions ... we love sharing tips, hints and things we have learned as cooks and as competitors. I also love it and openly cheer for the new cooks who get the amazing experience of being called to the stage to receive an award. It's an event every competitor cherishes.
"If at all possible, try and do a practice cook in advance of the competition," adds Chomos. "It's one thing to cook a good brisket or good ribs for in your backyard for supper, but to turn in four different meats within a two-hour window is something completely different. Oh ... and don't forget to have fun."
Check out our Festival Overview and get excited for the weekend at Porkapalooza.
Excited to dive into delicious dishes at Porkapalooza? Share this story with friends and get their stomachs growling too.