Athabasca, AB - When the Magnificent River Rats Festival first kicked off in Athabasca in 1996, a city councillor came up to Andy Woudstra (one of the founding members of the festival committee) and told him it was doomed. 
"Don't get me wrong, I support it," the man told him, according to Woudstra. "But when it came to council, I said there's no way, they're not going to make it."
Twenty years later, with a Canada Day party that has drawn in big-name performers like Prairie Oyster, George Fox, Doc Walker, Corb Lund, Trooper, Big Sugar and Dear Rouge over the years, the festival has done more than make it. With jetboat tours, barbecues, a vintage car show and shine, fireworks and a host of kids activities, not to mention the concert headliners, it's become a community rallying point.
"You used to be able to shoot a cannonball down main street on Canada Day," says Woudstra. "There's no way you're doing that now."
Athabasca – the almost capital of Alberta
Looking back, the naysayers like Woudstra's councillor friend should have known better. After all, this is a town that has punched above its weight for much of its existence. At one point during the fur trade era, Athabasca was the most prosperous town in Alberta. It nearly became the provincial capital, until the railroad was shifted 200 kilometres south and economic prospects inevitably declined.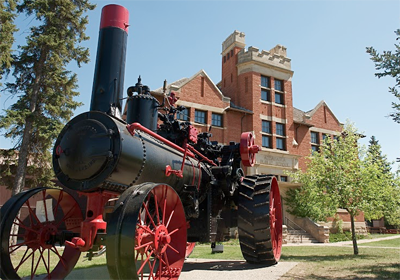 Athabasca is home to rich history and almost became Alberta's capital city. 
But it's the ingenuity and grit of its early inhabitants that really reveals the character of Athabasca. During the fur trade, men known as trackers used to haul the giant scows upstream through Class VI rapids using only ropes and brawn.
"They would only do the job for two or three years and then they would be physically ruined, but while they did it, they were kings," retells Shirley Zelman.
Zelman and her husband Darcy own and operate Grand Rapids Wilderness Adventures, a backcountry lodging and adventure company that can only be reached (in season) by jetboat. During the River Rats fest, they offer river tours via jetboat from the boat launch by the park.
The local heritage society offers historic walking tours highlighting historic old town architecture and river culture, for those who want to discover more of Athabasca's history.
River Rat Festival gives back to the community
The trackers — possibly the men Canadian poet Robert Service immortalized as "those magnificent river rats" in his poem Athabasca Dick — established a community work ethic that lives on. So it makes a fitting name for a festival built on that same ethic.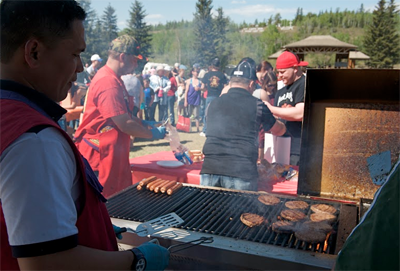 With burgers on the grill, theres' plenty to fuel your dancing at the River Rats Festival.
In its inaugural year, 1996, the festival ran on a budget of about $5,000, and the concert was played on the back of a flatbed stage. Over time, however, the festival seeded community development, leading to establishment of Athabasca Riverfront Park, and building a permanent outdoor stage, where the festival runs to this day.
On or off the river – Athabasca keeps you busy
Life is no doubt a little easier these days than when Service visited back in the late 1800s. The golf greens at the Athabasca Golf and Country Club are verdant and smooth — although true to form, the course is one of the more challenging, with long holes and inviting sand traps.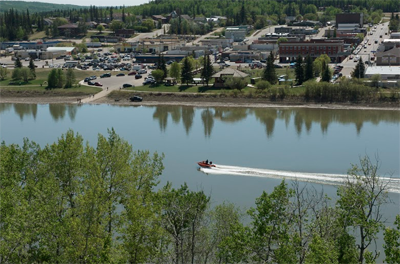 A river runs through it - naturally. 
If you want to take a break from the crowds, trails meandering through Muskeg Creek offer scenic views and easy strolls through poplar forest. And there is a local potters' guild that sculpts potted treasures out of the rich Athabasca clay.
But for a real taste of river rat ethic, it's local bands like Embrace the Unknown and the Fort McMurray Refugee All-Star Band who are churning out the raw, crunchy rock that will fire up a Canada Day celebration like no other.
You'll be caught up in the momentum before you can say, "Cannonball!"
When you go
Athabasca is less than a two-hour drive north of Edmonton.
The Magnificent River Rats Festival runs July 1 - 2, 2022. Click here to find out more.
Visit Athabasca is the place to find out more about the community.
Are you ready to dance in Athabasca? Share this page with your friends and start planning.