Brought to you by Prestige Hotels & Resorts. In 12 destinations across B.C., they make the perfect festival base camp.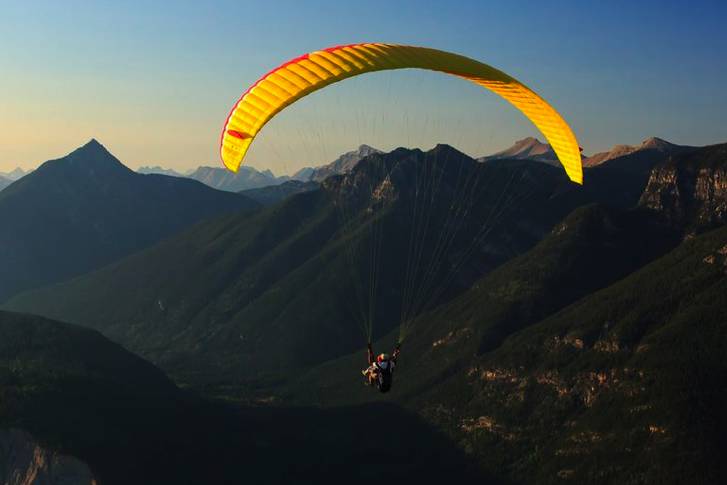 The Golden area offers some of the best hang-gliding in the world. 
Photo courtesy of Tourism Golden/Dave Best
Climb, hang-glide or mountain bike in the Valley of a Thousand Peaks
KIM GRAY
GOLDEN, B.C. - A few years ago, Golden, B.C. was the town my family blew through on the way from Calgary to visit my parents in Kelowna.
If we did make a stop, it was for one of two reasons: we needed to gas up or we were looking for a quick meal at a local Chinese Canadian restaurant.
These days, it's increasingly difficult to ignore this mountain town - nestled in the Valley of a Thousand Peaks (otherwise referred to as the Rocky Mountain Trench) and surrounded by five, count 'em, five national parks. 
Diverse adventures
Historically, Golden's economy has had close ties to the logging industry and the Canadian Pacific Railway. Today, while these relationships still exist, the town's offerings have diversified – making it a must-see destination that offers fantastic opportunities for family and adventure travel.
Which is why - for any Canada-loving outdoor enthusiast - it's more challenging than ever to breeze through town without a second thought.
You bet my kids want to sleep in a comfortable teepee at Goldenwood Lodge and lay awake at night listening to the sounds of restless frogs.
Of course our family wants to visit the Northern Lights Wildlife Wolf Centre, where you can learn all about these extraordinary Canadian animals. If you're lucky like we were, you may get to hear the resident wolves break into a symphony of howls all around you - an incredible thing to experience.

Kicking Horse Mountain Resort opens at the end of June for mountain biking. 
Photo courtesy of Tourism Golden/Dave Best
Longest free-standing bridge in Canada
And yes it's true, we've made it a family tradition to pack a road trip picnic and make a point of stopping at the longest freestanding timber frame bridge in Canada – Golden's Kicking Horse Pedestrian Bridge.
This remarkable structure built in 2011, according to local spokesperson Joanne Sweeting, was built by volunteers from around the world who came to Golden as part of their training.
"That's how the international Timber Framers Guild works," Sweeting recently explained. "They have to travel the world for two years and a day giving their services for free. In return, the community where they're working supports them."
Kicking Horse in winter and summer
Just a few months ago, my family of four went skiing at Golden's Kicking Horse Mountain Resort. We were blown away by mind-bending mountain vistas and challenging terrain. (We'll definitely be back next winter.)
Lucky for us, turns out the resort opens at the end of June for the summer – offering a host of experiences that range from mountain biking to hiking to dining on top of the mountain at the renowned Eagle's Eye restaurant.
And let's not forget the resort's resident mascot Boo – a rescued grizzly with a storied past. Turns out that aside from following along on a Grizzly Bear Refuge interpretive tour, you can sign up for the Ranger Assistant Program where you can "safely" get up close and personal with this incredible creature.
Climb, hang-glide and mountain bike
Still to do on our Golden hit list?
Well, we've been hearing rumours about an awesome place called Dogtooth Climbing Gym – something we totally want to check out, especially with the young cousins who visit our family every summer from Toronto.
Then there's Rocky Mountain Buffalo Ranch run by Leo and Karen Downey – a couple, I'm told, who are passionate about teaching visitors about the buffalo and their place in North American history.
I've also heard great tales about Mount 7 Lodges and their world-class mountain biking trails - so they're definitely on our roster for this summer.
Plus, don't tell my son (because I'm sure he's going to want to eventually do this) but I hear Skydive Extreme Yeti – featuring tandem skydiving - has just launched its business this month.
I just checked the website and let's just say this one isn't for the faint of heart.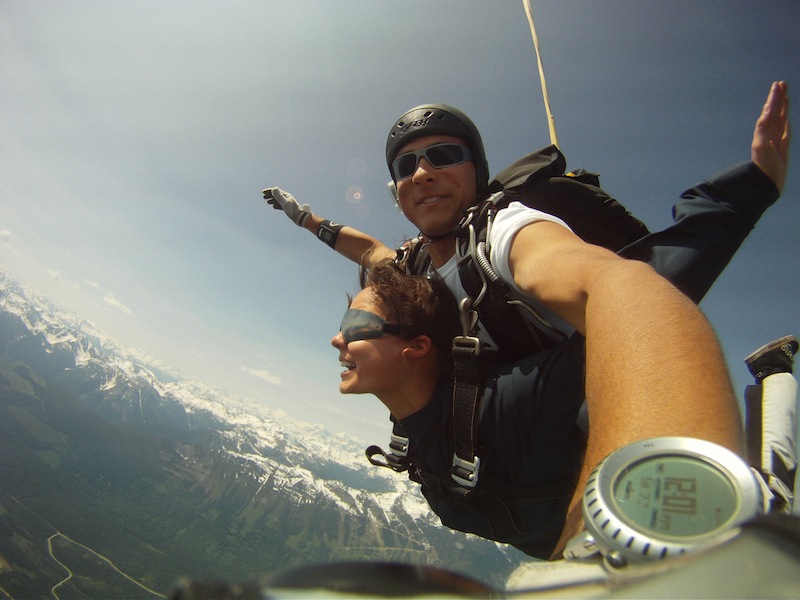 Tandem sky-diving in Golden with Skydive Extreme Yeti. 
Photo courtesy of Skydive Extreme Yeti
If my family chooses a day of skydiving, you will find me – I assure you – hiding out at Golden's famous Bacchus Books & Café – sipping a flavourful coffee, reading, and nibbling (feeling no anxiety whatsoever) on a yummy home-made muffin.
Check out the amenities and packages at the Prestige Inn Golden
Take a look at our picture slideshow showcasing the prestige destinations shared on FestivalSeekers.com. Each picture has a story attached to it, so click on the picture to make sure you don't miss out on all the great summer destination ideas.
For more info on Golden click the links below:
Northern Lights Wildlife Wolf Centre
Kicking Horse Pedestrian Bridge