Photo by Kelly Funk/courtesy Avenue Magazine
CATHERINE DUNWOODY
SUN PEAKS, B.C. — The 16th Annual Sun Peaks Winter Okanagan Wine Festival has just passed, and as a first-timer to this festival, I can easily say, I'm impressed.
Sun Peaks Resort, just 45 minutes from Kamloops, has a small, walkable, ski-village that allows for the flagship event, the Progressive Tasting, sponsored by WestJet, to be an easy stroll while discovering the best of B.C.'s wines. Nine thousand past attendees can't be wrong.
Handed a wine glass – yep, stemmed and real glass, not plastic, I drifted through the snowy village, from gift shop, to café, to hotel lobby, to discover 30 British Columbian wineries, serving tastes of the best they have to offer. Tickets are $65.
A few favourites? Bella Sparkling Gamay, 2012, a fizzy, girly, pink bubbly. Harper's Trail for its dry Riesling, 2012, and Tantalus Pinot Noir, 2011, both excellent.
Like any good wine fest, Sun Peaks has a full calendar of wine-related, ticketed events that make the fest, well, even more festive.
'A Conversation With The Chef' was held in Delta Sun Peaks Hotel's ballroom. Each course and wine pairing was introduced and 'walked through' by the hotel's Executive Chef, Paul Paboudjian and Food and Beverage Manager, Didier Toutain. Both knowledgeable and passionate about what they know best, but without pretence, the evening was great fun. 
A house-smoked duck breast as part of a charcuterie plate, paired with Red Rooster's 2011 Chardonnay, was most memorable.  When it comes to dessert, Toutain shares my taste. Serving ice wine with a sweet dessert is just that, "too sweet", he says. Instead, he paired Gehringer Brothers Late Harvest Riesling, 2012 with a warm apple and cranberry bread pudding, and cinnamon crème Anglais. 
Christopher Nicolson, president of Tourism Sun Peaks says, "the festival encourages our many businesses to experiment and challenge themselves with new food and wine concepts as they work with wine professionals from the Okanagan. The results of this partnership are very evident in the festival's creative events, but also elevate our guest experience for the entire year."  
Some events that are returning for the 2015 festival, by popular demand are, Taste of the Thompson, the Port, Chocolate and Cheese Après-Ski Social, and the Wine Brunch at The Delta Sun Peaks, which may well serve the best macaroni and cheese - with bacon - that I've ever risked my waist size to try.
The beauty of a wine fest at a winter resort of course, are all the outdoor activities that make said macaroni noshing, a little less guilt inducing. Skiing and snowboarding are a given, but Nordic skiing, snowshoeing, dogsledding, and snowmobiling are other fun options sure to raise a glow in your cheeks.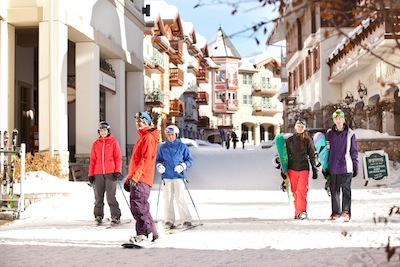 Photo by Royce Sihlis/courtesy Avenue Magazine
However, nothing quite beats some spa time, on any vacation or getaway. Sun Peaks Spa, in the Kookaburra Lodge, offered a January Special that featured a full body, hot stone massage, plus steamy towel wraps for the feet and a hydrating facial masque. Here's hoping they do so again next year.
Mark your calendar.  Next year's 17th Annual Sun Peaks Winter Okanagan Wine Festival takes place Jan. 17 to 25, 2015.