Get ready to rock at the Wapiti Music Festival. 
All photos provided by the Wapiti Music Festival
PAULA WORTHINGTON
A great music festival is one thing, but there's something about mountain music festivals that give them their own beat. Known for its legendary powder in the winter months, Fernie is also a summer paradise with nearby lakes, plenty of hiking and mountain biking, world-class fishing and a laid-back friendly community vibe.
The Wapiti Music Festival represents small town mountain living at its best. It packs a family-friendly event and a line-up of some of Canada's best and up-and-coming indie talent. Located in the heart of town, the Wapiti Music Festival has grown from humble roots to a summer destination event.
"For the first couple of years, we had to explain what the festival was all about and who would be there. But now people know they can expect a great atmosphere and amazing talent, so we've become a mainstay in the community," says Kevin McIssac, festival organizer for the past five years.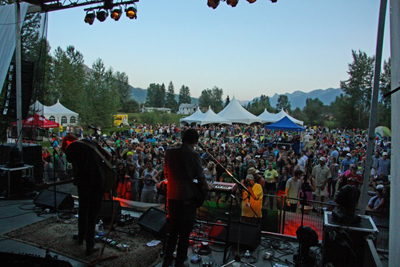 Enjoy the beautiful setting of the festival with a mountain backdrop. 
Best described as "indie," the festival's music is an eclectic mix of known and rising Canadian talent. "Every year we receive hundreds of applications from talented artists and groups who want to be part of the event. We have a subcommittee that sifts through all the applicants and hand selects artists they think people will love," says McIssac. "People are always curious about which bands will be playing and who they are. But now they trust our organization and know it will be great talent."
Located near the Elk River in Fernie's Annex Park, the festival is easy to reach, and includes amenities such as a gated bicycle area, food, merchandise and craft vendors.
"You can enjoy anything from sushi to perogies, and everything in between, and meet some of the artists after their set in the merchandise tent," says McIssac,
Because the Wapiti Music Festival is a not-for-profit organization run solely by volunteers, an adult weekend pass is just $79. The concerts downtown on Wednesday and Thursday hosted by the community and Wapiti are free for everyone. The entire event is complimentary for kids under 12 and seniors over 65.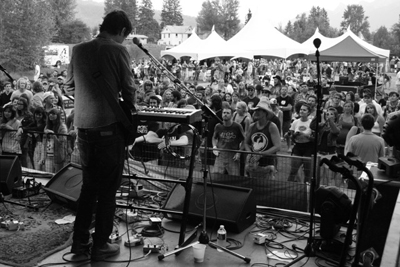 The lineup this year is incredible with acts like the Harpoonist and The Axe Murderer.
Sunday is a fun day to be at the Wapiti Festival. There are free festivals for the kids and a couple of bike events. 
"We want to make the festival accessible to locals and visitors alike," adds McIssac.
Truly national, this year's lineup hails from across Canada from Victoria, B.C. to Downey, Newfoundland. 
One of the featured bands this year is The Harpoonist and The Axe Murderer  and this will be their first appearance at the Wapiti Music Festival.
Mountain shows have an appeal for Shawn Hall, the Harpoonist of the blues duo. "You're more off the grid in festivals like this, so it's a deeper experience for people. Some have travelled a long way to get there, people are engaged the entire time. I'm looking forward to Fernie."

The town of Fernie has a wide variety of accommodation.  Find your fit here.
Hall, who describes their sound as "surprisingly forceful and unapologetically raw and greasy," is inspired by musicians like the late great B.B. King.   
The Harpoonist and the Axe Murderer are just one in a stellar line-up that also includes Reuben and the Dark, from Calgary, Towers and Trees, from Victoria, and The Mounties, from Toronto.
Additional information 
For additonal information about the Wapiti Music Festival, check out the official website.
Headed to Fernie for the weekend of music? Book your accommodations here.
Want to check out the lineup? Check out our festival overview.
Ready to rock and roll with some of Canada's best indie artists? Share this page and get your friends ready to rock.