Tips from a pro photographer on capturing the Northern Lights, shooting stars and more.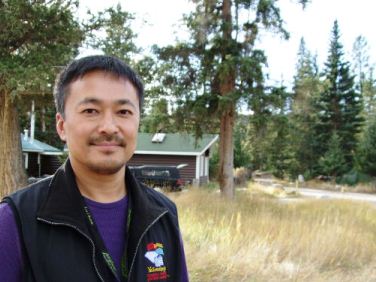 Yuichi on location in Jasper teaching the basics of astrophotography.
Photo by Lisa Monforton
LISA MONFORTON
JASPER, AB – Yuichi Takasaka has perfected the art of photographing the magical Northern Lights. He uses an arsenal of everyday household items and, of course, his beloved digital cameras.
A shower cap, a hand-held dollar store fan, duct tape, a kitchen timer and a head lamp all play a role in his passion for capturing the dancing ribbons of greens, yellows and magentas of the legendary Aurora Borealis.
Takasaka was in Jasper on the weekend to lead a night sky photography workshop during the second annual Dark Sky Festival, a celebration of Jasper as the largest and one of the few night sky preserves in the world, as designated by the Royal Astronomical Society of Canada.
The workshop attracted a couple of dozen hobby and pro photographers, all of them interested in learning some of the techniques Takasaka has discovered through trial and error, since his first sighting of the Northern Lights in 1990 as a hobbyist photographer in Jasper.
Though it took Takasaka long hours and many years, first with an SLR film camera, he's now keen to let people in on his knowledge. His learning along the way has helped him to become a respected night sky photographer with many photos published on NASA websites, in photography books and textbooks and sales of his standalone shots on everything thing from the Milky Way to shooting stars.
Sean Simmons, a member of the Edson, AB, photo club and a part-time professional photographer, thought it was a great presentation. "I'm always looking for new tips."
Takasaka emphasized for Simmons how easy it is to capture the night sky. All you need is some basic (though sometimes pricey) essential equipment, says Takasaka, and you'll be taking photos like a pro in no time.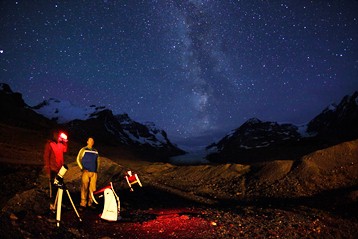 Astronomers enjoying the Dark Sky Preserve.
Photo courtesy of Yuichi Takasaka.
One of his best suggestions is to always have something interesting in the foreground for perspective. "I love to make a nice foreground with the stars, such as a moving car, boat or a tree, people, a train or mountains."
Gear to have
Digital SLR Camera: He uses a Canon SLR EOS 5D Mark II, but there are many other good cameras on the market. Shop around.
Lenses: One of Takasaka's favourites - a "miracle lens" - is the Nikon 14 mm to 24 mm, f/2.8, weighing in at 1 kg.
Sturdy tripod and ball-head system with optional quick release. If you don't have one, try to find anything sturdy to set your camera on, even an upside down garbage can, as one woman in his group did.
Cable release switch or wireless switch.
Extra batteries and chargers.
Ziploc bags or a shower cap large enough to cover the camera and lens to avoid condensation when you come in from the outside on a cold night.
Blower to clean dust off the lens.
Other useful items:
Lens heater for removing dew buildup.
LED headlight (red coloured is preferred) to see camera settings in the dark.
Kitchen timer and/or metronome for bulb shutter (set for 60 beats per minute).
Fan for keep little bugs off the lens (Takasaka uses a hand held fan from a dollar store).
Compass.
Use a sky chart to find your subject (there are a number of computer programs available).
A copy of the National Audubon Society Pocket Guide to Constellations.
Equipment manual.
Some of Takasaka's favourite viewing spots:
September in Yellowknife to see the Aurora Borealis when it's not too cold.
Any of Canada's national parks, such as Jasper and Waterton (especially in winter).
Kananaskis Country, where there are often clear skies.
The parking lot of Mt. Yamnuska just west of Calgary.
Peyto Lake, along the Icefields Parkway.
Kluane National Park in Alaska.
Yellowknife and Hay River.
Newfoundland, where Takasaka was able to capture the Milky Way with an iceberg in the foreground.
For more information, go to www.twanight.org and http://www.blue-moon.ca/
Sundog Wild Night Tours
If you missed the Dark Sky Festival, you can still get a personalized tour of the night sky with SunDog Tours Jasper through their Starlight Wild Night Tours. The outfitter takes guests out around the Jasper area to view the night sky, and provides telescopes and guides educated on the night sky. Tours go October to April: Adults $59, children 12 and under $27. Go to sundogtours.com for details.
Read more articles about the Jasper Dark Sky Festival
For more information on the Jasper Dark Sky Festival visit Tourism Jasper's website