Musically talented founders welcome music lovers to their property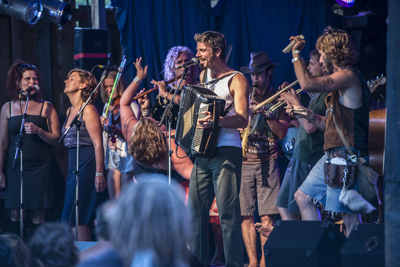 You might discover your new favourite band at the Robson Valley Music Festival.
Photos provided by the Robson Valley Music Festival
DUNSTER, B.C. — When I ask Shara Gustafson where we should meet for our interview, she says, "Why not at my house? It's on the festival site." It's not an invitation many festival organizers can offer — and it just happens to be the perfect location for the Robson Valley Music Festival.
Gustafson lives in Dunster, B.C, a tiny community nestled in the Raush Valley between the Rocky and Cariboo Mountain ranges, tucked up against the meandering Fraser River. This area in between McBride and Valemount is typically known for its raw natural beauty and abundant wildlife but Shara has created a completely new reason to come to this area.
She and her husband Seth have been welcoming music lovers to their home for many years now and have cultivated this festival into the ever-growing event taking place this Aug. 14 to 16.
The numbers are up, but at its core, it's still the same intimate, high-calibre celebration of music. "As a musician living in an isolated community, I wanted to bring music to my front yard," says Gustafson. "It's my gift to the community."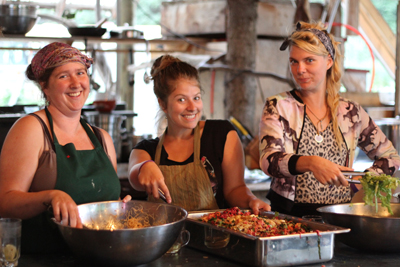 The festival is made possible by volunteers.
It's not easy to categorize the Robson Valley Music Festival, which is now in its 10th year. It's not a folk fest or a world music weekend although it does include both. Attendees will be entertained by 39 different acts, including musicians, children's performers and visual artists. 
Discover new danceable music
This year's lineup showcases musicians such as the incomparable Buckman Coe, Quique Escamilla and Shirley Gnome. The audience will have a pretty good idea what to expect from Folky Strum Strum, while bands such as Dead Body Juice will be new to many festival-goers.
I'm especially looking forward to a dance workout with Souljah Fyah. And don't miss house band Samson's Delilah & The Collective Guroove made up of non-other than your hosts, Shara and Seth, plus a few close friends.
The performers actually count down the days until they meet in the mountains, says Jane Hole, lead singer of Aurora Jane.
"Robson Valley is my favourite Canadian festival. The atmosphere is creative and vibrant, the programming stellar, and the sense of community is heart-warming," Hole says. "I have made the trek from Australia through the beautiful mountains to re-unite with this musical community many times now. Every year it just gets better. This year I'm super excited to bring together a talented bunch of Aussie and Canadian artists to do something a little different."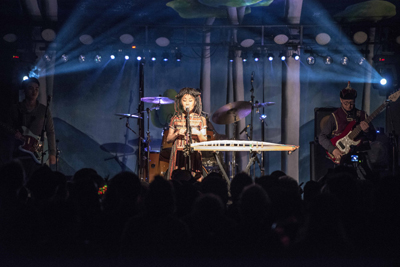 Incredible singers and songwriters will hit the stage in Dunster.
"I am looking forward to Robson Valley this summer, it is one of the coziest and beautiful festivals around — intimate, held on Shara and Seth's family property, and epic as the beautiful music is made within the bowl of the beautiful mountains," says singer-songwriter and storyteller Joanna Chapman Smith. Tweet This!
Raft or go off-roading
After the festival, there's plenty to do in the area, too. McBride and Valemount are widely known as a sledders' paradise in winter, but it offers some great summer activities. You can quad or dirt bike through largely unexplored areas on forestry roads or choose from many local backcountry hikes.
Instead of gazing at the Fraser River, why not whitewater raft it? I've checked this off my bucket list, (on Canada Day no less!) and highly recommend it.
If it's a slower-paced paddle you're looking for, rent a canoe and make your way over to Lake Kinbasket just south of McBride. Created by the Mica Dam, this lake reaches as far south as Golden and offers stunning scenery the entire way.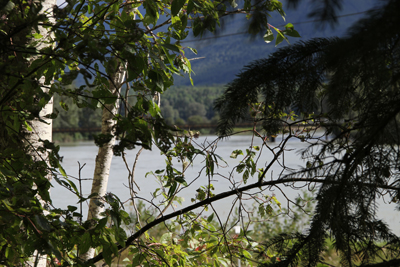 On a hot day take a dip in the Fraser River, or go whitewater rafting. 
Mt. Robson is one of the most impressive peaks in the Rocky Mountain chain and you have the opportunity to conquer it. Trails lead as high as you want (or can), and overnight camping is available. Reservations are recommended.

Experience true mountain town culture. Start planning your adventure here. 
Credit: Carey Cole Photography
So pack up the kids — if you've got them — because there are a ton of activities for all ages both in the great outdoors and at the festival. The festival also features several food vendors, workshops and art displays. Dogs are not allowed but there's a great place to kennel them just down the highway. Weekend passes are $110 per person, including camping.
More info
Like this story? Share it with your friends.