Yehaa! Its the Annual Fernival at Fernie Alpine Resort featuring Hark Raving Sirens! Fernival is Fernie Alpine Resort's Closing Weekend Celebration. Fernie Alpine Resort is the place to be this spring as the annual Fernival event typically gets underway and rockin,' in April.
Catch the enthusiastic spirit of this spring music festival, which includes live music, popular DJs, a retro-themed weekend and some fun but intense competitions to wrap up the ski season. 
Live Shows at Fernival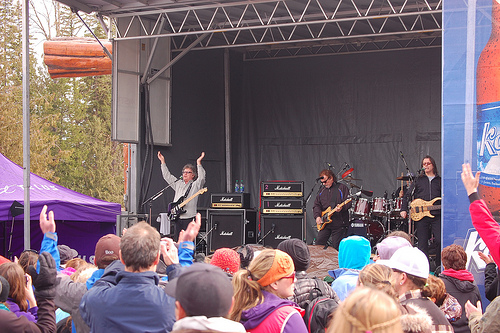 Saturday, April 9th
Live Music from Stage Fright and Live Wire
"Stage Fright – A Def Leppard Experience" and "Live Wire – A Tribute to Motley Crue"
Sunday, April 10th
Local band "Hark Raving Sirens" will be playing on the gazebo stage.
More about Fernival
Raging Elk Powder Pedal Paddle Relay Race
For over 30 years the PPP has been going strong. Teams of 1-5 people ski, bike, paddle, & run in a fun yet competitive relay race. 
This event has been tentatively scheduled for the sunday of Fernival, but could change.

The best way to get the most up-to-date festival information is to head over to the Official Fernival Event Page.