Check out what is going on in and around Lac La Biche this year
Click the Photo for great travel ideas!

The Lac La Biche Agricultural Society presents a weekend of country fair events and the Roughstock Rodeo. Wear your country fashion and try the local country atmosphere. Check out the farmer's market for fresh produce, and the arts and craft sale for unique and handmade wares. Tweet this page.
Your kids will love the petting zoo and Children's Farm Fest, and don't miss out on the rodeo with saddle bronc, bull-riding, ladies barrel-racing, bareback and more.
Read about the Lakeland Country Fair from Seekers writer Sheri Landry
Schedule of Events
Each night the Beer Gardens are open with live entertainment.
Friday August 4th
- Horticultural Bench Show
- Music on the Front Porch
- Farmer's Market
- Arts & Craft Sale
- BBQ
- Raffle
Saturday, August 5th
12:00-4:00pm – Horticultural Bench Show
12:00-4:00pm – Children's Farm Fest, Petting Zoo, and lots of fun activities
1:30pm Nikolai the Magician
1:00-4:00pm – Music on the Porch, Food-Craft Demos, Horseshoe Tournament (registration on site)
12:00-4:30pm – Arts & Craft & Home-based Business Sale
12:00-5:30pm – Hitch Up & Go Fun Day
The Lac La Biche Open Rodeo will start Friday, August 4, at 7:00pm and Saturday, August 5th, at 6pm will include Jackpot Team Roping at the Arthur and Anita Cadieux Ag Grounds. The event will include Bareback Riding, Saddle Bronc Riding, Mini Bronc Riding, Barrel Racing & Junior, Novice Horse Riding, Ladies Breakaway Roping, Team Roping, and Bull Riding & Junior.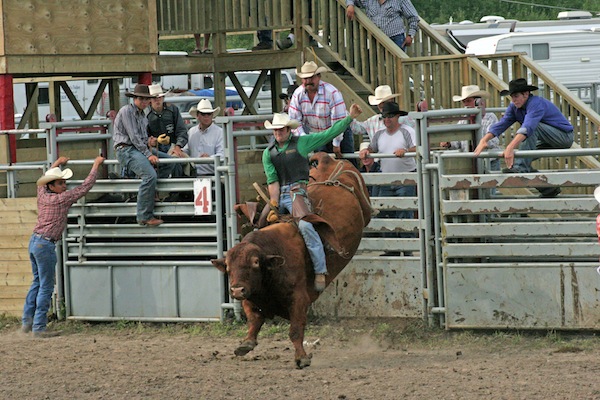 Tickets
Gate admission for Roughstock Rodeo: $10 for adults, $5 for children (age 6 to 12) and under six years old get free admission.
All other events are free of charge
For more information check out the Lac La Biche tourism official website 
Read our FestivalSeekers story about the fun times found at the Lakeland Country Fair.
Check out the Bonnyville Rodeo while your at it!
Ready for the country fair? Share this page with your friends and get them excited too!