The Lakeland's Biggest Winter Festival returns to Kinosoo Ridge Snow Resort Feb.16. Enjoy a full day of great family fun and entertainment. Enjoy awesome bands, the chance to snowboard with the legendary Craig McMorris and more.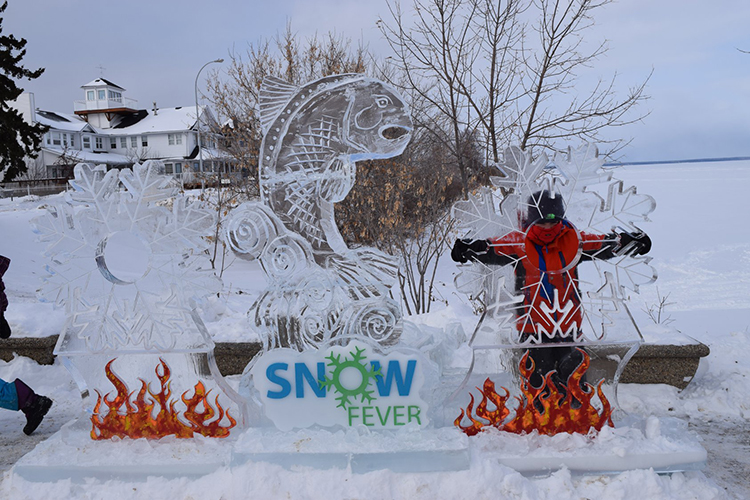 Featured events
Motivational talk from Craig McMorris Feb 16, 11:00 A.M. - 1:45 P.M.
This is your chance to snowboard with one of Canada's greatests, Craig McMorris. McMorris is a member of Canada's national snowboard team in slopestyle. Enjoy a motivational talk from the legendary snowboarder, as well as a meet & greet.
Moana at Kinosoo Ridge Feb 16, 1:00 P.M. - 2:00 P.M.
Hawaii is coming to Kinosoo's chalet with Visionary Entertainment's theatrical production of Moana. The kids will be singing and dancing the afternoon away with this interactive show. Kids will also receive airbrushed tattoos or facepainting. Learn more about the show at https://visionaryentertainment.ca/
Entertainment from Jeremy Fisher Jr Feb 16, 2:00 P.M. - 4:00 P.M.
Jeremy Fisher is bringing his unique form of whimsy to the tube park for Snow Fever. Fisher is known for his folk-drenched musical roots and is a veritable throwback to the golden era of the singer-songwriter.
DJ SHUB Feb 16, 2:30 P.M. - 3:30 P.M.
Considered to be the Godfather of PowWowStep, DJ-producer Shub continues to pioneer a growing genre of electronic music. Born Dan General, Shub began his career with nationally acclaimed electronic music trio, A Tribe Called Red, performing across North American stages with some of the biggest recording artists in today's industry and winning a Juno Award in 2014.
Moontricks Feb 16, 3:45 P.M. - 5:00 P.M.
Straight from the wild woods of rural British Columbia, Moontricks blends the mountain folklore of roots, blues, and bluegrass with the urban witchcraft of liver-milking bass and patina-polished production. Drawing on diverse influences from Dr. Dre to Muddy Waters, they create a shape­shifting, chameleon style all their own that has won over audiences from dive bars to dancehalls.
Fat Biking Demo Feb 16, 10:00 A.M. - 5:00 P.M.
Have you ever wanted to try a fat bike? Now's your chance! Representatives from Norco Bicycles will be on hand with demo bikes to get you out riding tough terrain and through the snow. There will also be a demo trail available, so you receive the full experience.
Elleboard – Female Snowboard Clinic Feb 16, 9:00 A.M. - 5:00 P.M.
Elleboard was created with the mission to give all women in Canada the opportunity to develop as snowboard athletes, coaches or technical leaders. Elleboard Programs focus on the progression and promotion of female riders through a variety of training sessions, events, camps and technical development opportunities. 
Snow Fever After Dark Feb 16, 8:00 P.M.
Keep the party going late into the night by heading to the official Snow Fever after-party at The Grande Parlour in Cold Lake. 
Featuring:
DJ Shub
The Moontricks 
Jeremy Fisher 
The Unheard Ofs (The Kinosoo Ridge Band)
PURCHASE TICKETS AT https://grandeparlour.ca/shows-cold-lake/
If you go
More information on Snow Fever can be found here.
Cold Lake is located a little over three hours northeast of Edmonton, Alberta and Kinosoo Ridge is a further 20 minutes east of the city. Similar to Sunshine Village's Great Divide where you cross the B.C. border, at Kinosoo Ridge, you'll come across a sign telling you you've reached the Saskatchewan border.
Along with Kinosoo Ridge, the Cold Lake area offers great accommodations and dining, plus winter activities that almost every Canadian grew up with: ice fishing, Nordic skiing, snow shoeing, snowmobiling, curling and of course, skating. Looking for a workout? Look no further than the state-of-the-art sports and fitness facility, The Energy Centre. It has everything you need, including fitness classes and an indoor running track.
For more information about Kinosoo Ridge, including its reciprocal ski pass program, head to the official Kinosoo Ridge website
Are you traveling to Cold Lake to experience Kinosoo Ridge? Head on over to the Travel Alberta website and get ready for your trip
Through winter 2018/19 SnowSeekers has teamed up with #SkiNorthAB partners and contributors to bring you #SkiNorthAB - a season of exceptional video, photo and stories to inspire you to #ExploreAlberta via a #SkiNorthAB adventure. Read on...