Start your Canada Day long weekend celebrations early with the Celebration of Vermilion & Multiculturalism happening all day on June 30.
Within this celebration, treat your taste buds to a province-wide feast from the goodness of Alberta's best farmers, food artisans and craft brewers at their Taste of Vermilion Festival. The Taste of Vermilion Festival is happening on June 30 at the Vermilion Ag Grounds from 5 - 9pm.
#TakeItToTheLake this summer. Plan your trip by checking into Vermilion's official website.
This full day of family fun will have your belt busting as you work your way through the many food vendors sampling tasty food from perogies to pulled pork sliders, ice cream and savoury Asian treats. You betcha, there will be ice cream.
Once you've satisfied your palate, you'll be ready for a premium craft ale in the beer gardens or checking out the vintage metal at the classic car show. As the sun sets on the day, in celebration of the upcoming Canada Day, fireworks will light up the sky and you can settle into your lawn chair for an outdoor movie.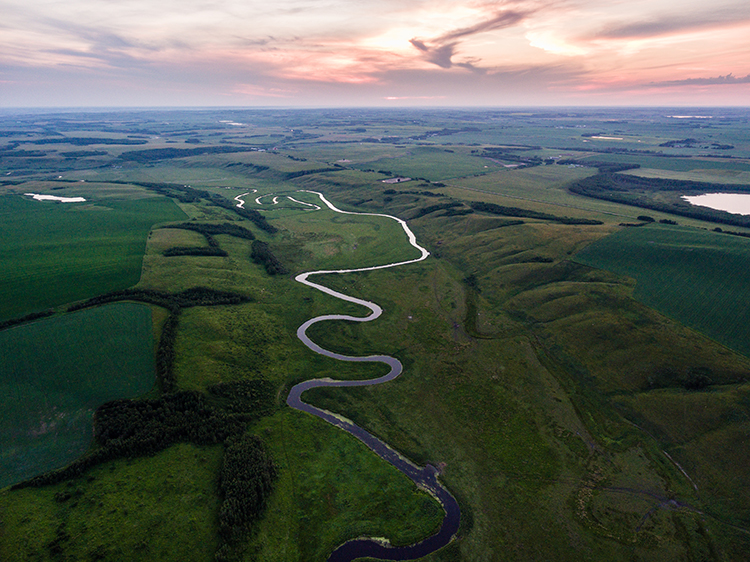 Sound like a terrific way to usher in summer in Alberta.
All-Day Entertainment
Celebrate the multiculturalism of Vermilion and enjoy live music, an outdoor movie, fireworks, and countless food vendors.
And how about this Bucket Brigade splash fest: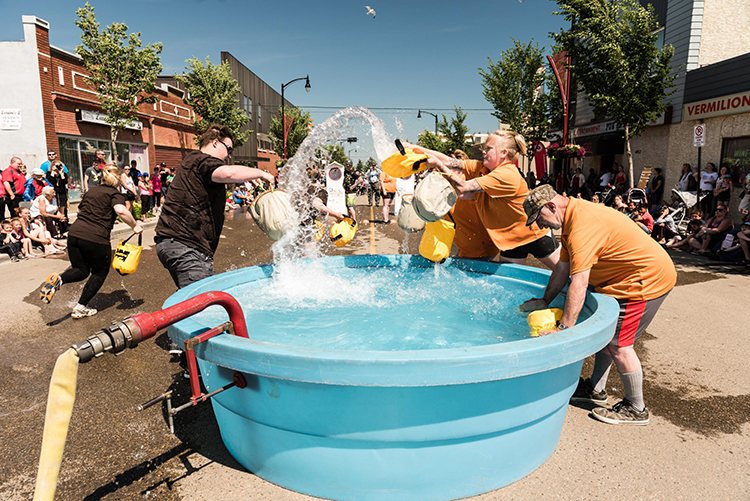 Schedule Of Events 
 
7:00 - 9:00am: Pancake Breakfast
Enjoy a classic community breakfast at the Vermilion Fire Hall, 
11:00am - 1:00pm
Vermilion Cadets Fundraiser Lunch - 50 Ave, between 50th - 49th Streets
11:00am - 2:00pm
Lunch and Bake Sale - LVE Charity Fundraiser at Western Financial.
12:00 - 1:00pm: Bucket Brigade
Get ready to get wet as the Bucket Brigade makes its way down Main! Register your team at [email protected]
1:00 - 3:00pm: Open Stage
Paige Jaremco hosts an afternoon of local, live music in front of Copper Cork Distillery. Sign up to play: mackclothing2018 (at) gmail.com
5:00PM - 9:00PM - TASTE OF VERMILION
The main course of the day, the Taste of Vermilion at the Vermilion Ag Grounds, will have nearly a dozen food vendors, beer gardens, and local dance and cultural entertainment to cap off the day. 
When you go
Did you know Vermilion is home to Vermilion Provincial Park? The park runs about 15 kilometres along the south shore of the Vermilion River Valley. Enjoy a day by the river during your visit. Learn more here.
#TakeItToTheLake this summer. Plan your trip by checking into Vermilion's official website.
Looking for inspiration on why you need to #TakeitToTheLake this summer? Start here with our ZenSeekers #TakeItToTheLake Expedition page for a bunch of reasons.
Our friends at Travel Alberta want you to #ExploreAlberta this summer. Get on it by visiting www.TravelAlberta.com