Lethbridge is known for its big prairie sky, but but it's sure to pop up on the radars of more people with this new music and arts festival.
The Wide Skies Music & Arts Festival is bringing some well known and lesser known talent to the stage with two different events. Day 1 features a free outdoor event under those seemingly endless skies. The live music segment features arts from around the world and artisans showcasing their talents. Day 2 takes advantage of the acoustics inside the beautiful Southminster United Church with energetic alt-country singer Lindi Ortega, and the blues-loving brothers; Dave Alvin & Phil Alvin and the Guilty Ones.
Help your friends #DareToExplore. Share this page on Twitter.
Thinking globally on a musical level, but acting locally, the event aims to emphasize being environmentally conscious and green initiatives around the event. In a bid to keep its footprint small, the festival is encourage people to ride a bike, take the bus or walk to the event - and win a door prize for your eco-efforts.
Read a preview of the Wide Skies Festival by FestivalSeekers writer Paula Worthington.
Head to Lethbridge for the Wide Skies Music and Arts Festival. Use booking code "WIDEFEST" when booking...
Featured Events
July 26 is the free outdoor event beside Westminster United Church. After you've locked your bike in the rack, enjoy the live music, artisan market, food trucks and beer gardens.
Six performers will be on two different stages starting at 5 p.m. including: Alex Cuba, Deep Dark Woods and these acts: 
Mariel Buckley
Sunday dinner at the Buckley house should go well into the night when the kids are in town. Mariel and her brother Tim, both have solid careers in the music industry. Mariel creates some pretty serious and witty lyrics, based on her life experiences. You'll want to pull up a chair for this one. 
Shaela Miller
You can't find anything more local than Shaela Miller. Born in Victoria but living the dream in Lethbridge this singer-songwriter is performing on the free stage. Her voice is perfect for the "honky tonk" songs she sings. You're sure to bopping along to her tunes.
July 27
The pews will be packed for the event on Thursday to hear Lindi Ortega and, Dave Alvin and Phil Alvin with the Guilty Ones.
Lindi Ortega
This award-winning artist hails from Toronto but now calls Nashville home so that the commute to work isn't so far. Putting a label on her style of music has the critics using names like Loretta, Emmylou or Patsy for comparisons. You be the judge but I'm betting you'll come away with Lindi as a name to add to the illustrious list of great singers.
Dave Alvin and Phil Alvin with the Guilty Ones
Bringing the house down are these sibs, Dave and Phil Alvin. The brothers grew up loving the blues and played together for awhile but took a break for a few years – like 30 – before touring together again. Their love of the blues is infectious. Don't miss this show.
Schedule
July 26 – Free event -Gates open at 5 p.m. to 11 p.m.
July 27 – Ticketed event – Doors open at 7 p.m. and the music starts at 8 p.m.
Festival Passes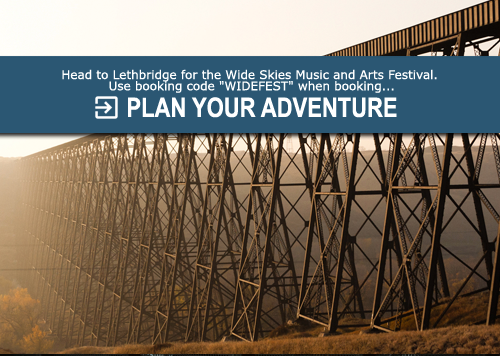 Early bird Price - $50 (until July 1)
Regular Price - $60
There are only 500 tickets being sold. The pass is more than just a ticket to the July 27 performance. It also provides:
Ticket for the July 27 show inside Southminster Church
Access to priority seating for outdoor event on July 26 – no need to bring your own chair!
In case of bad weather, guaranteed access if show must move inside Southminster United Church on July 26
Return bus pass on City of Lethbridge Transit (fully transferable to another person or date)
WIDE SKIES promo pack with stickers and buttons
The WIDE SKIES FESTIVAL PASS is designed to add value to your experience but entry to July 26 outdoor activities at WIDE SKIES MUSIC & ARTS FESTIVAL is FREE and OPEN to anyone. Access may only be limited by space available.
Purchase your Wide Skies Festival Pass by visiting the website here https://wideskiesmusicfest.org/festival-pass/
If you go
For more information about the festival, visit the Wide Skies Music and Arts Festival site.
Read a preview of the Wide Skies Festival by FestivalSeekers writer Paula Worthington.
Choose Lethbridge this season for your next adventure. Start planning and use code "WIDEFEST" when booking.
Are you ready to head to the Wide Skies Music and Arts Festival? Share this page with your crew and get planning.