All photos courtesy of Ryan Semchuk
DAVE MAKICHUK
EAST COULEE, AB - It often starts innocently, when someone, come Monday morning, asks the compulsory question: "How was your weekend?"
"Well," I would respond, holding back a dramatic pause, "it was pretty damn good. I took in the East Coulee music festival, and it was fantastic. I saw a lot of great bands and young, exciting performers, saw the Hoodoos, toured a coal mine and hiked the Badlands - and I feel totally, and completely rejuvenated …"
To which I usually get blank, caffeinated stares: "The what? The where? You did what?"
Yes, it is a bit of a sad fact that so few people know about the East Coulee SpringFest. 
God forbid anyone find out about Alberta's coolest music festival, set in the gorgeous Red Deer River Valley, in the heart of the Badlands' famed Hoodoo Trail.
Quite frankly, and selfishly, I'd like to keep this amazing experience to myself, but I'm compelled to share, because it surely is one of the best-kept secrets in southern Alberta, and even Canada, perhaps.
Former coal town rocks out
It starts as you drive south from "the Drum," on Highway 10. The scars of time all too apparent in the beautiful, rolling hills of the Badlands. The topography envelops you like no other place on earth, and it's in our backyard, an hour and a half drive from hustle and bustle of Cowtown.
East Coulee is a village, a former coal town, nestled on the Red Deer River valley, and its SpringFest is held in aid of the community's school museum.
The first time I stopped here, I was taken by the serenity, the slower pace, the scenery, and the languid colours of the valley. I knew I was about to discover something so cool it would stay with me.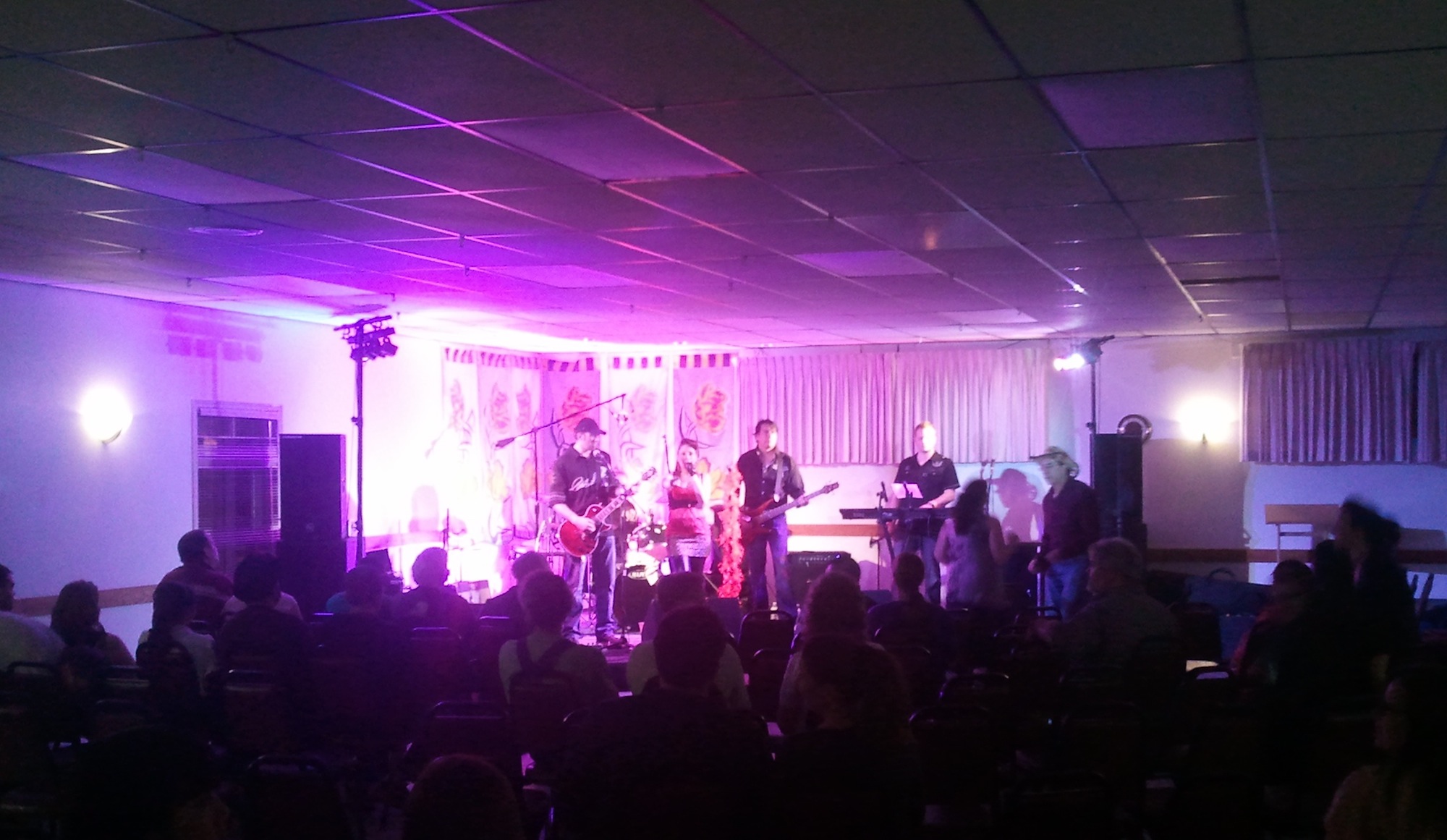 Eclectic roster of musicians donate time
The idea, in itself, is brilliant. A small village needs money for its museum. Why not corral volunteers, set up a music festival of local and western bands, who are willing to play for room and board, and do nothing more than share their art. 
In exchange, people will come, pay a nominal fee to see performers in three venues – the local bar, the community centre, and the school museum - rotating every hour, on the hour. Add in the genuine friendliness of a proud little community, actually happy to see you there, and you'll know you're taking part in something special. 
Quite admirably, they explore every kind of music. Guests will experience everything from rock, folk, country, to indie, blues, soul, funk, Celtic, and rockabilly … and even the less defined areas such as synth pop. One year, an organizer told me, they also tried punk, but "it didn't quite work out." At least they tried.
There are local bands and young up-and-coming talents. These are the true gems, the ones who will literally wow you with their unspoiled genius. Then there are the headliners, who take it up a notch - inspired, like the audience, by the glorious, unique setting.
Small town, big festival
Mike Dooley, who works at the nearby Royal Tyrell Museum in Drumheller as a public relations co-ordinator, along with two other members of the Fire Coulee Bandits, is one performer who's been lucky to watch the festival grow over 20 years. Once a small, grassroots event it's evolved into a festival with recognized artists. 
"What separates East Coulee from a lot of Alberta festivals is that it's a small town and an arts-oriented community," said Dooley, in a phone interview.
"I mean, the population is only in the 100s, and also the fact that the majority of the acts are playing in an old school museum. They`re kind of surrounded by these artifacts, and it's a really cool, eclectic place to perform.
"The community opens its arms to all the artists," he adds, providing room and board to the performers. The other cool thing is that the artists are donating their time. All admissions go towards keeping the school museum open during the year.
"To have that many artists - something like 40 different bands - and to have that quality, all donating their time is kind of special."

The Fire Coulee Bandits recently released a CD, and, along with many other bands, will use the festival to show their work to an appreciative audience.
"The quality of music down there is absolutely top notch, and you are not only supporting the artist, but also supporting the arts and culture of Alberta…" he said.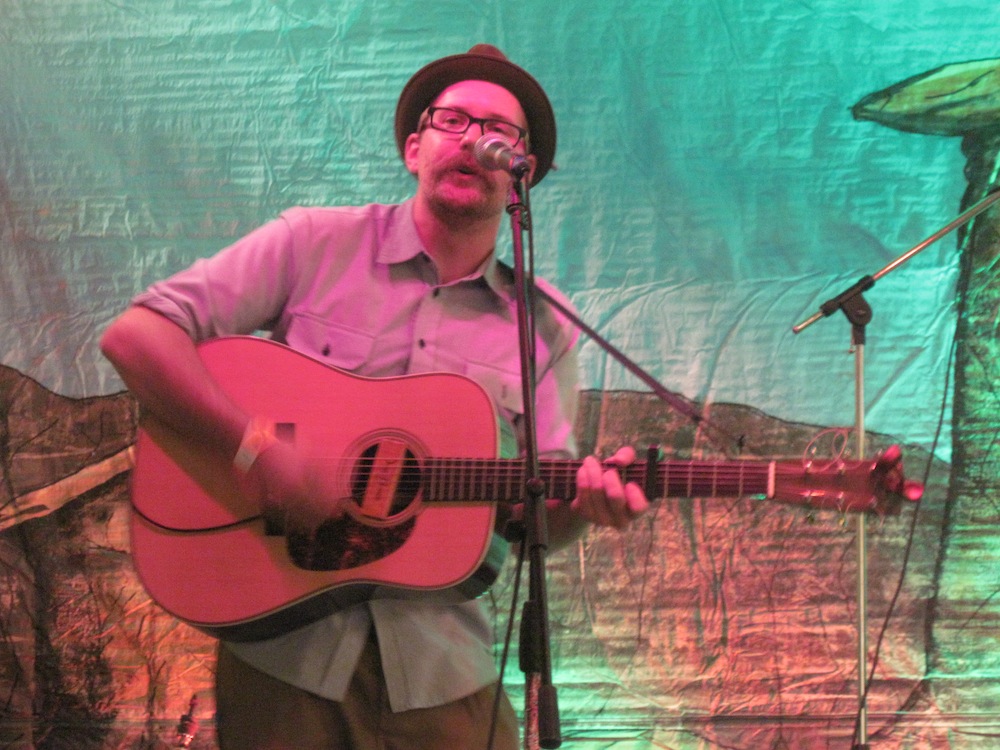 Joe Vickers at East Coulee Spring Fest 2012
From veterans to emerging artists
Headlining the three-day event is blues guitarist Harry Manx, whose mix of work includes Indian ragas that will reverberate off the steep canyon walls.
Young, emerging talents include Amy Thiessen, Braden Gates and Brendan Kelly.  Making a return is Calgary's Kirby Sewell Band, which brought the house down last year with its tight, loud and thumping brand of R&B, anchored by ace guitar slinger Neil Gunhold, who will also perform solo this year.
Then there's blues artist Marshall Lawrence, a Blues Hall of Fame performer, specializing in "raw edge, Delta blues," and country singer Netty Mac whose engaging work is infused with '50s rock. Mac was recently nominated for 2012 ACMA Female Artist of the year and winner of the 2012 ICMA Award for Country Vocal Event of the year with the Fates.
There are approximately 40-plus bands and performers to see over the May 10 to 12 weekend. (See details below)
Bring some sturdy hiking shoes and maybe a camera. There is much to explore in East Coulee, including local artisan shops, the museum, the famous Atlas Coal Mine and the surrounding hiking trails. The evening light is spectacular on the hills, and the starry, moonlit nights over the Badlands are otherworldly.
Need to know
Check out more information on western Canada's festivals.