Shine On Summer Festival a weekend-long celebration of U of L's 50th anniversary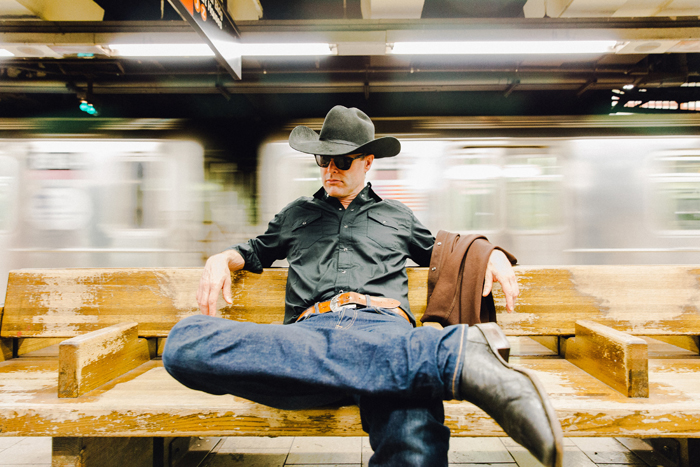 Corb Lund is set to play the Shine On Summer Festival in Lethbridge on Sept. 2, part of the U of L's 50th anniversary celebration.
LISA MONFORTON
LETHBRIDGE, AB - Corb Lund played in Lethbridge a few years ago, but he can't quite remember the details. We'll cut him some slack because he has been kind of busy touring.
But his long-term memory is sharp. He has no problem remembering the two years he spent as a student at the University of Lethbridge in the early '90s.
Help your friends #DareToExplore. Share this page on Twitter.
"I lived in the basement residence; it was down-and-dirty fun," says Lund, laughing. At the time, the self-confessed "nerd" was taking history and anthropology and perhaps studying a few other extra-curricular activities, too.
"You could stumble out of bed two minutes to eight (in the morning) – we felt like we owned the place. People came to class in their bathrobes …. And once a guy ordered a pizza to class."
Head to Lethbridge for the Shine On Summer Festival. Start planning...
That's how close to home it felt, said Lund of living in the basement residence of the main campus building, just below the classrooms.
On Sept. 2, Lund returns with his band the Hurtin' Albertans to play the Shine On Summer Festival, the main event of a weekend-long University of Lethbridge 50th anniversary celebration at the U of L Community Stadium. With seating for up to 6,000, there's lots of space from alumni from Calgary and beyond to attend. 
Check out a full list of weekend events here.
The concert will be a much different experience than playing in Australia, Europe or the U.S., says Lund.
Lund, whose family has lived in Alberta for seven generations – "before Alberta became a province" – grew up near Lethbridge in Taber. He now spends a lot of time at the family ranch in Mountainview between Cardston and Waterton. It's what he loves and it inspires many of his songs.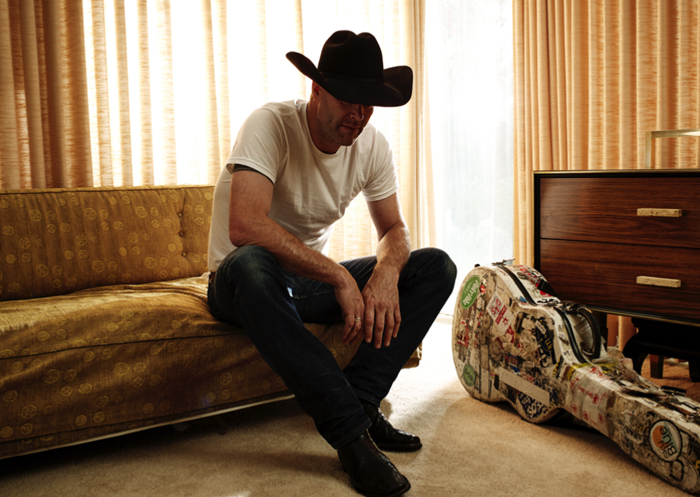 Corb Lund has a deep attachment to southern Alberta and writes many of his songs about the landscape. 
"I write about this area a lot and people know what I'm talking about when I talk about the coulees and the prairies and the foothills," says Lund, a Juno Award-winning musician with many accolades to his name.
There's a good chance concert-goers will hear favourites like the haunting The Truth Comes Out or Little Foothills Heaven, which Lund says is about a place just an hour away from where he spends a lot of time. True to his affinity for barroom tunes, It's Time to Switch to Whisky just might get a jumping rendition, too.
"We've got so many records. Every night we wing it, but I tailor it to the audience and plan to play my southern Alberta songs."
Playing a festival can be a bit of a crapshoot because people may not know who you are if there are other musicians on the bill, says Lund. But chances of that are slim. "I anticipate we'll be pretty well known. Me and the guys are really excited."
The concert lineup also includes country artists Dallas Smith and Washboard Union, indie band Mother Mother and DJ-fronted Millz Skillz, followed by a fireworks show. It all happens from 3 p.m. to 11 p.m. at U of L Community Stadium.
The day after the concert, on Sept. 3, the stadium will be filled with food trucks and host a battle of the bands, a beer garden and more, for a free community fair and market.
Check out the complete list of events.
The beat of a different drum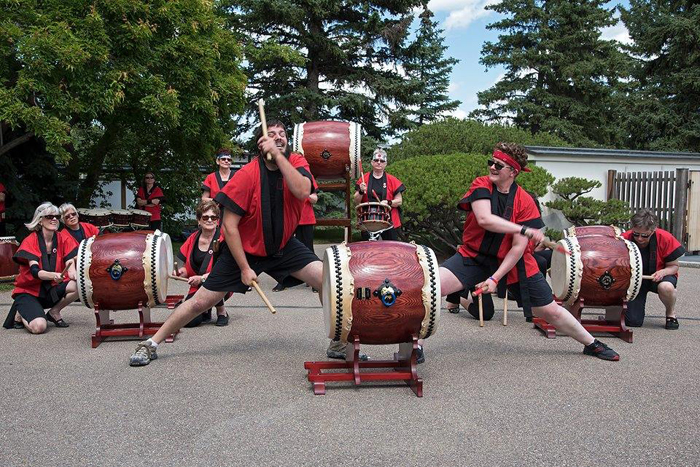 The Lethbridge Taiko Ensemble is so much fun to watch. They'll perform at the Shine on Festival on Sept. 3. Photo, Lethbridge Taiko Ensemble. 
Be sure to catch a powerfully different genre of music on Sunday when the Lethbridge Community Taiko Ensemble performs. You might just want to take up a pair of bachi sticks yourself after seeing and hearing this group of 30 or so people, predominantly women. They perform about 35 times a year throughout Lethbridge and practise two nights a week.
I had a chance to drop into their practice session and take a brief lesson in this ancient art of Japanese drumming. I left thinking I could see myself getting into this for the sheer feeling of power you get from beating the ancient Japanese drums that were used as a form of communication in wartime, or during religious rituals.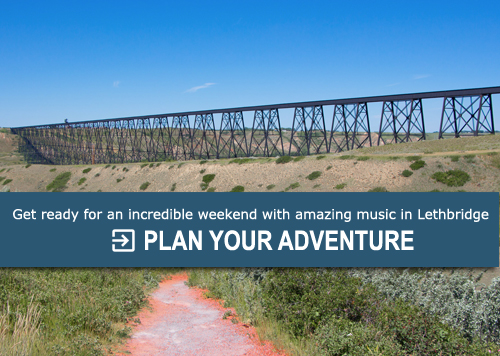 Ask any of the women (no musical background required) and they'll tell you they love it for the same reasons. "It's fun." "It's a stress reliever." It's a good workout." "You can feel the power."
After watching them perform, you just might find yourself wandering into their practices at the Lethbridge Legion one day.
Plan your homecoming trip U of L here.
3 more things to do while you're Lethbridge
One of Corb Lund's favourite things to do is run through the coulee trails of the river valley when he's in Lethbridge. Check out Coal Banks where you can walk, run, rollerblade or cycle along 30 kms of uninterrupted trails. http://www.lethbridge.ca/Things-To-Do/Pathways-Trails/Pages/Coalbanks-Trail.aspx
Find peace and tranquility in the Nikka Yuko Japanese Gardens http://www.nikkayuko.com/, celebrating its 50th anniversary this year.
Want a cold one and some tasty pub grub? Check out local brewer, the Coulee Brewing Company where there's a satisfying selection of brews on tap, small plates and entrees with intriguing names. Coulee Cubano and Beeramisu, anyone?
If you go
More information about all the events of the Shine On Summer Festival can be found on the University of Lethbridge official site.
Choose Lethbridge this season for your next adventure. Start planning...
Are you ready to head to the Shine On Summer Festival? Share this page with your crew and get planning.