KENTON DE JONG
Medicine Hat may be known for its natural gas, but I discovered it also has a wonderful reputation for a fuel of a different kind - caffeine.
The city has gained quite a reputation over the past few years for its vibrant cafe culture, along with its locally sourced food scene with restaurants owned by passionate locals.  
And so my first visit to Medicine Hat turned out to be one delicious treat after another. 
Help your friends #DareToExplore. Share this page on Twitter.
I had the pleasure of getting a preview of what people will get a taste of during the upcoming Savour the Southeast event, happening from Sept. 25 to Oct. 1. I visited three cafes, each with its own distinct personality and spin on using locally sourced foods. 
Start planning your trip to Medicine Hat here.
Even though the coffee culture is alive and well here, if java is not your thing, that's OK. I did try a tasty and frothy latte but also my first chai tea, along with some fresh and creative dishes. But there are plenty of other places to relax and sip a beer and savour new flavours.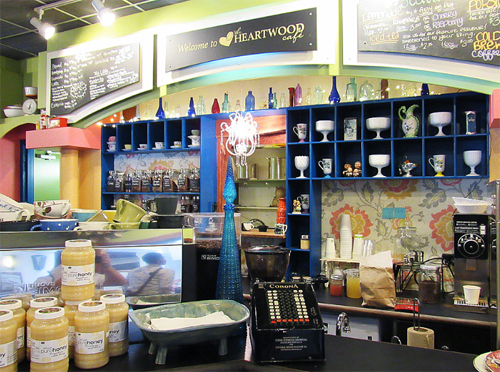 The Heartwood Cafe in Medicine Hat serves tasty treats and sells Saskatchewan honey.
Photos by Kenton De Jong
A good selection of restaurants feature dishes with locally sourced goods, which not only helps support nearby farms in southern Alberta, but also the local community.
That's what the annual Savour the Southeast Festival is all about, enjoying the local bounty and creativity of locally owned restaurants.
In its fourth year, the Medicine Hat event showcases all this local goodness and keeps growing every year. I was eager to check out some of the restaurants and cafes and get a taste some of what'll be served up during Savour.
The Heartwood Café, a cute restaurant located inside the historic Gaslight Plaza, was the first stop. I had a hard time deciding with the nice selection of sandwiches on offer, but the smoked ham, apple and Swiss cheese sandwich caught sounded delicious. My guide, Jace Anderson of Tourism Medicine Hat, ordered the healthy feta and roasted beet salad. It was all freshly made and delicious. Also on offer at Heartwood are soups and a daily quiche. I noticed that Heartwood also sells jars of Sweet Pure Honey, manufactured in Saskatchewan.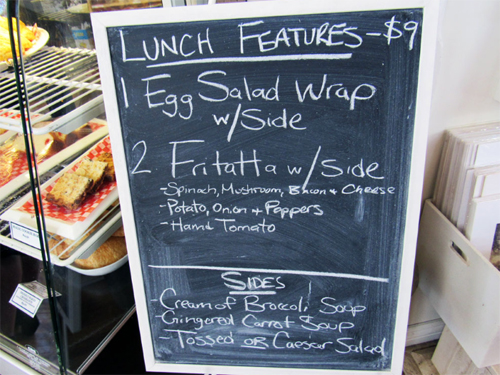 Inspire Cafe is known for its creative comfort food. 
We were then off to the cheerfully decorated Inspire Café, known for its bright red tables and chairs. It's known for serving up "inspired comfort food." If I wasn't so full from lunch, I'd have been tempted to try the Macaroni and Cheese or even the daring sounding Curried Egg Salad on Raisin Bread. Freshly roasted coffee, specialty teas and in-house made desserts are also featured. Located in the historic Hargrave-Sissons building, while food is the main theme of the café, it is part of the much larger Inspire Studio Gallery. The gallery offers art classes for children and teens and regularly features the artwork of local artists.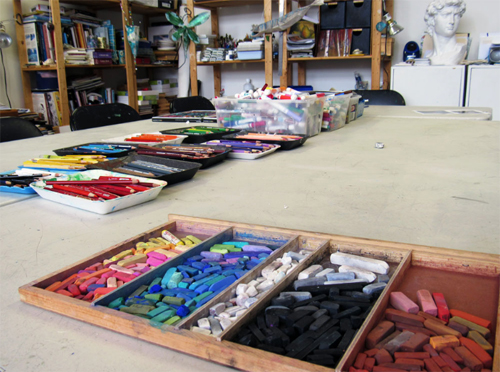 Inspire Cafe holds art workshops for kids.
Our next stop was the Station Coffee Company, one of Jace's favourites. Gluten Free Dark Chocolate Zucchini Muffins, Triple Dark Chocolate Cheesecake, and Roasted Tomato Basil soup are all on the menu, and all sounded like good reasons why it's one of his daily stops. The name alone of the Cheddar, Apple Beer soup tempted me to order it. All I can say is I wished I would have ordered the larger serving. I also sampled a Root Beer Godfather and some chai tea. I hadn't tried chai before, but I think I may have found my new favourite drink.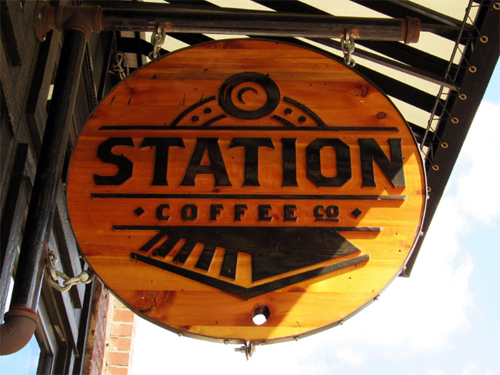 The Station Coffee co is a great spot for a cuppa Joe.
While I only got to visit a few restaurants in Medicine Hat, there are many more, which means I'll just have to come back.
The last few years have seen a boom in locally-owned businesses, so it's no wonder a couple of microbreweries are also arriving on the scene. The city's first microbrewery – Hell's Basement – had just opened a couple days before I arrived. Medicine Hat Brewing Company is expected to open in October.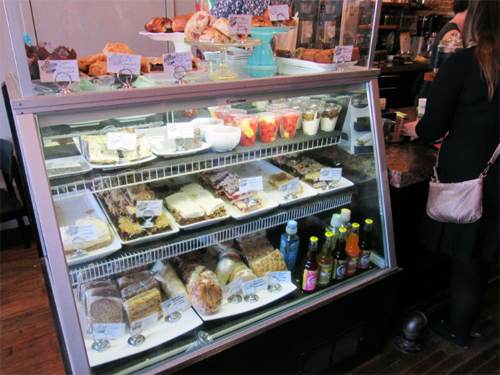 The treats are tempting at Station Coffee Co. 
Other restaurants taking part take part in Savour are Lela's Place, Madhatter Coffee Roastery, Paradise Valley Clubhouse, Skinnys Smokehouse, Zuchinni Blossom Market Café, Tsuki, and District Bar and Grill.
You'll want to mark the Savour festival on your calendar - and be sure to bring your appetite.
The Hat's historic side
Medicine Hat is also rich in historic locations, such as the Monarch Theatre, featuring some of the most incredible murals. Geocaching has also caught on in a big way here, and it's getting a reputation as having some of best caches in Western Canada.
With many green spaces and gorgeous red brick buildings, the city has a pleasant and friendly vibe.
While you're planning your trip to Medicine Hat, for Savour the Southeast, or just to exploring the city, don't miss one of the highlights of the area - Cypress Hills Interprovincial Park.
Cypress Hills offers a beautiful and quiet alternative outdoors experience with spectacular rolling prairie landscapes. It also boasts the highest point east of the Rocky Mountains. Unlike the national parks nearby, you won't be standing in long lines or jostling your way through nature trails because of the crowds. Read about biking in the area here.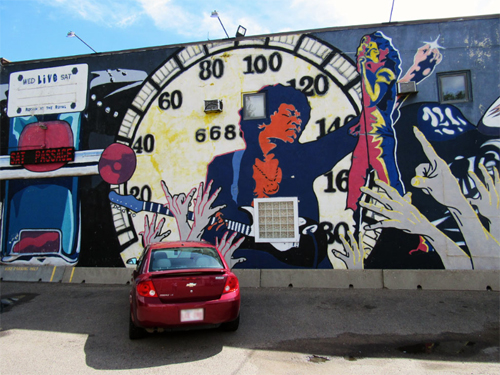 Medicine Hat is home to many colourful murals drawn by local artists.
Cypress Hills has become a popular year-round southern Alberta destination for very good reasons.  There's ample opportunity for mountain biking, stand up paddle boarding, kayaking, canoeing, horseback riding, bike rentals, Frisbee golf and beach time. The Visitor Center in Elkwater inside the park even offers free beach equipment.
Don't forget your telescope
Looking for some downtime aways from the glow of your screens? The parks people at Cypress Hills encourage visitors to "untether" and just sit back and enjoy the natural beauty and quiet of the park. You can opt to stay in a backcountry hut, of which there are three, plus more than 400 campsites in the park. You'll have no power, no water and no cell service, which means you'll just have to unplug and relax. 
While the Alberta side of Cypress Hills doesn't have an official dark sky program, it has been a dark-sky preserve since 2004, making it a sanctuary from artificial light. On clear nights you can see the Milky Way or watch Northern Lights. The Cypress Hills Dark-Sky Preserve is the first park in Saskatchewan and Alberta to become an official dark-sky preserve in North America.
Ski here
Alberta Parks recently took over the operation of Hidden Valley ski area. Open from December to March, it's more than three times higher than Mission Ridge in Saskatchewan. A "Fun Bus" shuttle goes between the hill and Medicine Hat, costing $15 per trip.
Ice skating trails, a luge, sledding and cross-country skiing are also available at nearby Elkwater Lake.
Now that I know this area is four-season friendly, I'll definitely be back.
If you go
Read our FestivalSeekers overview and check out the dining scene during Savour the Southeast
Get planning and head to Medicine Hat this summer; learn more here.
Do you have plans to visit Medicine Hat or Cypress Hills? Share this story with your crew and get planning.