CHELSEA LEES
The perfect road trip is more than just a scenic drive. It should involve a fun and cool experience to a destination you love or one that has been on your must-visit list for a while. For me, that was the Shuswap region of British Columbia, home of the ROOTS&BLUES Festival, which easily checks off every one of my road trip must-have boxes.
Help your friends #DareToExplore. Share this page on Twitter.
The six-hour drive from Calgary or five-hour drive from Vancouver to Salmon Arm is filled with spectacular landscapes - "cruisey" roads through the Shuswap or the Rockies passing by lush forests and dreamy lakes.
Get ready to dance in Salmon Arm. Plan your trip today...
Our drive delivered us to Waterway Houseboats in Sicamous to board a giant luxury houseboat. The annual ROOTS&BLUES festival is only a 2.5 hour boat ride south, where the Salmon Arm marina can act as basecamp for this music festival celebrating its 25th anniversary.
These houseboats are nothing short of serious fun and fully kitted out with some cool features like a water slide, hot tub, and a barbecue to name a few. I really felt we were in a luxury hotel.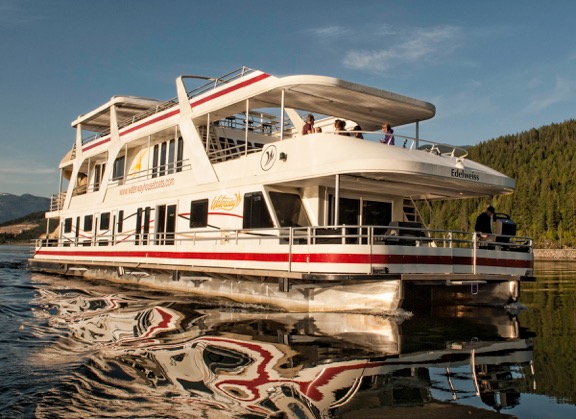 After exhausting ourselves with countless laps on the water slide and a sound sleep, we woke late in the night for a soak in the hot tub and to watch the amazing star show, thanks to being hours away from the lights of any big city. It had been such an incredible day but it was only the beginning of our adventure.
Waking refreshed in the morning to the gorgous calmness of this little slice of paradise, my friends and I headed to the boat's top deck for a scenic yoga session. I tried to stretch my morning coffee out, watching the fish jump and the birds soar above, but there were too many things to do. We set off slowly for Salmon Arm in the boat, enjoying the gently rolling landscape surrounding us, feeling like we could just cruise around for days, exploring the four arms that resemble a lazy H of the Shuswaps. I fell hard for the houseboat and the way it lulled me into a sense calm and pure joy. 
Our destination was Salmon Arm, where we learned about the upcoming ROOTS&BLUES Festival, happening this year from Aug. 17-20. I immediately thought the houseboat makes the perfect sense as a base for taking in the festival.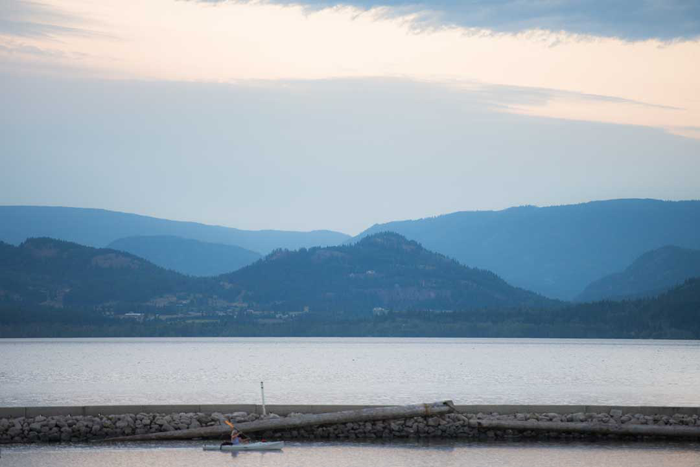 Ask anyone's who's attended the R&B fest attracts and they'll tell you festival-goers get to see some of the best up-and-coming roots and blues artists. The whole atmosphere of the town changes bringing in an energetic vibe to what some might consider to be a sleepy lake town. I wasn't surprised to learn that many people make a point of coming out every year from all over the Pacific Northwest and wouldn't dare to miss it.
David Gonella, executive director for the festival, describes it as more than just four days of great music. It's also just the right size, making it easy to rub shoulders with some of your favourite musicians, or those you've never met but will likely be added to your road-trip playlist.
"People come year after year for the music," said Gonella. "We offer opportunities to meet performers that people just don't know about that become very big after they leave our event.
"This year I suspect it will be the Lil Smokies, Frazey Ford, and Kaia Kater."
But I also learned there's more to the festival than just music.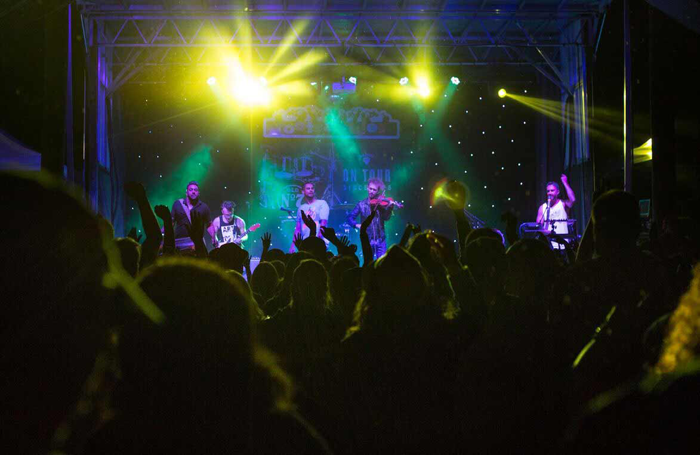 "We have really worked hard on expanding what we do between the stages," said Gonella.
That includes fireworks, drumming sessions and lots of things for kids to do. And, of course, sampling some B.C. wines.
"If you are looking for libations, we also have the wine lounge, which (features) local organic wines from Summerhill, Kelowna and some local wineries from the area," said Gonella.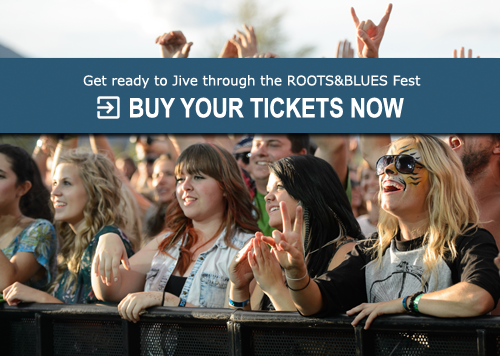 Local craft beers will also be on tap.
Because it's the festival's 25th year and happening during Canada's 150th birthday, attendees are sure to find some extra-special events to celebrate the two milestones.
Bluegrass musician Blu Hopkins, who's played the festival for three years, credits the ROOTS&BLUES event with drawing him back into his music career that he'd put on hold. He and his wife have been attending and volunteering for 20 years, but it was the town's music culture that inspired him to start singing and playing again.
This year's Hopkins says he's excited to be putting together some special events with some fellow musicians.
"I am working on a couple of workshops with some artists that I am really excited about; April Verch and the Eisenhauers (to name a couple) – some great vocalists, some great composers."
Even when the festival is not going on, Salmon Arm has a busy music scene with live performances happening regularly at local coffee shops.
From lakeside, to downtown, the best part of Salmon Arm for me is the lively small-town vibe, all amid a breathtaking landscape. 
With so many accessible hikes and water activities, i could spend a lot more time here, and I'll definitely be returning with my stand-up paddle board.
A few of my favourite things in Salmon Arm
If you're visiting for the festival, it's worth checking out what else Salmon Arm has to offer.
There are some beautiful natural areas and hiking and biking trails to explore in the Shuswap, like the Foreshore/Raven Trail we did with Byron Noble of Noble Adventures. The four-kilometre one-way hike is in a protected area is home to many birds and a lone beaver. Noble also offers guided hikes, cycling, Standup paddleboarding, kayaking and wine tours in the region. 
If you'd like to stock up on food for the road trip home, your houseboat or a picnic, head to DeMille's Market. You'll find loads of fresh produce from B.C. farms and orchards and specialty snacks and meats. Stop by the onsite mini-farm to pet a goat, befriend an emu and giggle at some turkeys.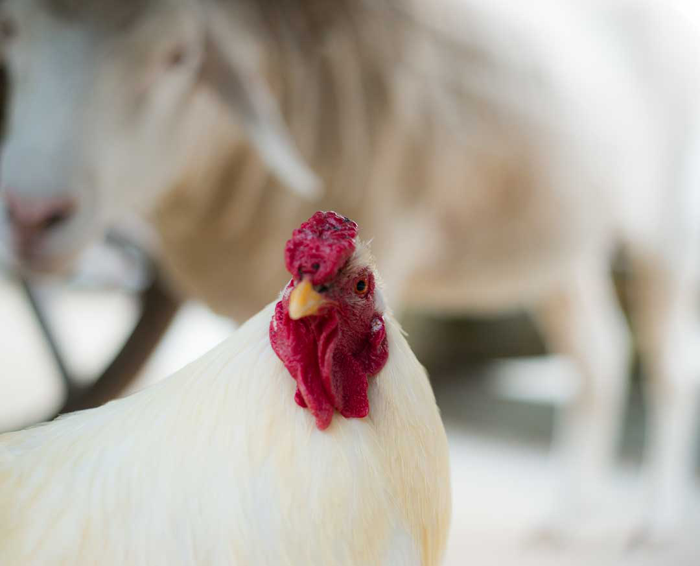 Though I came to Salmon Arm on a road trip, I'd happily return to take in what sounds like a cool music festival and spend more time on that houseboat exploring the lazy lakes of the Shuswap. Mountains, sky, music and living on a houseboat, it doesn't get more perfect than this. 
More Information
Get more details on the Salmon Arm ROOTS&BLUES Festival

#ExploreShuswap, start by checking into Shuswap Tourism's website.

Did you know that the ROOTS&BLUES festival grounds are a 10 min walk to the Salmon Arm marina? Think outside the box and hit the water for the festival - rent a houseboat with our partners Waterway Houseboats

Watch for package options in 2018 and think about renting a houseboat to experience the ROOTS&BLUES fest. Seekers Media will have more on this come spring 2018.
 
Are you ready to dance in Salmon Arm? Share this page with your crew and get planning.