Hinton's Fohn Festival is a celebration of Canada's multicultural mosaic.
Photo courtesy Tourism Hinton
LAURA ENGLAND
HINTON, AB - I was born and raised in Canada. But if you look back into my family history, I'm made up of several different cultures, including German, English, Irish and Norwegian. It's the same story for the majority of Canadians because most of our ancestors travelled great distances searching for a better life.
Our cultural diversity makes this country unique and it's also a reason to celebrate, which the town of Hinton does on a grand scale with the Fohn Festival.
Hinton's festival season kicks off June 30 with its signature event, the Fohn (German for warm winds, rhymes with soon) Festival. It's a two-day multicultural celebration that features live entertainment, crafts, fireworks and food – lots and lots of food.
The Fohn Festival begins kicks off with featuring music in Green Square, the centre of the Hills shopping district. The lineup usually includes several local bands, as well as musicians from Edmonton, Lethbridge, Saskatoon and Grande Prairie including:
Mylia Archambault w/Sage Sunderwald
Danaya Haldenby
Lauren MacDonald
Sydney Waddell
Olympus Mons
Argus
Wolf
Stone Iris
Vibe Tribe Gypsy Circus
To end the evening in style, attendees are treated to a pre-Canada Day fireworks show.
On July 1, folks can start their Canada Day off right with a pancake breakfast and then take in some of the scheduled entertainment including:
IndepenDance Studios
Colors Dancing In – Aboriginal
HOJA
Hinton Ukrainian Cultural Society – Vesna
Threza
HCHS School of Rock
The Stephanie Harpe Experience
There's no better way to experience a culture than by sampling some of their cuisine and festival-goers will have ample opportunity to do just that. Organizers have brought together 11 food vendors representing Greece, Thailand, China, Ukraine, Germany, the Philippines, India, Norway, Ghana, Iran and Aboriginal Canada.
Don't leave the little ones at home because there's a whole area dedicated to kids that includes crafts, a trapper's tent and a teepee - all free.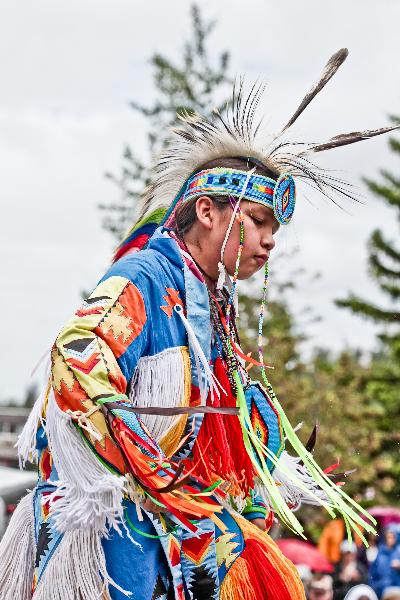 Hinton's Fohn Festival, held on the Canada Day weekend, features entertainment for all ages and a celebration of our multicultural makeup.
Photo courtesy Tourism Hinton
Everyone in Hinton looks forward to this event, but perhaps the person most excited about the Fohn Festival is Don Engerdahl, arts and culture coordinator for the town of Hinton. Since its inception, Engerdahl has been part of the organizing committee.
"This festival is a celebration and acknowledgment of the cultural diversity in this town," says Engerdahl. "And because we have connected it with Canada Day, it's a natural fit; all these cultures are equally a part of this community."
Carrie Karlowich, new organizing committee president, explains why she got involved this year. "My family has always participated in the event. My daughter has danced (Ukrainian) every year for the past several years and attended the daily events. I was pleased to give something back." 
As to why you should check out this festival, Karlowich says, "I think anybody who chooses to attend the Fohn Festival will be entertained by a variety of singers, dancers and other groups. This event is something that Hinton is very proud of and very well attended so come out and enjoy the day."
Check out other Festival seekers stories and events about Hinton:
Overlander Lodge luxe retreat for outdoor adventurers