The Aboriginal Tourism Association of BC is giving away three amazing trips. Click on the logo above to learn how you could win a chance to win one of three two-night trips: a kayaking trip along the Sunshine Coast, cultural getaway to Alert Bay on North Vancouver Island or a stay at Quaaout Lodge in Chase, B.C.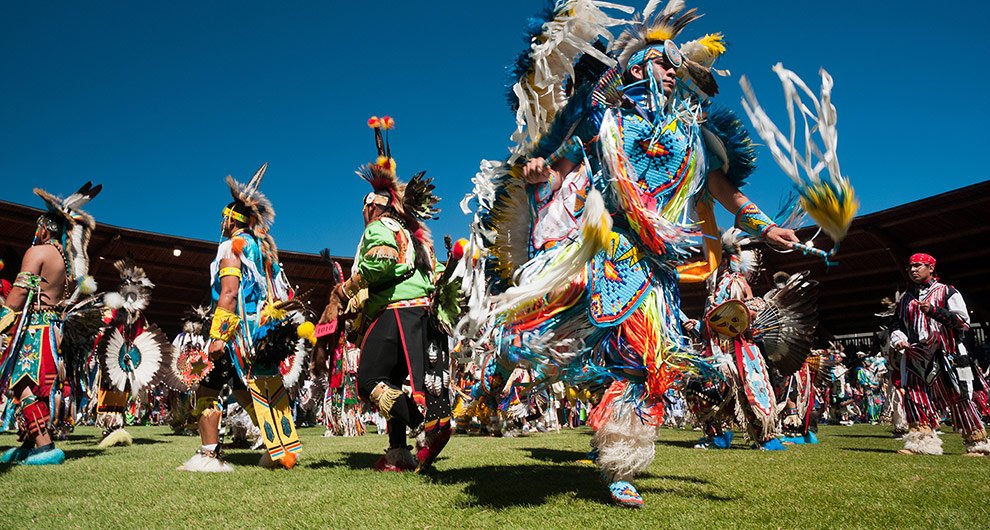 Here's a round up of pow wows happening around B.C.
DINA O'MEARA
KAMLOOPS - The first suggestion Jesse Jacobs has for pow wow newbies is a profound statement about one of the premier cultural and competitive events for First Nations in British Columbia and Western Canada.
"You have to try the Indian tacos," says Jacobs, coordinator for the Tk'emlups Indian band's Kamloopa pow wow. "They're insanely good."
The Kamloops pow wow is one of the largest in Western Canada and celebrates its 34th year in August. About 20,000 people, Aboriginal and non-Aboriginal, are expected to attend over the three-day event, which boasts a substantial $77,000 total competition purse.
Pow wows are a lot like a rodeo. At the edge of the arena families are helping competitors set up for the next round of dances. It's dusty, there's a running commentary over loud speakers by an increasingly hoarse announcer, food and craft kiosks compete for customers, young folk flirt and kids get yelled at.
But it's all set against the brilliant flash of dancers' colourful regalia, the hum of powerful First Nations traditions and spectacular scenery.
Banned for decades by governments intent on forcing First Nations to assimilate, pow wows survived and continue to be an integral part of Aboriginal culture. Every summer dozens of small and large pow wows happen across B.C., from Moberly Lake in the northeast corner of the province to West Saanich on the southern tip of Vancouver Island, attracting competitors of all ages and visitors of all nationalities.
They come to watch the male dancers with starkly painted faces strutting their feathered and intricately beaded selves, female dancers swirling fringes and tin horns flaring out gracefully, and hear the backbeat of throbbing drums and wailing singers.
"Make sure you see the Grand Entry," says Jacobs, a member of the Carrier First Nation of northwestern B.C. "It's a marathon; you see all the dancers and all the regalia."
The daily ceremony starts with flag bearers, often veterans of the armed forces, entering the arena, followed by dignitaries and then the dancers – all of them, all to the thunderous beat of 15 to 20 drum bands, in the Kamloopa case.
Now, back to those bannock tacos…
Tips for Pow Wow first-timers
1. Regalia versus costume - Pow Wow dancers are serious competitors who have spent long, hard hours in training and making their regalia. Yes, regalia, not – really not – costumes. Do ask about the regalia – dancers often love to talk about their outfit.
2. Speaking of photographs – Ask before photographing people outside of the pow wow area; it's common courtesy. During competitions the announcer will let you know when taking photos is forbidden, such as during a prayer or a special dance.
3. Pow wow ceremonies – These reflect the organic nature of First Nations culture. In other words, they're seemingly without order and held with kids running all over the place. The power and context of each ceremony is important, just not laced up, so stand up during the Grand Entry and follow the crowd's lead on wearing or doffing hats.
4. Inter-tribals - The inter tribal is where the public is invited to dance in the pow wow circle. Yes, even you, white boy. Follow the beat of the drums, the direction of the other dancers and try to follow their steps.
Quick dance primer: Taking a step and with flexed knees to bounce, land first on the ball of your foot (one beat) then bring your heel down (the next beat). Repeat with the other foot. There, you're a champ in the making.
5. Hydrate, hydrate, hydrate – Pow wows in British Columbia usually happen during the height of summer, with heat exhaustion being the number one emergency first aiders attend to.
For full details on the Kamloopa Pow Wow and other pow wows and Aboriginal festivals around B.C., go to the festival overview page.
Another great Aboriginal culture experience happening throughout the summer is Klahowya Village in Vancouver's Stanley Park. Click here to find out more.